Some say Samsung will unveil the Galaxy Note 9 a bit earlier than expected this summer for two reasons. First of all, Galaxy S9 sales aren't setting any records so the Galaxy Note 9 could help with Samsung's bottom line for the year. Then, there's always the iPhone factor. Apple is going to launch three distinct iPhones this fall, and Samsung may want to give its Galaxy Note 9 plenty of time to shine before the new iPhones hit stores this September.
A wave of Galaxy Note 9 leaks seems to support those rumors. We've already seen purported images of the handset, and now the Galaxy Note 9's specs have been leaked.
Posted on Geekbench, a benchmark test for the Samsung SM-N960U recorded on May 9th reveals that Samsung is already testing Galaxy Note 9 prototypes. The phone scored 2,411 and 8,712 in single- and multi-core tests, which is on par with what we expect from this year's flagships.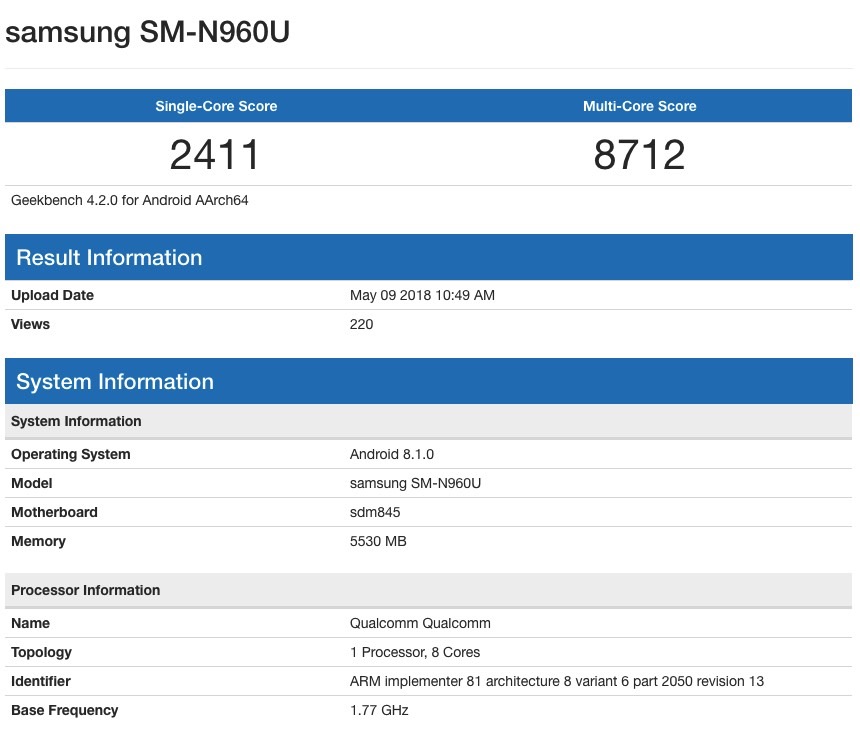 The listing also reveals the phone packs a Qualcomm Snapdragon 845 chip and 6GB of RAM, and that it's running Android 8.1 Oreo. In other words, this is precisely what we expect from Samsung's next flagship. There's no new Qualcomm flagship chip to use, and top of the line smartphones these days will get you up to 8GB of RAM. They're also launching with Oreo on board, which is Google's latest stable Android release. Android P doesn't have a name, and the first new handsets packing Android P out of the box will be Google's Pixel 3 series.
It's likely that benchmarks for the Exynos-powered Galaxy Note 9 version will also come out soon, with even better scores than the Snapdragon 845. That's exactly what happened with the Galaxy S9 earlier this year. Real-life speed tests have shown that both models can outperform the iPhone X and that the Qualcomm model is the fastest.