Samsung's just-released Galaxy S9 and Galaxy S9+ flagship phones are the two most powerful handsets the company has ever built. They're fast, they offer a smooth user experience for the most part, and they're wonderfully sleek. Early reports suggest they're not selling anywhere near as well as last year's Galaxy S8 and S8+, but that's understandable since they feature a design that is nearly identical to Samsung's 2017 flagships. But feedback so far from people who have purchased a new Galaxy S9 phone seems to be overwhelmingly positive.
Some Samsung fans who are holding out and skipping the Galaxy S9 plan to wait until later this year to check out the other high-profile flagship phone Samsung will ship in 2018. No, we're not talking about the hotly anticipated foldable Galaxy X. We're talking about the Galaxy Note 9. Unfortunately — though not surprisingly — the first big Galaxy Note 9 leak brings some news that is less than ideal.
People have come to expect that each new flagship smartphone a company launches is that company's most powerful phone ever. That's typically true with most companies, but not with Samsung. Why? Because Samsung uses the same core components in the flagship smartphones it launches in the second half of each year as it does in the first half. There might be a few tweaks and optimizations here and there that offer minor performance benefits, but the company's Galaxy Note phones are about the same as its Galaxy S phones each year in terms of performance.
On Wednesday afternoon, we covered the first big Galaxy Note 9 leak of the year. Geekbench 4 benchmark test results were discovered on the Geekbench website, giving the world its first taste of the upcoming Note 9. The phone's scores were roughly in line with the current Galaxy S9, which isn't surprising since the Note 9 that appeared on the Geekbench site is powered by the same Qualcomm Snapdragon 845 chipset. The phone might get a few tweaks ahead of its release this coming August or September, but as has been the case each year in the past, we don't expect these scores to change very much.
So, how did the Galaxy Note 9 do? It racked up a respectable 2190 on the single-core Geekbench 4.2 test, and an 8806 on the multi-core test. Those are great scores indeed, but they have the "Android vs. iPhone" crowd reeling. Why? Because this year's Galaxy Note 9, which will launch around the same time as Apple's 2018 iPhone lineup, won't even be as powerful as last year's iPhones.
Here are average single-core Geekbench 4 scores for the iPhone X, iPhone 8 Plus, and iPhone 8:
And here are the multi-core Geekbench test scores for Apple's latest iPhones: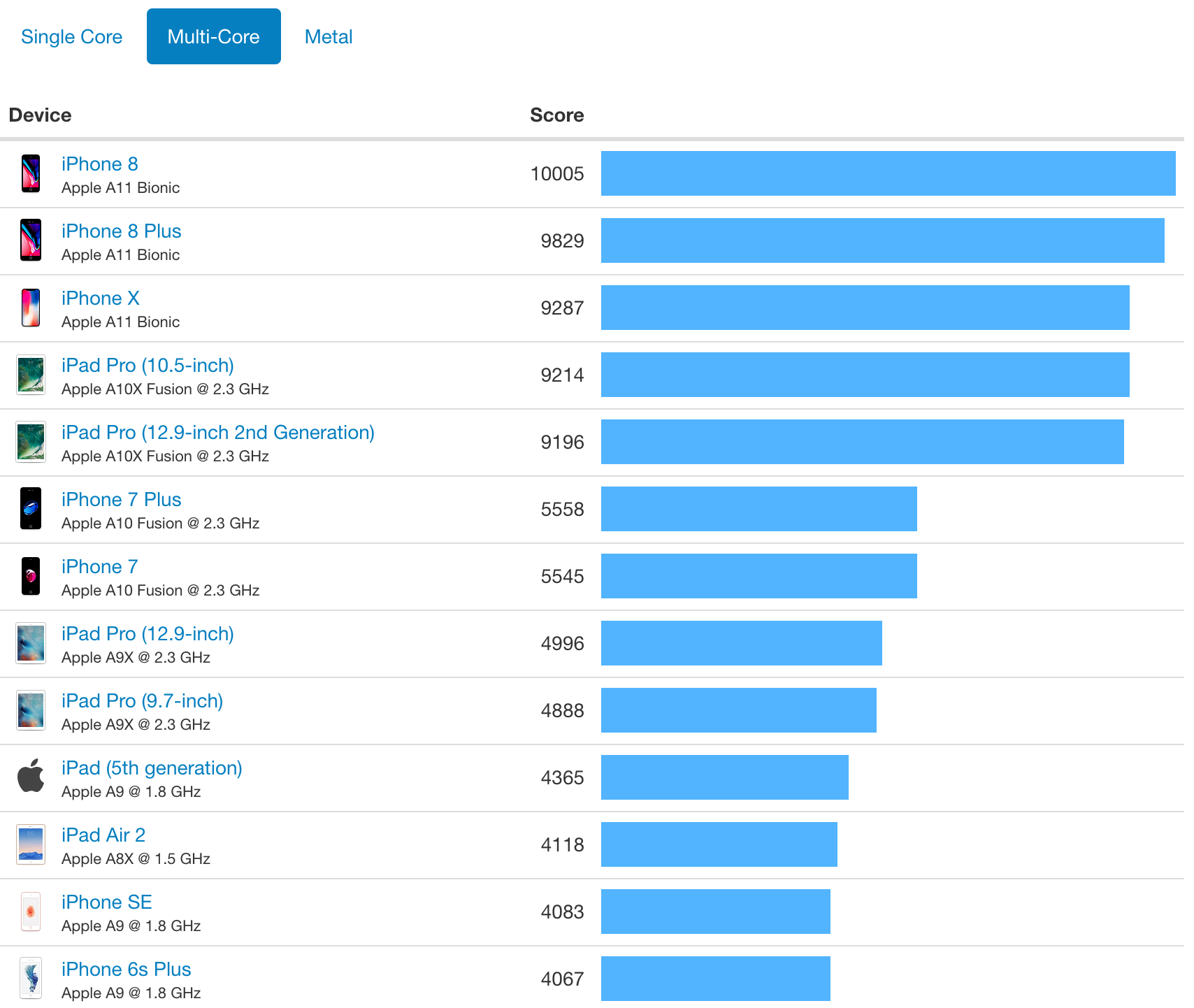 As you can see, Apple's single-core scores are nearly double the Galaxy Note 9's score. The single-core score is arguably the more important score, because it indicates how well a phone performs while handling typical, everyday tasks. Apple's 2017 iPhones also reach as high as 10005 on the multi-core test, topping the Note 9's score of 8806 by a wide margin.
Now, it's important to note that this doesn't tell the whole story. Apple's iOS 11 software is still riddled with bugs and memory management issues, so the company's 2017 iPhone lineup really can't take full advantage of all that power. In fact, the Galaxy S9 even beat Apple's iPhone X in some recent real-world speed tests. Those tests are far from scientific, of course, but they help illustrate how much iOS 11 is holding these phones back.
Apple's imminent iOS 11.3 update is expected to help things a bit, but iOS 12 is the released that's expected to give the iPhone lineup a real boost. Apple is reportedly delaying some new features in order to really focus on refining the user experience and squashing bugs. Add to that a next-generation Apple A series chipset that will undoubtedly offer levels of performance that have never been seen before on any mobile device, and you've got a next-generation iPhone lineup with power that is going to absolutely pummel the Note 9 and other 2018 Android phones.