A few days before the Galaxy Note 9 event, we saw a leaked video that looked a lot like a leaked official Samsung promo. In rapid succession, all the names of the previous Note phones were shown on the screen, except for the Note 6 that Samsung never made and the exploding Note 7 that Samsung had to cancel. It could have been a fan-made clip, of course, but it still was the saddest thing I had seen all year.
Fast-forward to present day, and we have an official Samsung infographic meant to highlight the evolution of the Galaxy Note which pretends the Galaxy Note 7 never existed. That's incredibly sad, but I thought I'd fix it for Samsung. After all, Samsung does say that it's history "worth noting."
We've seen this kind of infographic below from Samsung, aimed to showcase the various advancements of a series of devices, from the very first model all the way to the newest release, and there's nothing wrong with that. Check out the portion that concerns us: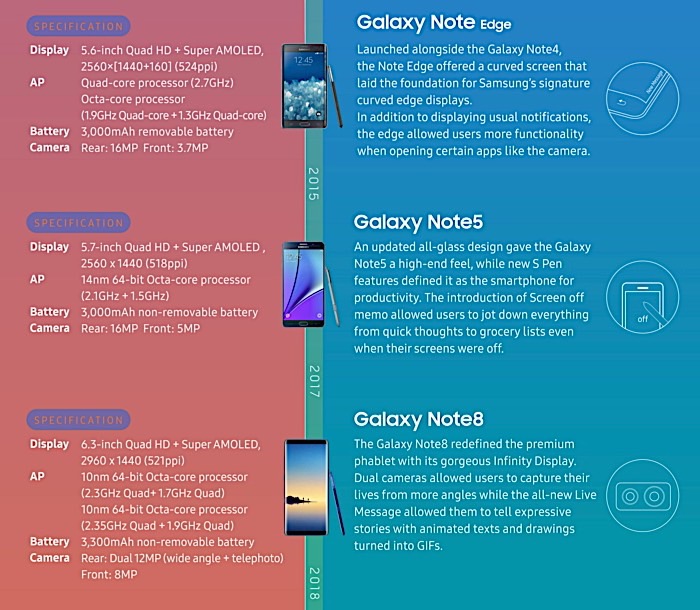 The Note 9 infographic does have this huge flaw. Samsung jumps from the Note 5 straight to the Note 8 without any explanations.
Pretending the Note 7 didn't exist is incredibly disingenuous. The Note 7 did exist, it was an incredible phone (here's our review). But too many units ended up in flames, so Samsung had to recall it. The company did so twice, ultimately canceling the phone and offering customers their money back or replacement phones. All this is worth noting.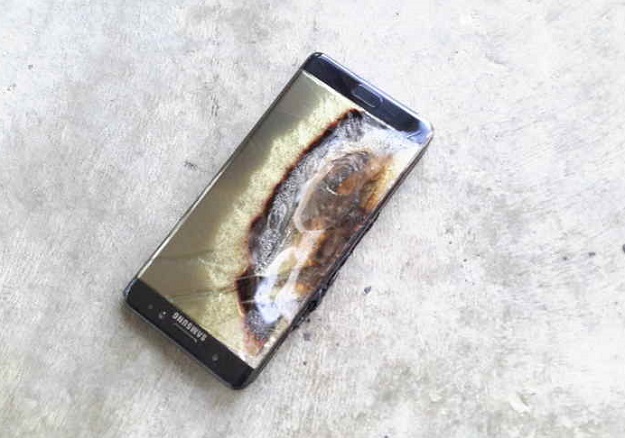 What followed was a mini-revolution when it comes to battery quality assurance at Samsung, and all the phones that launched after the Note 7 did not show any sort of battery incident even remotely similar to the Note 7.
That's the kind of battery evolution that helped Samsung place a 4,000 mAh battery inside the Note 9 with confidence that it won't catch fire (so far!). The Note 7's unfortunate fate actually helped Samsung. And Samsung is willing to ignore all that, and pretend the Note 7 never existed.
Of course, Samsung could claim the infographic only lists the models that sold to customers, not the ones that were recalled. But let's not forget that we've got some irresponsible smartphone users who still have functional Note 7 models.
More importantly, if the infographic features all of Samsung Notes that did sell in stores, where is the Galaxy Note FE? That's the safe Galaxy Note 7 that was launched last summer in some markets.
Fret not, smartphone fans, I fixed the infographic for you: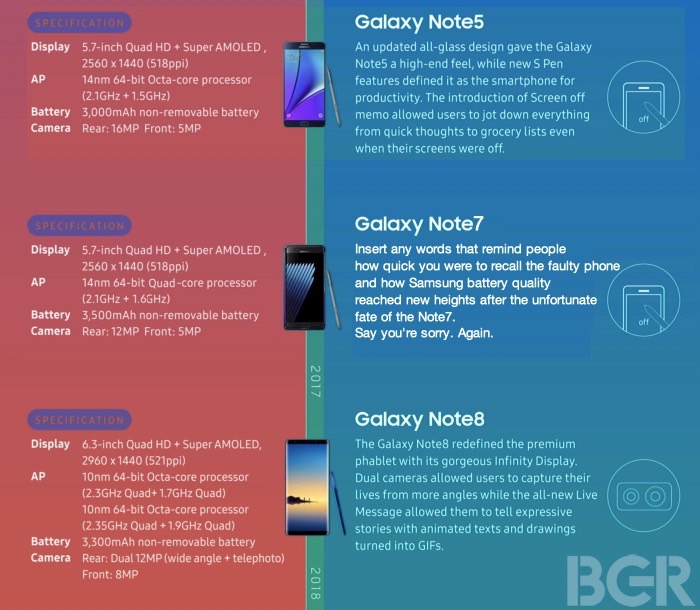 And Samsung, you should rethink your marketing tactics for future Notes. Because while you want to forget the Note 7, the rest of us won't.
Finally, the full, original infographic is available at this link.