Samsung seems very serious about foldable phones, with the first smartphone that features a foldable design seemingly set to launch next year. The Galaxy X will represent a first for Samsung, but it's unclear at this time what kind of folding smartphone we're looking at.
Samsung isn't making things any easier on us as we try to figure out what the company has in store. Samsung has been filing a variety of patents for foldable devices that could become a reality. The most recent one imagines what appears to be a Galaxy Note handset that can behave like a Nintendo 2DS console, and there are elements of the patent that are actually quite interesting.
Discovered by Dutch-language site Let's Go Digital, which has unearthed various other Samsung foldable phone patents in recent weeks, the patent shows a smartphone that looks like ZTE's Axon M.
A hinge holds the two phones together, and the sides can apparently be folded inwards, to protect the screens, or outwards. The screens seem to have curved edges, which may help Samsung deal with the actual display seam when the device is used in tablet mode.
When not in use, the secondary display can be turned into a touchpad that can be used to interact with all sorts of apps. In games, the secondary screen can be used to control the action on the other screen, thus offering users a Nintendo 2DS-like gaming experience.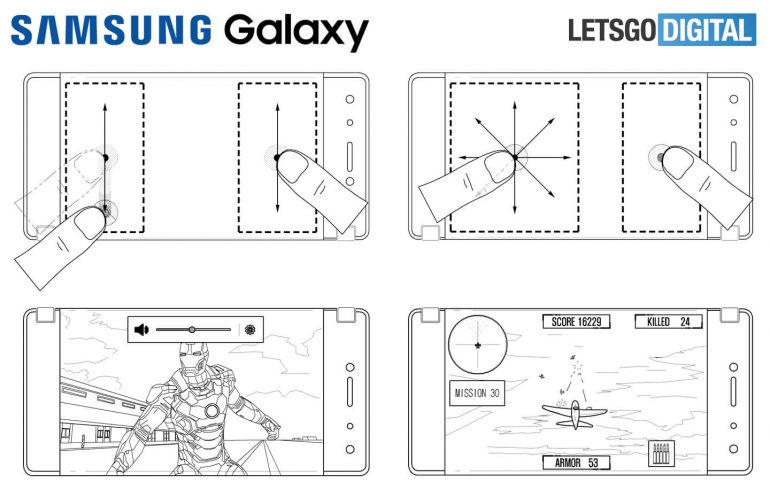 The smartphone would also come with stylus support, which could make it a member of Samsung's Note family. 
That's assuming Samsung actually manufactures the design described in this patent. Because I'll repeat it, this kind of foldable smartphone is terribly ugly.
What's clear, however, is that Samsung has given this new form factor some serious thought. The design of the Android buttons in these images suggest the patent dates back to at least 2013.