Will the Galaxy Note 8 be faster than Samsung's other hot 2017 smartphone, the Galaxy S8? Well, yes and no. The new Note will sport practically the same set of specs as the Galaxy S8 when it comes to processor choices, so don't expect any changes in that department. But the Galaxy Note 8 will come with more RAM, which could turn it into a speedier machine.
A new Geekbench listing for a Galaxy Note 8 version (the SM-950F model) reveals that the phone will have an eight-core processor clocked at 1.7GHz and 6GB of RAM. The handset will run Android 7.1.1 out of the box as well, which shouldn't come as much of a surprise.
When it comes to benchmark performance, the Note 8 delivers scores that are in line with the Galaxy S8. We're looking at 1984 and 6116 for single-core and multi-core tests, respectively.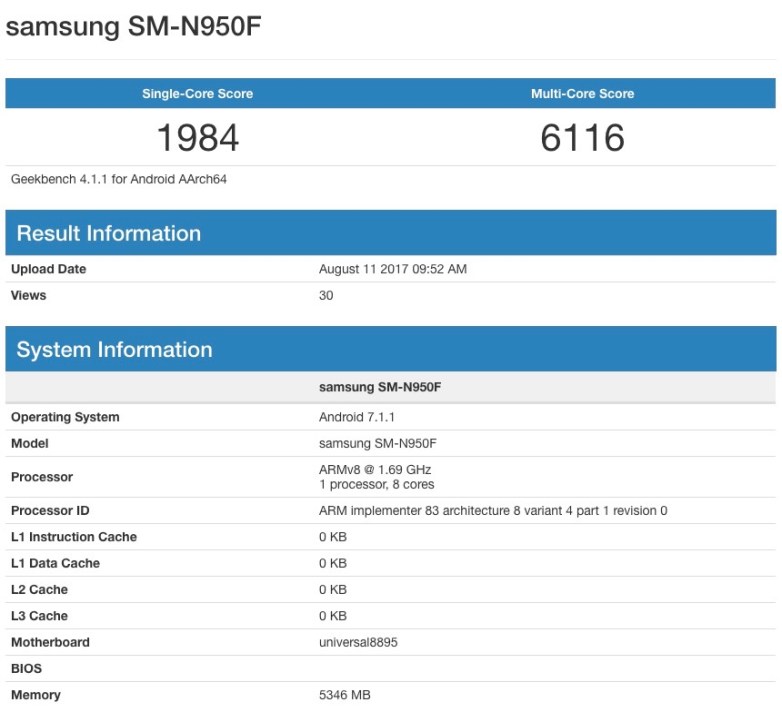 In fact, the Note 8 numbers are even lower than some of the Galaxy S8 scores on Geekbench. Samsung's current flagship averages around 2000 for single-core performance, and up to 6700 for multi-core. That said, let's not forget that the Galaxy Note 8 is probably not running the final software, which means the final version will likely perform even better on these tests.
However, what's clear from these tests is that neither the Galaxy S8 nor the Galaxy Note 8 will be able to touch the iPhone 8. All three phones will sport incredibly fast processors built on brand new 10nm process technology, but Apple's 10nm chips that power the latest iPads already score a lot better than Samsung and Qualcomm's 10nm chips used in these Galaxy handsets.
Samsung is going to unveil the Galaxy Note 8 on August 23rd in New York City, while Apple will take the wraps off the iPhone 8 at some point in mid-September.