After months of leaks and rumors, Samsung is about to unveil the Galaxy Note 8 flagship smartphone later this month. There's no question that the Note 8 is shaping up to be Samsung's best ever smartphone, but for gadget fans, the excitement has certainly faded a bit. There will be absolutely no surprises left once Samsung executives finally take the stage in New York City on August 23rd, since practically everything there is to know has already leaked. We know what it looks like, we know just about all of the specs, and we know about most or even all of the Note 8's key features. Perhaps the fact that the Galaxy Note 8 is already old news is part of the reason why a new Galaxy Note 9 concept posted on Tuesday is so intriguing.
Budding graphic designer Benjamin Geskin on Tuesday posted his vision of Samsung's Galaxy Note 9, which is expected to be released next fall as a followup to this year's Galaxy Note 8. Long story short, it's a stunning vision of a phone that would be a natural iteration of the Note lineup. We often see crazy concepts that aren't rooted at all in reality, but this Galaxy Note 9 mockup looks like a phone that could actually launch in 2018.
First, let's look at the Galaxy Note 8's design. Here's a render that BGR exclusively posted last month:
Now, let's check out Geskin's Galaxy Note 9 concept: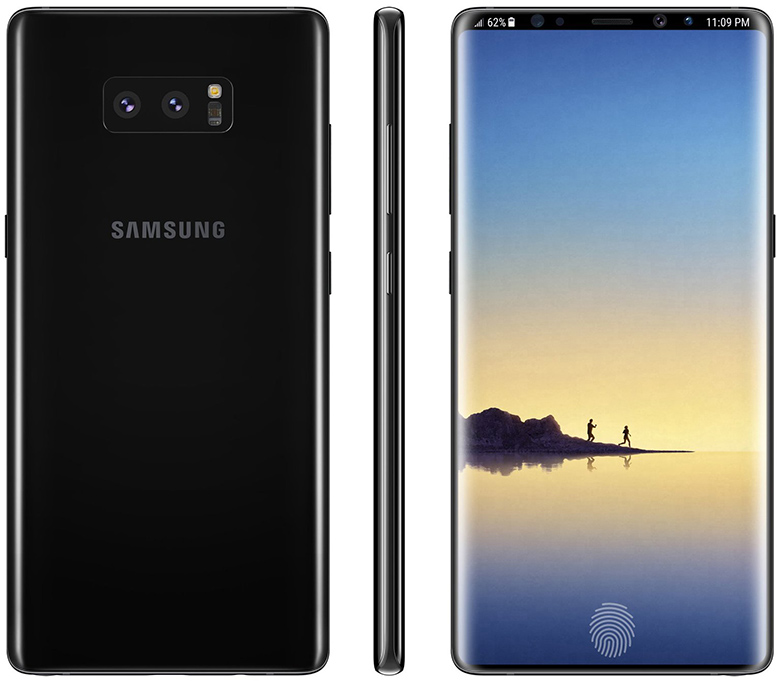 In a nutshell, the designer took actual Galaxy Note 8 renders and stretched the phone's Infinity Screen so that it reaches almost all the way to the edges of the phone. This is the same nearly bezel-free design we're expecting to see on the iPhone 8.
Also like the iPhone 8, Geskin extended the display to the top of the phone on either side of the ear speaker and sensors. This would allow Samsung to move status bar icons off the main part of the display, just like the iPhone 8. It looks great in the render and it's technically within the realm of possibility, but this type of display configuration would be much more difficult to implement on an Android phone than on iOS. Android's status bar fills up quickly with notifications and other information, so Samsung would have to completely rework the status bar UI to push notifications to a second tier (which would defeat the purpose) or to limit the amount of info that can be displayed (which would be a big step backwards in terms of UX).
Geskin envisions the phone with a 6.4-inch display that has 4K resolution and an embedded fingerprint sensor. Again, 4K phones already exist today so there's no technical barrier here for Samsung, and Qualcomm's next-generation fingerprint sensors are expected to arrive in consumer products next year. In case you've forgotten, they're designed to work through glass, displays, and even metal.