While there is still a shocking amount of mystery surrounding the upcoming iPhone 8, Samsung's new flagship Galaxy Note 8 seems like an open book at this point. We know practically everything there is to know about this hotly anticipated Android phablet, from the Note 8's specs and design to Samsung's unveiling and release timing. In fact, the company's mobile boss even went as far as to confirm on record that the Galaxy Note 8 will be released in September. That's right, Samsung is so excited about its next-generation flagship phone that it confirmed the handset's release timing even before announcing the phone.
Oddities aside, the Galaxy Note 8 is definitely one of the most eagerly anticipated smartphones of the year. And now, we have exclusive renders of the handset that give us our best look yet at Samsung's best ever smartphone.
Before we get to the new renders, let's run through what we know already.
According to earlier leaks and well-sourced rumors, Samsung's new Galaxy Note 8 will feature all the cutting-edge specs we've come to expect in a 2017 flagship phone. Highlights include a 6.3-inch Super AMOLED display with a 18.5:9 aspect ratio, 6GB of RAM, an Exynos 8895 or Qualcomm Snapdragon 835 chipset depending on region, dual 12-megapixel rear cameras, a 3,300 mAh battery, and an updated S Pen stylus.
We've also heard that the Note 8 might sport a screen-to-body ration that's even more impressive than the 83% achieved by the Galaxy S8 and Galaxy S8+. Tiny bezels are the hottest trend in smartphone design in 2017, and so far Samsung is leading the pack among top-tier smartphone vendors. That may change later this summer when Apple finally takes the wraps off the iPhone 8, but for now Samsung is at the head of the pack.
Samsung's Note 8 is indeed shaping up to be one of the hottest smartphones of 2017, and it'll have to impress users if Samsung hopes to completely erase the memory of last year's Galaxy Note 7 debacle. From the looks of things, the Galaxy Note 8 should certainly do the trick.
Following our exclusive leak that provided confirmation of Samsung's finalized Note 8 design, BGR has obtained renders of Samsung's upcoming new Galaxy Note 8 smartphone. These renders are not official marketing images created internally at Samsung, but rather mockups that have been created by a third-party case maker. They are based on genuine details and schematics that have leaked from the factory, and they're believed to be our best look yet at Samsung's upcoming Galaxy Note 8.
As was the case with earlier renders we exclusively obtained of the Galaxy S8 ahead of that phone's unveiling, these new renders were also created by smartphone case maker Ghostek. They are by far our clearest look yet at the Note 8, and they seemingly give us a look at the most updated version of Samsung's Galaxy Note 8 design. Earlier rumors suggested that the edges of the phone's large Super AMOLED display might be more squared off, but in these renders it appears as though they're rounded just like the Galaxy S8 and Galaxy S8+, as can be seen above.
Here's a look at the Galaxy Note 8 from all angles:
And here's the same set of renders pictured inside an upcoming Ghostek case: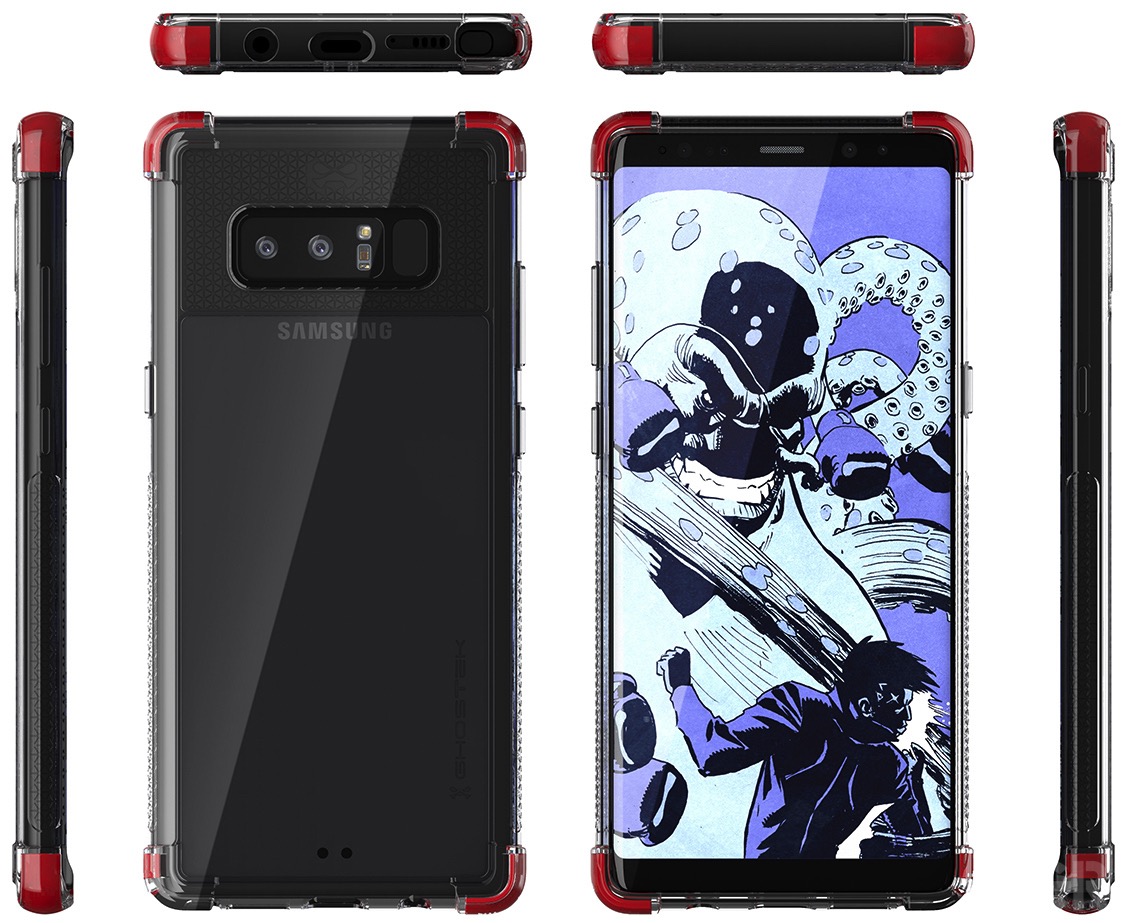 Samsung is expected to unveil its new Galaxy Note 8 smartphone at a press conference in New York City in late July. The phone will then go on sale in initial markets the following month in September, as Samsung confirmed, and will continue to roll out in additional markets throughout the month of October.