In a rather bizarre move last week, Samsung revealed that its next big "Unpacked" press conference will be held in New York City on August 23rd. Why is that bizarre? Samsung's mobile boss already confirmed that the Galaxy Note 8 will go on sale in September, so fans now know beyond a shadow of a doubt that this hotly anticipated smartphone will be the subject of Samsung's event next month. Samsung is currently pushing the Galaxy S8 and Galaxy S8+ with killer promotions, but now we all know something new and better is just around the corner.
How do we know it's better, you ask? If all of the previous leaks and rumors couldn't convince you, perhaps this brand new one will.
While confusion and debate surrounding fingerprint scanners and feature placement were swirling, BGR exclusively confirmed Samsung's final Galaxy Note 8 design all the way back in June. Then, as if that wasn't enough, we gave the world its best look yet at the Galaxy Note 8 with another huge exclusive leak just last week.
In that more recent post, we shared several renders that gave the world a crystal-clear look at Samsung's upcoming new Galaxy Note 8. If for some reason that wasn't enough, however, new renders just leaked courtesy of popular smartphone case maker Spigen. Two images showing the unreleased Galaxy Note 8 mocked up in two different Spigen cases were posted to Slashleaks over the weekend, and they give us yet another look at Samsung's updated flagship phone design.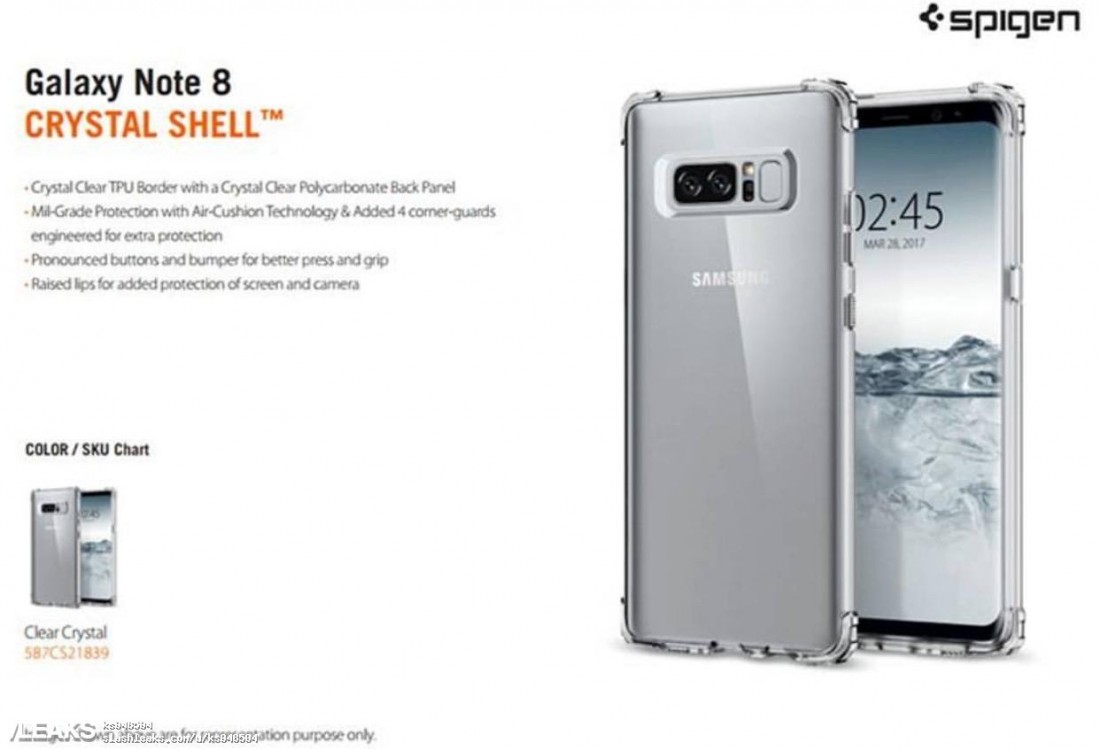 Samsung's next-generation Galaxy Note handset will look to finish off the job of erasing Samsung's Note 7 debacle from consumers' memories. The phone is rumored to feature a large 6.3-inch Super AMOLED display, more RAM than the Galaxy S8, and a larger battery that hopefully isn't so big it starts exploding again. The phone will be unveiled during a press conference on August 23rd, and it's expected to go on sale in the US and other first-round markets in early September.