One of the most critical components of a smartphone is the built-in storage, which can make a huge difference in overall performance. Tests repeatedly show that Apple's iPhone 6s is the fastest smartphone when it comes to storage speed, beating all rivals including high-end handsets from Samsung. Of course, the competition is getting better and better when it comes to built-in and expandable storage speed, with Samsung having already confirmed it has big plans in the years ahead.
So, how does the brand new Galaxy Note 7 fare when it comes to storage performance?
DON'T MISS: This is our first look at one of the two brand new PS4 consoles launching next month
The Galaxy Note 7 ships with 64GB (UFS 2.0) of built-in storage, which may be enough for many smartphones users. But the device also has a microSD slot that can take up to 2TB of extra storage. Since 256GB is the largest card available right now, the Note 7 can hold up to 320GB of total storage.
Looking at microSD card speeds in the Galaxy Note 7, GSM Arena concluded that the Galaxy Note 7 offers similar performance to the Galaxy S7 edge, and beats the Galaxy Note 5 in some tests.
Interestingly, the Galaxy Note 7 trails behind both the Galaxy Note 5 and Galaxy S7 edge when it comes to built-in storage speeds. This could certainly play a role in slowing down the Note 7 when it comes to real world performance; as we just saw, Samsung's latest flagship phone is nowhere near as fast as last year's iPhone 6s.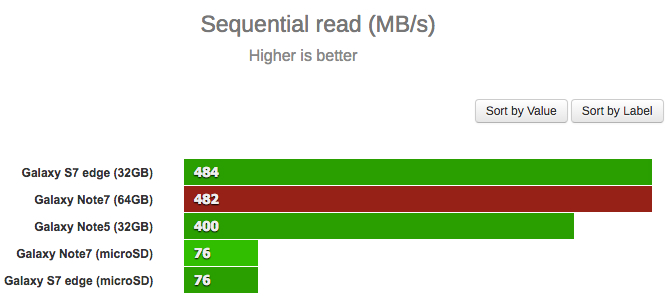 In its tests, the site used a Transcend 32GB Class 10 UHS-I card that delivers much faster speeds than a Class 10 non-UHS-I microSD card. But both types of cards would still comfortably move data between the microSD memory and the phone. The Galaxy Note 7 was able to write 4K video to storage at 8MB/s. As you can see in the following screenshots, sequential read and write tests support speeds well over 8MB/s for UHS-I cards.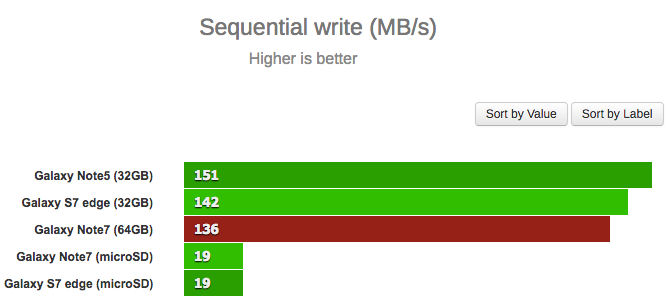 The cards won't do very well in random read and write tests, which is how app data might be used in a real-life scenario. On the other hand, media files will require data sequentially, moving from one end to the other. In other words, using apps and games from the microSD cards may not always offer as good an experience as playing multimedia files directly from internal storage.