Something interesting has been happening behind the scenes here at BGR over the past couple of weeks. As we've been sharing more and more leaked photos and videos of Samsung's upcoming Galaxy Note 7, more and more people have been emailing us with a curious concern. Here's an example of a leaked video that shows the new Note 7 in action, and almost every time we publish one, we get emails from people concerned about rumors that the only available version of the Galaxy Note 7 will have curved edges on either side of the display.
We love the edge design — it makes the large Galaxy S7 edge shockingly comfortable and easy to use with one hand. But apparently not everyone is into it, and people are worried that there won't be a flat option for the Galaxy Note 7.
Well, perhaps this newly leaked photo will put your mind at ease.
MUST WATCH: Two new videos get up close and personal with the iPhone 7 like never before
Samsung has really been pushing its "edge" phone lineup, and the reasoning is fairly obvious. They offer differentiation compared to other smartphones since they're a variation on the rounded rectangle form factor everyone is all too familiar with. They're also pricier, which means higher ASPs and better margins for Samsung.
Not everyone is sold on the curved edge design, it would seem.
Despite the added comfort and unique look, flat phones are still the preference for many users. There are a few main reasons people have mentioned in emails, but one that pops up often is the slight distortion that appears on the edges of the screen when the user looks straight at it. Fair enough.
It looks like Android fans hoping to see a flat option when Samsung unveils the Galaxy Note 7 next week are in luck, because a newly leaked image taken from Weibo and shared by anonymous Twitter user The Malignant shows a next-gen Note 7 with a flat screen. The image is believed to be authentic, and the stylus is out so there's no mistaking which model this unreleased phone is.
Here's the leaked photo: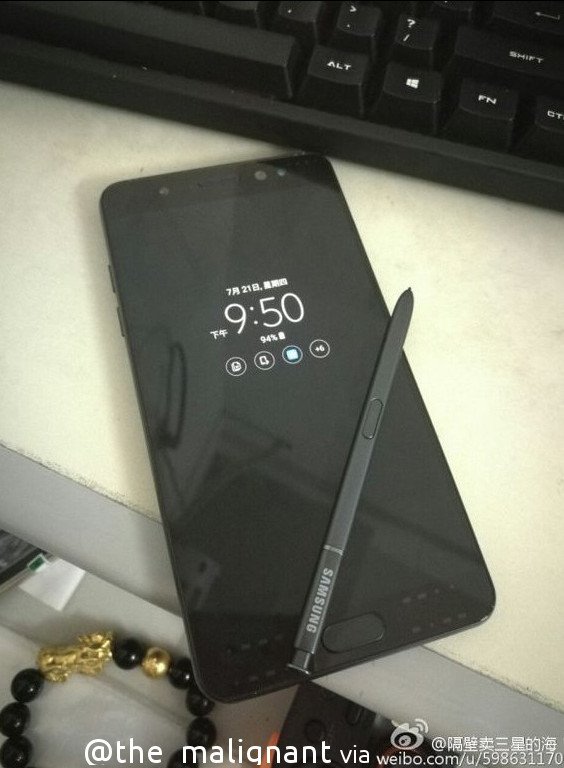 Samsung will unveil its next-generation Galaxy Note 7(s) during a press conference in New York City on August 2nd, and we'll have live coverage for you right here on the site.