Samsung is already working on its next-gen flagship smartphones, including the Galaxy S10 and Galaxy F foldable handset, which will be released in the first half of next year. The foldable phone may turn out to be the most interesting smartphone Samsung has ever made, especially considering last week's Bloomberg report that revealed several details about the handset that were previously unknown. But while those details can't be confirmed right now, we do have an indication of what Samsung may call the phone's screen.
Bloomberg explained that Samsung might show off the foldable concept at Samsung's developer conference next month, although it's going to be a concept image rather than a photo of the actual phone.
The report also revealed that Samsung engineers have been working on two different prototypes that open from side to side, with one extending the screen vertically, and one horizontally. On the outside, there's a 4-inch display that appears when the phone is folded. Bloomberg also said that Samsung has been working closely with Google on developing an Android version for foldable handsets, which is great news.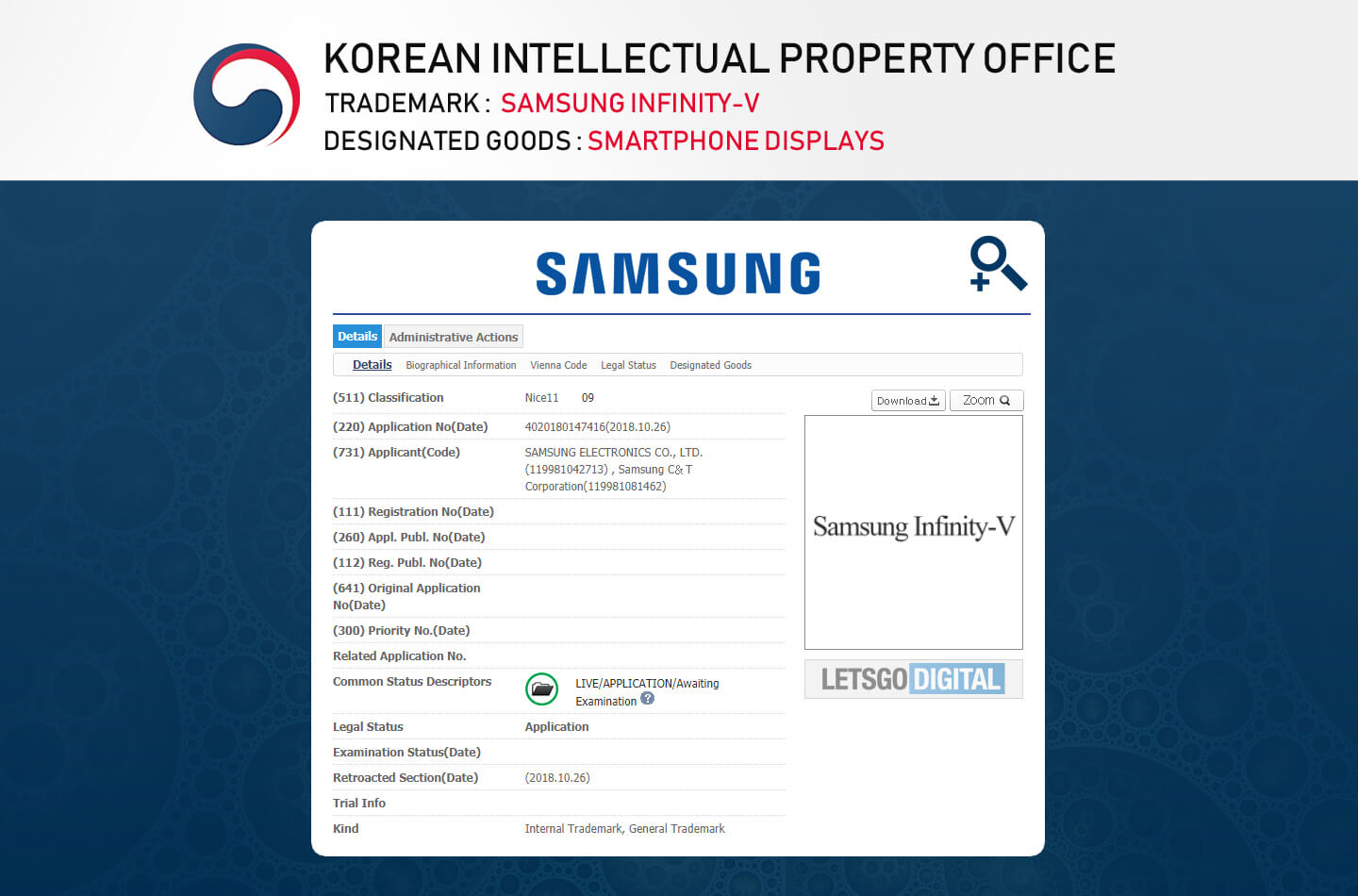 Meanwhile, Samsung filed a trademark with the Korean Intellectual Property Office (KIPO) on October 26th for "Samsung Infinity-V," a trademark that may be used with smartphones and displays for smartphones, according to Let's Go Digital.
Samsung coined "Infinity Display" last year when it launched the Galaxy S8. All the flagships that followed packed Infinity Displays of their own. These are curved edge-to-edge screens with small bezels at the top and bottom. The same Bloomberg report said the Galaxy S10 would have a screen with even smaller bezels.
While it's unclear what device Infinity-V will be used for, the Galaxy F is the first to come to mind. That's because a foldable phone would form a "V" when folded and unfolded. Not to mention that a Samsung teaser for its SDC18 developer conference had a "V" morphing into an "I" that seemed to be a teaser for foldable devices. Then again, Samsung may have something else planned for the "V," and the Galaxy S10 may end up rocking an Infinity-V display next year.