As anyone who's even a little familiar with Pokemon will known, the goal of Pokemon Go is to catch as many Pokemon creatures as you can. And if you think that it might not take too long to find every single character, then you'd be dead wrong. There are no less than 151 animals in the game that you have to discover and add to your Pokedex. You might not be able to catch every single Pokemon you spot, but there's a long list of animals to hunt before you can consider yourself a Pokemaster.
Almost everybody knows Pikachu, who is one of the first characters you can catch if you're familiar with Pokemon Go tricks, but there are plenty of other animals, each one with its own unique story. If you're looking to meet them all but you can't be bothered to actually hunt them down in the game, there are a couple of sites you should visit.
DON'T MISS: Two of the best iPhone 7 leaks yet both surfaced last night
Before we start, you should know that not all of the 151 Pokemon characters are available to players just yet. There are some that you won't be able to catch anytime soon, because they haven't been made available at this time. But Business Insider put together a comprehensive list of every single Pokemon that'll be found in the game, including the rarest ones. The site lists each character's description and the official photo, too.
Pikachu is number 25 on the list: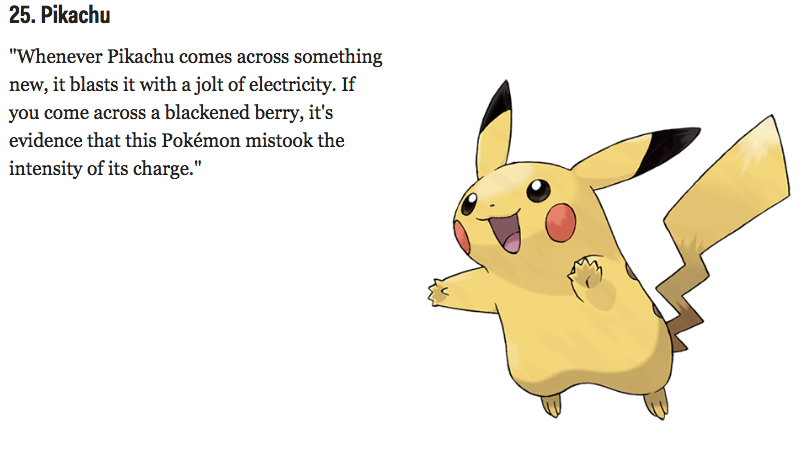 The list respects the number and order of the official online Pokedex tool, which is where the information originates from. However, all the information is on one massive page, which means you don't have to click back and forth to check out various characters.
Check out Business Insider's full post to see the other 150 Pokemon characters in one place. On the other hand, if you want physical traits and stats for each character, you'll have to check out their individual pages on Pokemon.com.
If you don't care about any of that and you just want to play, you absolutely must check out this awesome new Pokemon Go tool.