Discord, like everyone else, is turning to AI to entice new and existing users.
In a blog post, the company announced a number of new AI features including updates to its existing robot, AI-powered moderation tools, and new ways to use artificial intelligence to stay up to date on the deluge of conversation threads.
The first major change coming to Discord is that Clyde, the app's AI robot, is "coming to (artificially intelligent) life, natively within Discord, using OpenAI technology" starting next week. According to the company, Clyde will now serve as the app's chatbot, similar to chatbots coming to other services like Snapchat.
Clyde can now answer questions and have extended conversations with you and your friends. Just by typing @Clyde in a server, you can chat with Clyde in any channel. You can even have Clyde start a thread for a group of your friends to hang out. Clyde can recommend playlists, and access GIFs and emojis like any Discord user.
The company is also bringing artificial intelligence to its moderation tools. AutoMod is being updated with AI in order to improve the detection of server rules being broken while keeping in mind of the context of the conversation.
Now we're taking AutoMod to the next level, harnessing the power of large language models. Moderators can leverage Automod AI, which will use OpenAI technology to find and alert the moderator whenever server rules may have been broken, keeping in "mind" the context of a conversation. The AutoMod AI experiment begins in a limited number of servers today.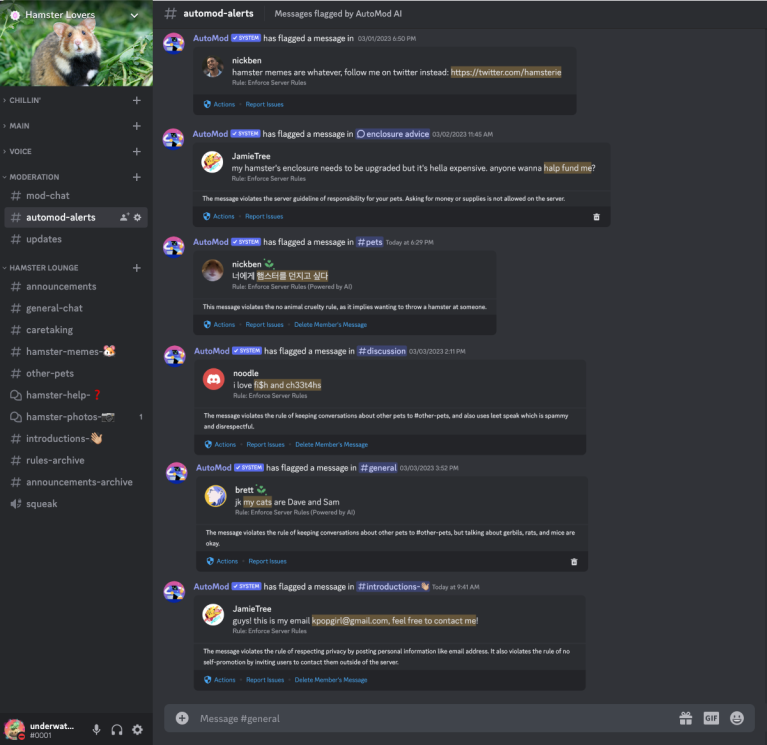 The app is also introducing a new feature called "Conversation Summaries," which will help users catch up on conversations that they have taken a while to come back to. Microsoft has already announced a similar feature for Teams.
Instead of feeling out of the loop after taking some time away IRL, AI-generated Conversation Summaries can bundle streams of messages into topics so you can quickly catch up or join in on what matters most to you. This feature can be enabled in Server Settings and we'll be experimenting with Conversation Summaries in a limited number of servers starting next week.
Earlier this week, Discord voice chat finally came to the PlayStation 5, about four months after it had also rolled out to Xbox consoles.