Well, we know that OpenAI isn't making the next iPhone. But what about the next Windows?
At the end of September, news broke that ex-Apple designer Jony Ive and OpenAI CEO Sam Altman were working together on a new project. At the time, many people immediately assumed that the two were working on an iPhone killer to bring the smartphone into the age of artificial intelligence.
However, in a recent interview with The Wall Street Journal's Joanna Stern, Altman shot that idea down, saying that he had "no interest in trying to compete with the smartphone." However, Altman didn't deny the two were working together, saying, "I think there is something great to do but I don't know what it is yet."
Designer Parker Ortolani seems to want to take a shot at what that thing might just be. Instead of a smartphone, Ortolani put together a concept for "gptOS," a completely new operating system powered by OpenAI's technologies like ChatGPT and DALL-E. The designer says that this new operating wouldn't be a replacement for a high-end Windows or Mac computer but instead target the low-end category of Chromebooks, iPads, and low-end Windows PCs.
Post by @parkerortolani

View on Threads
The concept is really intriguing. As you can see below, instead of a search bar for an engine like Google Search, you could literally ask your computer for anything. And, with the power of ChatGPT and DALL-E, it could hook into basically anything — both on your computer and on the web.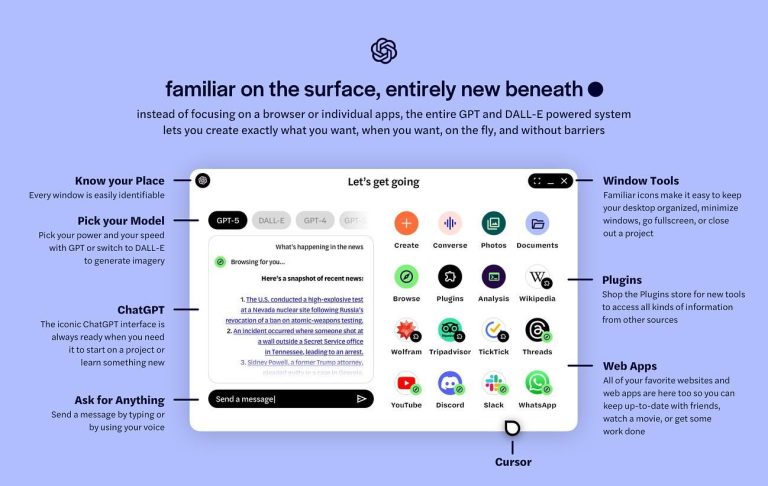 Ortolani also imagines the operating system as a built-in creativity device that can help you create documents, images, code, and more due to the capabilities of OpenAI's products.
This could be a really compelling product if the company decided to go through with something like it, especially since OpenAI holds a close relationship with Microsoft. Google has basically taken over the low-cost PC market with its Chromebooks and they are admittedly better than a low-end Windows PC, so this could also be an opportunity for Microsoft to compete with the company in the space.
We'll have to see what Sam Altman and Jony Ive actually have in store for us, but this concept is certainly one of the most interesting ideas I've seen on what a future project for OpenAI could actually be.