The unthinkable happened: OpenAI paused ChatGPT Plus sales as interest in premium access surged after DevDay. As a result, ChatGPT Plus subscriptions are sold out for the time being. This should be temporary, as OpenAI will surely want to increase capacity and make room for more ChatGPT users looking to spend $20/month to get access to GPT-4, custom GPTs, and other features that are exclusive to the paid tier.
If you want ChatGPT Plus access, your best bet is waiting for OpenAI to reopen sales rather than buying it from eBay and other places. Remember that ChatGPT Plus is a digital property. You won't want to share it with anyone else, nor should you trust any third party with access to your online accounts, whether it's ChatGPT Plus or something else.
One eBay seller promises six months of access to ChatGPT Plus access for around $60. This person claims they've sold ChatGPT Plus to over 100 buyers.
That's half the $120 you'd pay for the same period by buying your own ChatGPT Plus account. OpenAI doesn't have such deals in place, not even for Black Friday.
Come to think of it, the pause in ChatGPT Plus registrations couldn't have come at a worse time for the company. I have no idea if OpenAI had planned any Black Friday deals, which they might still offer. But running out of ChatGPT capacity a week before Black Friday would certainly impact that.
Why would a stranger on eBay give you better ChatGPT Plus access? Because you're essentially sharing access to an existing account. From the eBay sales page:
Shared Account: Please note that this account is tied to main account holder and shared. Once your purchase is complete, we will send you the account details. Per your choice all chats you are interacting with can be always turned off while interacting with ChatGPT for your privacy. If you have any questions, please reach us out at anytime.

Non-Changeable Password: As part of our pool account system, the password cannot be modified. This measure ensures a seamless and hassle-free experience for all users.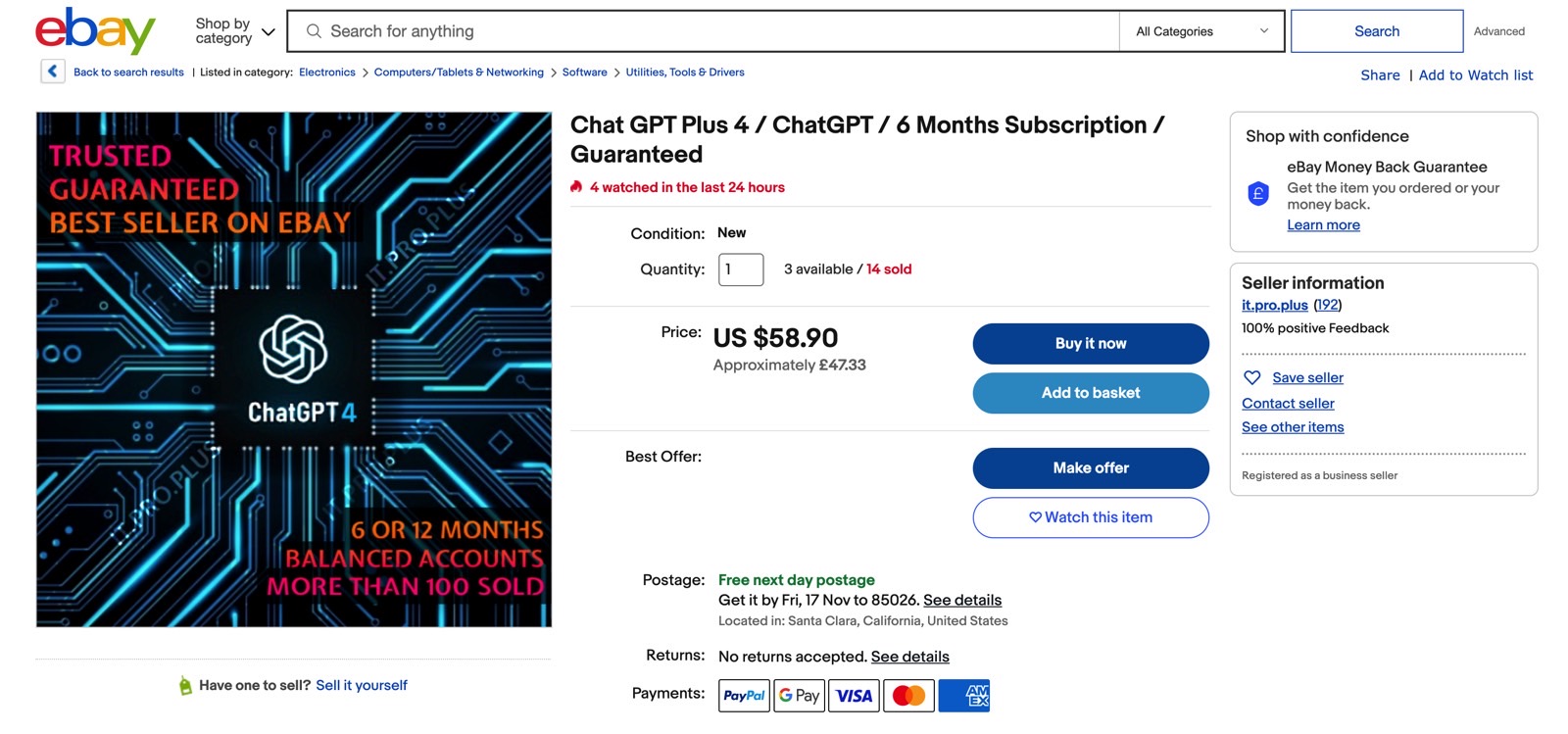 This is somewhat similar to sharing a Netflix password. Only you're paying for access. And ChatGPT Plus is the kind of digital property that's a lot more sensitive than Netflix. Maybe you have a few great ideas for custom GPTs, and you can't wait to try them out. If that's the case, you'd better wait for OpenAI to resume ChatGPT Plus sales.
The premium subscription will return. I don't have a way of knowing when, but I guarantee it'll happen. Like any company, OpenAI likes money.
Not only that, but OpenAI needs money to survive in this particular business. Those smart ChatGPT features cost money, and OpenAI isn't done. ChatGPT might be one year old, but we're still in the early days of generative AI. And those ChatGPT Plus subscriptions will keep the lights on and turn OpenAI into a profitable venture.
As Business Insider points out, a report from The Information from late August claimed OpenAI will bring in more than $1 billion over the next 12 months. The figure was "far ahead" of internal projections, according to people familiar with the matter.
The estimate also suggested OpenAI would bring in at least $80 million per month. That would translate to 4 million ChatGPT Plus customers, assuming that would be the only source of revenue. But OpenAI also sells ChatGPT access to companies. And it has other generative AI products.
On that note, you can buy an enterprise ChatGPT subscription from OpenAI. I'm sure those aren't sold out. But you'd have to reach out to the company for pricing and take it from there. If you have a groundbreaking idea for custom GPTs, that's the way to go.
The simplest option is to register your interest in ChatGPT Plus. You'll join a waitlist, and OpenAI will notify you when it's ready to sell you a subscription.