The crypto market is now recovering after having taken quite a beating over the weekend. Bitcoin reached new lows for the month of March, dipping all the way down to around $7,300. Ethereum, the second biggest cryptocurrency by market cap, dropped to just over $460. It goes without saying that no coin survived the bloodbath unscathed.
However, as usual in the crypto world, the slide did not last that long, so it's not quite as bad as some people expected. At the time of this writing, all coins have recovered significant ground. Bitcoin and Ethereum are trading at $8,300 and $540, respectively, which is an improvement of 7% and 4% compared to Sunday's prices.
So what happened?
Worries about the imminent "death cross" may have scared away some investors. Bloomberg explained what the chart pattern (image below) indicator means:
Bitcoin's 50-day moving average has dropped to the closest proximity to its 200-day moving average in nine months. Crossing below that level — something it hasn't done since 2015 — signals fresh weakness to come for technical traders who would dub such a move a "death cross."
However, it was news from the Financial Stability Board on Sunday that helped Bitcoin. FSB said the G20 members will not regulate cryptocurrencies anytime soon. "The FSB's initial assessment is that crypto-assets do not pose risks to global financial stability at this time," FSB Chair Mark Carney said in a letter to G20 central bankers, according to Reuters.
Somewhat positive crypto-related news came late last week from Larry Kudlow, who happens to be Trump's new White House economic adviser. Per CCN, Kudlow wants to implement "phase two" of Trump's tax reform, which will include lower rates for capital gains, a move that might convince crypto speculators to take some profits off the table in the future without worrying as much about taxes.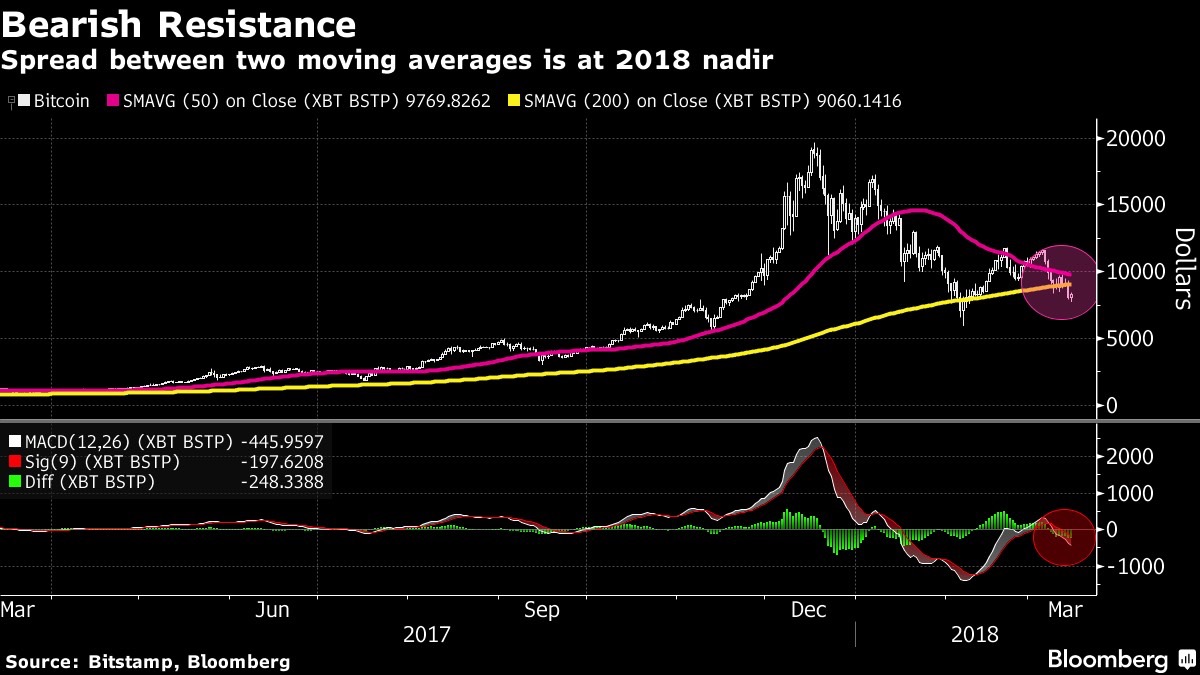 Commenting on the price swings of cryptocurrencies, Ethereum co-founder Joseph Lubin told Bloomberg that calling the crypto phenomenon a bubble would be "shortsighted:"
It may be hard to tell because we're so focused on Ethereum, we're so focused on building decentralized applications on the Ethereum platform and we're so much less focussed on cryptocurrencies like bitcoin. But I would argue that we've seen a correction in our space, calling it a bubble to have been popped is a little bit shortsighted.
In other markets, France's financial regulator (AMF) is working on introducing legislation on ICOs, according to Coin Telegraph. That's not a ban, though — quite the opposite. It's a shift in policy compared to AMF's recent ban of 15 cryptocurrency and crypto websites. Over in Luxembourg, the financial regulator (CSSF) issued a warning against cryptocurrency investments and ICOs, mentioning the increased risks associated with them. The authority said it wasn't concerned with the underlying technology, known as blockchain.
The same blog reported over the weekend that Israel seems to be interested in supporting cryptocurrencies and related tech. In a ruling in late February, the Israeli Supreme Court said that Leumi Bank can't block a local broker, Bits of Gold, from facilitating digital token sales.