This year's Consumer Electronics Show edition was an unusual event, as the novel coronavirus pandemic prevented organizers from hosting an in-person trade show, as it's customary for early January.
The event moved online, and the all-digital CES 2021 still delivered plenty of virtual events and product announcements.
In what follows, we're going to recap some of the best tech coming out of CES 2021, with a focus on gadgets and devices that will improve our home experiences while we wait for the pandemic to end.
---
The Consumer Electronics Show is the biggest tech event of the year. It takes place in early January, with almost everyone in the industry looking to showcase their newest innovations, whether they're products that will actually hit the market several months later or much later than that. The coronavirus pandemic got in the way of all that tech display bonanza, forcing the organizers to invent an all-digital trade show. It might not be the best way to experience all these exciting products, but the digital-only CES 2021 event wasn't that bad. All the usual players brought their new tech toys at the event, and we saw plenty of announcements in the days leading to the trade show. We've already shown you a few exciting innovations from the show, but in what follows, we're going to briefly detail some of the gadgets announced at the CES 2021 events, most of which will be available in stores soon.
Computers
---
Lenovo Tab P11
The Galaxy S21 may have launched right as CES 2021 ended, but the trade show isn't the natural home of Android. We did have, however, various Android-related announcements at CES, including Lenovo's Tab P11. We're looking at an 11-inch screen with 2K resolution, built-in 4G support, and accessories that turn it into a Surface Pro-like device. But it runs Android.
---
Razer Blade Pro
Like many players in the industry, Razer updated its gaming laptops at CES, launching the all-new Blade Pro 17 gaming rig. Available for preorder, the notebook is thinner, more compact, and more powerful than its predecessors. Add to that the large screen with thin bezels, all the ports you might need, Wi-Fi 6E support, and the iconic Razer Chroma color effects, and you have plenty of reasons to upgrade this year.
---
HP Elite Folio
Gaming has been huge last year, as many people were forced to stay at home to avoid COVID-19. But that's also where people did most of their school and work chores. Many people will be looking for new laptops and notebooks for what looks like one more year of pandemic, and the new HP Elite Folio might fit that bill. It's Windows on ARM, supporting 5G and Wi-Fi 6 out of the box, and boasting 24.5 hours of battery life. Add to that the great folio design, now coming in a vegan leather option, and you end up with a great tool to replace your current tablet/laptop combo.
---
Lenovo X1 Titanium Yoga
The new Lenovo X1 Titanium Yoga also makes our Best of CES 2021 list. This 2-in-1 runs on Intel Evo-certified chips, and it's incredibly thin and portable. It measures just 11.5mm, or just enough to give you a 13.5-inch 2K touchscreen display, full keyboard, 5G, Wi-Fi 6, and a couple of USB-C ports.
---
LG 2021 Gram
If you're looking for thin and slim, LG's Grams have to be on your list of notebooks to check out. The Korean giant unveiled the 2021 Gram generation, which comes in various sizes to meet your needs. All of them are supposed to be as portable as possible and as fast as possible. Think Intel's new 11th gen Core processors, Irix X graphics, and LPDDR4x memory. Battery life should also go up, thanks to those new high-density battery packs powering the 2021 Grams.
---
Samsung Galaxy Chromebook 2
If Chrome OS is your operating system of choice, coming in hot at CES, and in red is Samsung's Chromebook 2. The successor of last year's high-end and very expensive model is much cheaper this time around. Starting at $549.99, the 13.3-inch Chromebook 2 delivers a notable feature; it's the world's first QLED Chromebook. QLED isn't OLED, but Samsung certainly knows how to make great QLED TVs.
---
Intel new 11th Gen processors
Most of the laptops launched at CES 2021, and there were quite a few models thrown around, will run on Intel chips. And it so happens that Intel just announced four new processor families at CES, including the Intel Core H-series of mobile processors that will serve gaming platforms. This is a notable achievement, especially at a time when Intel has to compete harder than ever. Apple just came out with its M1 chips that are eating Intel's lunch on the MacBook side of things so that the company will feel the pressure more than ever. Look for H-series chips in various ultraportable gaming machines this year, with Acer, Asus, MSI, and Vaio being among the companies who unveiled such devices at the show.
---
TV
---
Sony Spatial Reality Display
We've already told you, the video does all the talking for Sony's new glasses-free 3D experience:
It's not easy to explain exactly how mind-blowing the viewing experience is on Sony's new Spatial Reality Display, so we've included the video above to give you a visual aid. In a nutshell, this game-changing display provides a complex glasses-free 3D experience that tracks your eyes and head movements, adapting the image in real-time to account for your perspective. The goal, in part, is to mimic the experience of looking at a real object in the physical world — as you move your vantage point, different parts of the object become visible, light reflects differently, shadows move, and so on.
---
LG 48-inch Bendable Cinematic Sound OLED (CSO)
LG launched the world's first OLED TV/display that can bend whenever you need a more immersive experience. LG says the 48-inch Bendable Cinematic Sound OLED (CSO) is for immersive gaming, but you can bend it for anything else you might be consuming on it.
---
Samsung Micro LED TVs
Micro LED and mini LED are the next best thing happening to displays. We'll these screens pop up in various places in the coming months, from TVs to laptops and tablets. Samsung is leading the micro LED TV charge, having unveiled at CES 2021 new micro LED models. They come in 110-inch and 99-inch versions, with additional sizes expected for later this year. They won't be the cheapest ones, but they're definitely a highlight of this year's Consumer Electronics Show — Samsung, of course, announced several other TV innovations during the event.
---
Internet
---
D-Link Wi-Fi 6 USB adapter
You might have noticed that most of the new laptops and phones come with Wi-Fi 6 support, but that's only good if you have the appropriate hardware at home or the office. But D-Link thought that some people might want to bring Wi-Fi 6 support to older devices rather than upgrading their laptops or desktops. That's where the D-Link AX1800 Wi-Fi 6 USB 3.0 Adapter comes into play. It's just another little dongle that you might end up buying this year, to take advantage of that speedy Wi-Fi 6 connection in your home — set aside $99.99 for its Q2 2021 estimated launch date.
---
Linksys Wi-Fi 6E Mesh System
The D-Link dongle and the Wi-Fi-6-ready devices won't work if your home internet can't support Wi-Fi 6 speeds. And if you live in a big house with spotty Wi-Fi, then you might need a mesh Wi-Fi system so that everybody at home can enjoy the same high speeds. That's where Linksys' AXE8400 Wi-Fi 6E Mesh System comes to the rescue. What's even better about this particular mesh system is that it's Wi-Fi-6E-ready, meaning it'll support even faster Wi-Fi soon. The price is its only downside, with a two-pack set costing $849.99.
---
Netgear Nighthawk RAXE500 WiFi 6E Router
For smaller homes, the Nighthawk RAXE500 WiFi 6E Router can be an alternative. It's a single device that you need to find a place for in your house and offers the same Wi-Fi 6E support as the Linksys mesh system. The router is available for preorder for $599.99
---
Accessories
---
OWC ENVOY PRO FX
It might have a complicated name to remember, but the OWC ENVOY PRO FX is the kind of SSD model you need to add to a shortlist for the age of 5G and Wi-Fi 6E data transfers. This is easily the fastest external SSD that you can buy right now and something most pros will want to look at. Prices start at $169 for the 240GB version.
---
SanDisk 4TB Extreme Pro Portable SSD
SanDisk can't match the OWC speeds with its portable drives, but it makes up for that with increased storage. Several 4TB SSDs were unveiled at CES 2021, and the Extreme Pro Portable got its own refresh. Western Digital has three other 4TB SSD drives to look at, but the Extreme Pro stands out for its speed and design.
---
Lenovo ThinkReality A3
Picture this, you're working from home, or anywhere really, and you need a few additional displays to improve your productivity. That's where the ThinkReality A3 smart glasses could help with. They're bulky and need a tethered connection, so this isn't necessarily the sci-fi future of smart glasses, but we have to start somewhere.
---
Vuzix Next Generation Smart Glasses
Vuzix Next Generation Smart Glasses definitely need a more catchy name, but they definitely stood out at CES. Unlike the ThinkReality smart glasses, these ones are meant to deliver AR features while you're roaming the real world. They're closer to actual glasses than what you'd expect from AR glasses, and they'll ship later this year.
---
Tech That Moves
---
Sony Airpeak Drone
Sony unveiled at CES 2021 the world's smallest drone capable of carrying the Alpha camera system. The drone looks amazing and will be ready to carry other camera systems that fit in the same payload. Expect the new Airpeak to hit stores this spring, so keep his link handy.
---
Sony Vision-S
Not coming anytime soon is the Vision-S, a Sony smart car concept that you absolutely need to see. It's an electric, 5G-connected, entertainment-centric prototype that might drive itself one day. You can't preorder it or drive it right now, but the Vision-S is definitely the kind of Best of CES tech the world needs right now to dream about the future, especially considering how long most people have been stuck at home.
---
Samsung Bot Handy
From our previous coverage on exciting CES 2021 gear:
It goes without saying that the name "Samsung Bot Handy" isn't great, but the product itself could be a game-changer. Unfortunately, Samsung's CES 2021 announcement is just a preview and the Handy won't be released anytime soon.
---
Samsung JetBot 90 AI+
A different kind of robot is the JetBot 90 AI+ that Samsung unveiled at CES 2021. It's the world's first smart robotic vacuum that comes with Intel AI inside and a LiDAR sensor like the ones self-driving cars use. Aside from recognizing objects in your home faster, the smart vacuum will also connect to your phone so that you can control it from anywhere.
---
LG CordZero ThinQ A9 Kompressor+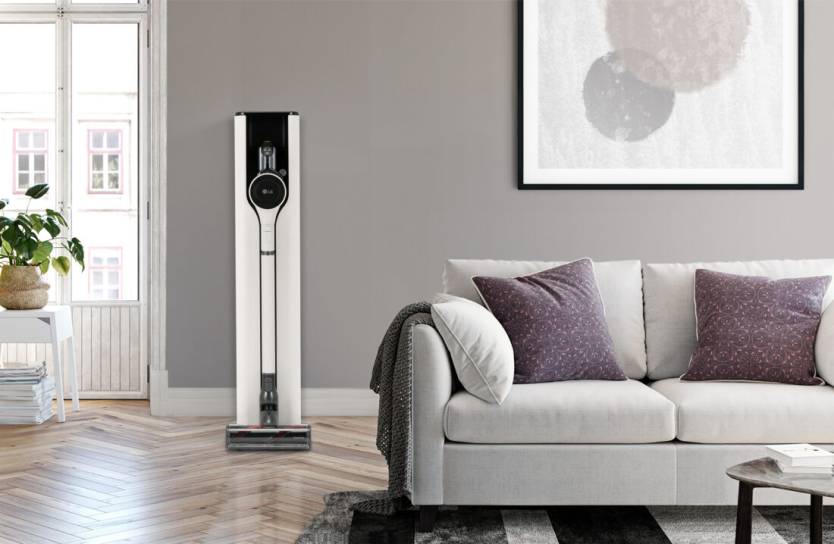 The CordZero ThinQ A9 Kompressor+ is a name you won't remember, and this vacuum cleaner isn't smart like the JetBot AI+. But if you're shopping for your next-gen vacuuming experience with a cordless vacuum, the new LG CordZero ThinQ might be just what the doctor ordered. It doubles as a mop and empties the container by itself. The only thing you'll have to do is to actually move it around the house manually. Come to think of it, the new CordZero model might be a great excuse to take breaks from all that working from home.