One of the most exciting additions to Apple's mobile platform in iOS 11 is ARKit, which makes it easier than ever for developers to implement augmented reality into their apps. Apple has gone as far as to dedicate an entire sections of the App Store to new AR-focused apps, and this week, mobile analytics firm Sensor Tower took a deep dive into the data to see which AR apps and games on iOS 11 have made the biggest impact so far.
According to Sensor Tower's Store Intelligence data, apps that require ARKit have been downloaded over 3 million times since iOS 11 launched on September 19th. Unsurprisingly, games are the most popular category of ARKit-only apps, capturing 35% of the market share. Utilities comes in at a distant second at 19%, and entertainment is at 11%. Education, Photo & Video and Lifestyle apps round out the list with a combined share of 18%.
There are plenty of clever and potentially useful use cases when it comes to AR, but the easiest way to highlight the technology for someone who might not be familiar with it is through games. Pokemon Go might not require AR in order to function, but it was one of the first major breakout successes that utilized AR.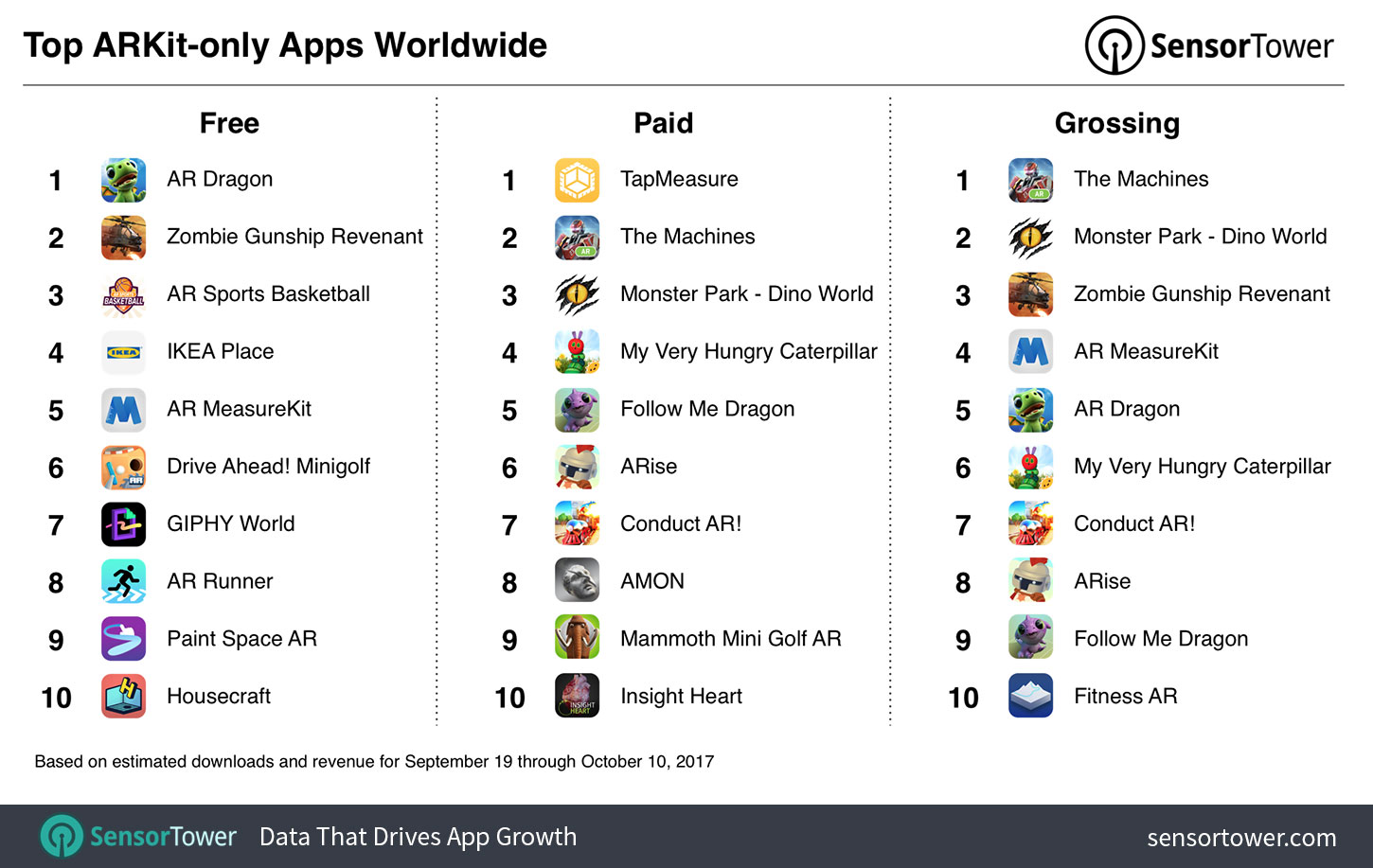 Sensor Tower's data shows that the ten most downloaded free ARKit-only apps as of October 10th are AR Dragon, Zombie Gunship Revenant, AR Sports Basketball, IKEA Place, AR MeasureKit, Drive Ahead! Minigolf, GIPHY World, AR Runner, Paint Space AR and Housecraft. If you're interested in AR but don't know where to start, pick a few apps from this list that look interesting, download them and give them a whirl.