To be perfectly honest, I'm a bit surprised by how much I have been enjoying the iPhone 7 Plus since I upgraded back in September. I didn't buy into the whole "the iPhone 7 is going to be boring" narrative that tech blogs were pushing ahead of Apple's unveiling, and I repeatedly urged BGR readers to dismiss the chatter as well. But I also wasn't expecting too much from Apple's ninth-generation iPhones, which had been and continue to be seen as stepping stones as we wait for Apple's massive iPhone redesign next year.
The iPhone 7 and iPhone 7 Plus pack a heck of a lot of punch for stepping stones, though. In fact, they're the fastest and most powerful smartphones on the planet by a huge margin. The design, the performance, the deep integration with Mac computers, the overall user experience, and the unbeatable third-party app ecosystem have me locked in. But there are a pair of Android phones released this year that just won't stop calling my name.
For the time being, I'm not sure there's anything that can drag me away from my iPhone. Believe me, I've tried. I have the luxury of using every new flagship phone that is released so there are plenty of Android handsets in our offices for me to test whenever the need arises. But the phone I carry with me every day for work and personal use is an iPhone, as has been the case since the first model ripped me away from my Nokia smartphone in 2007.
This year, however, there were two smartphones that have made it more difficult than ever for me to stick with the iPhone.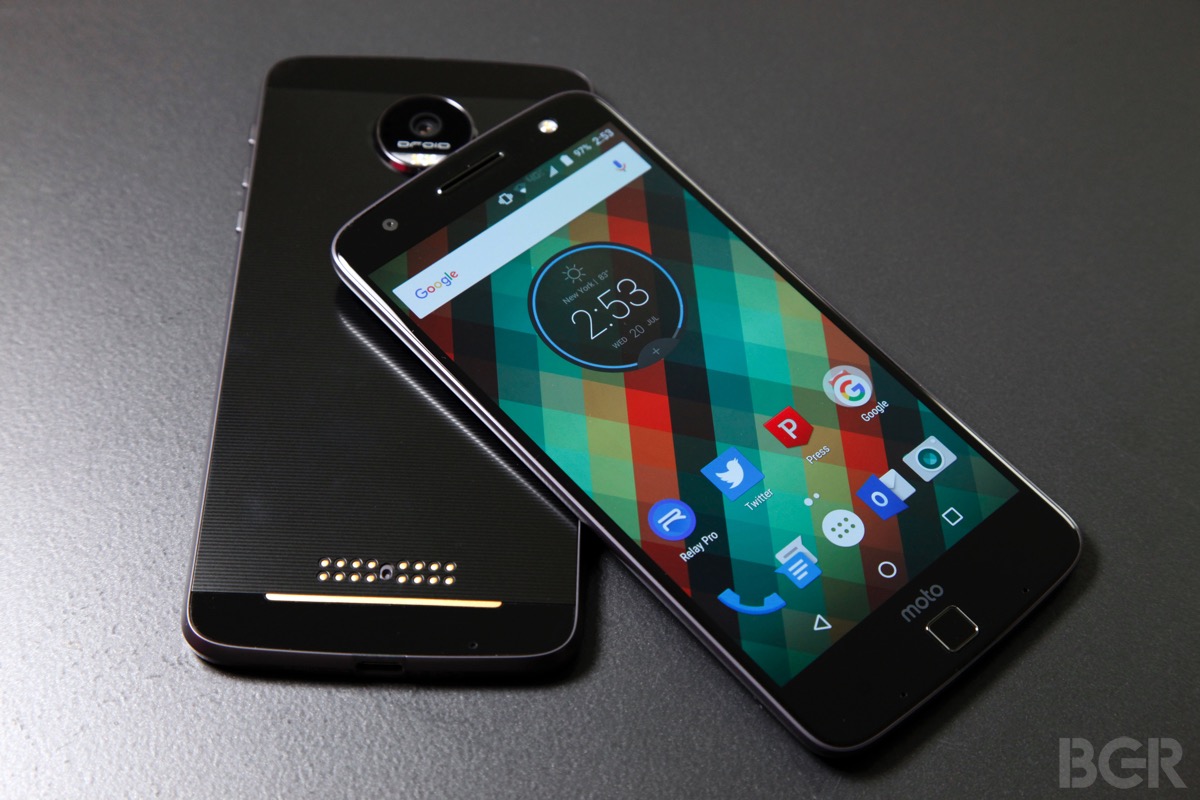 There is absolutely no question that the first of the two phones I'll cover here is the most underrated smartphone that has been released in the past few years — or perhaps ever: the Moto Z. This is due in part to an exclusive carrier agreement with Verizon in the US, which means the only way for people on other networks to get the phone is to buy it unlocked and pay in full. The unlocked Moto Z is actually on sale right now for $499.99, which is a fantastic price but still a lot to pay up front.
In terms of design, the Moto Z is the most intriguing and innovative smartphone the world has seen since 2007, when Apple pushed the industry away from tiny screens and keyboards. If you haven't yet held one in your hand, you really should. This phone is insanely thin, and yet it still manages to pack in a beautiful display and a solid camera that, for what it's worth, earned the third-highest ranking ever awarded by DxOMark. It's the thinnest flagship smartphone in the world, but the fun really begins when you make it thicker.
Huh?
The highlight of the Moto Z is a brilliant modular design that uses a proprietary port and a series of magnets to connect different accessories to the back of the phone quickly and easily. Lenovo calls them "Moto Mods" — here's a promo that shows how they work:
It's pretty awesome. Carrying the Moto Z means carrying the thinnest and sleekest smartphone on the planet, but it also means carrying a Hasselblad camera, a 100-inch projector or a nice loud JBL sound system — plus there are several battery Mods that make it next to impossible to run out of juice. In 2017, Lenovo is doubling down on the Moto Mods platform by ramping up the rate at which new first-part mods are released, and by working harder to help third-party companies release new Mods.
The Moto Z starts at $624, but Amazon's current sale drops that price to $499.99. There's also a thicker version called the Moto Z Force that packs a bigger battery and a shatter-proof display, and it's $699.95 unlocked right now on Amazon. If you're a Verizon subscriber, both models are included in the carrier's current holiday sale, so the Moto Z can be had for as little as $10 per month and the Moto Z Force is $15 per month (or less with a trade-in).
The other Android phone I would absolutely consider if I planned to ditch my iPhone is the OnePlus 3T.
I reviewed the OnePlus 3 back in June, at which time it was absolutely one of my favorite phones of the year. Then, OnePlus refreshed the phone last month, adding in a more powerful and efficient 2.35GHz Snapdragon 821 processor in place of the 820, a battery that is 13% larger without increasing the size of the phone, a new 128GB option, an upgraded front-camera, and more. The result is a smartphone that is among the most powerful phones in the world, but it starts at just $439. For comparison, the entry-level 32GB iPhone 7 Plus costs $769.
The other thing I really like about the new OnePlus 3T is the software. OnePlus uses its own custom version of Android called OxygenOS, but it's not like most custom Android builds you've used. OnePlus was very careful to maintain the look, feel and feature set of pure Android, and then mix in some truly useful features that are there if you want them, but hidden if you do not. Examples include a night mode that darkens the UI, gesture control, customizable navigation button shortcuts, and an ambient display feature.
OnePlus's new OnePlus 3T is on sale now on the company's website. At $439 for 64GB or $479 for the 128GB version, it's a fantastic value.