Once upon a time, Samsung had an idea. Smartphones had made it so that everyone carried a camera with them everywhere they went, and those camera offered pretty decent quality. There was only so much camera tech that could be stuffed into a slim phone, though. So why not make a smartphone the size of a dedicated camera that packs the quality and features of a point and shoot cam?
This was back in 2013 when Samsung was throwing spaghetti at the wall by the bucket, and the result was the Galaxy S4 Zoom. Despite its killer optics and 16-megapixel resolution, the phone wasn't terribly popular since it was so big and bulky. Samsung released an updated version the following year called the Galaxy K Zoom, but the experiment ended there.
Samsung's idea was a good one — make a smartphone with a camera that's just as good as a dedicated point and shoot camera — but the execution wasn't there. No one wants a phone that thick in their pocket at all times. Fast-forward to 2016, however, and it's finally time to see this great idea take shape the right way. Meet the Hasselblad 4116 True Zoom Moto Mod.
MUST SEE: On the eve of Apple's iPhone 7 event, new leak reveals exciting Galaxy S8 details
Lenovo's modular Moto Mod system on the Moto Z and Moto Z Force is the perfect platform to make this vision a reality. In case you missed our Moto Z review and other coverage of Lenovo's new phones, they feature a nifty system called Moto Mods that uses a proprietary magnet and port system to connect modular accessories to the back of a smartphone. It's similar to what LG did with the G5, but much more convenient and flexible since everything is external.
There were a few cool Moto Mods that launched alongside the Moto Z Droid and Moto Z Force Droid last month, including battery packs and a projector. But my favorite Mod was just unveiled on Wednesday.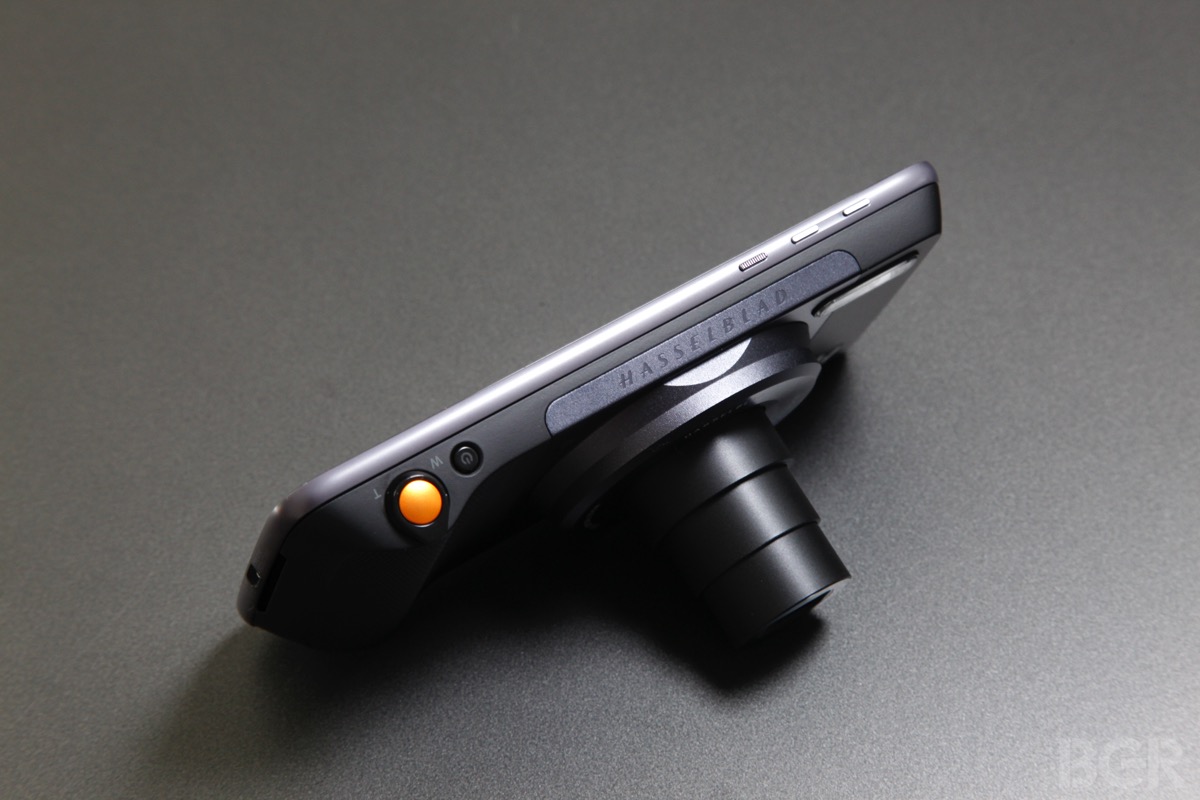 The design of the Moto Mod system is ideal for a camera attachment. Mods stick to the back of the Moto Z series, which means a module could easily pack a telescoping camera lens, a xenon flash and dedicated buttons. Now, the camera attachment we've been waiting for is finally here — and it's awesome.
Lenovo partnered with high-end camera maker Hasselblad to create the True Zoom Moto Mod. Anyone who knows photography will instantly recognize the Hasselblad name. The 75-year-old company is known far and wide for its premium professional camera equipment. But don't worry, the True Zoom mod won't cost you tens of thousands of dollars like other Hasselblad cameras.
Lenovo and Hasselblad teamed up to create an accessory that would replace the need to carry a dedicated point and shoot camera, and that's exactly what they did. This is obviously not a DSLR replacement and it's not supposed to be. Instead, it gives owners of any Moto Z phone the option to carry a slightly thicker phone whenever they know they'll have a need to take higher-quality photos than any smartphone is capable of right now. And make no mistake, the True Zoom Moto Mod absolutely takes higher-quality photos than any smartphone camera.
With a simple snap of a series of magnets, the True Zoom transforms any Moto Z phone into a 12-megapixel digital camera with a large xenon flash, 10x optical zoom, physical zoom toggles and a physical shutter button. It also has a special companion camera app capable of shooting RAW images, and a separate companion app from Hasselblad that lets you edit photos on your Windows or Mac PC. Lastly, the True Zoom includes two years of premium Google Photos cloud storage for free, which means you get unlimited full-resolution photo storage and sync.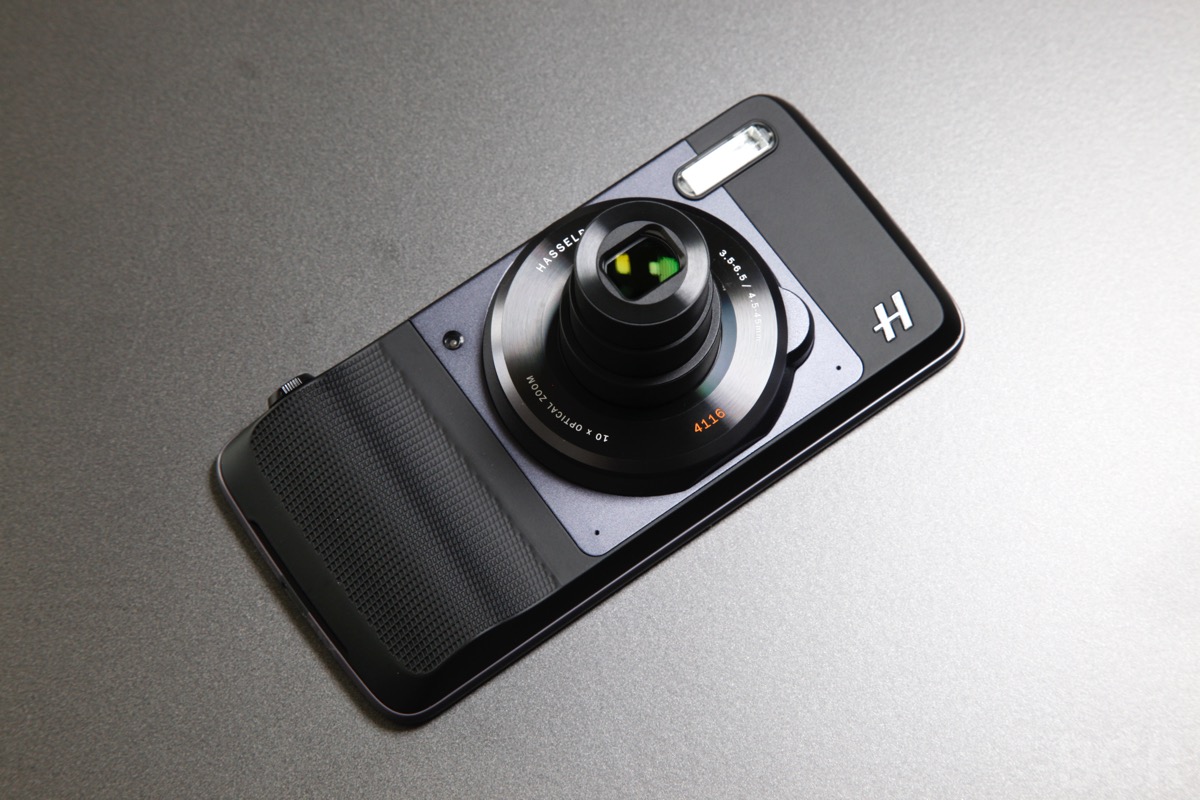 Last but certainly not least, you'll never need to worry about keeping the True Zoom Mod charged while you travel. Why? Because it doesn't have a battery. Instead, it draws power from the phone since it's not an always-on accessory like the projector Mod, it has a negligible impact on battery life.
I've only spent a week with the Hasselblad True Zoom Mod but it's already my favorite smartphone accessory. The Moto Mod modular accessory system is perfect for an add-on device like a digital camera attachment, and Hasselblad has created a lightweight accessory that sports a wonderful ergonomic design and image quality that almost certainly outclasses any dedicated point and shoot camera in this price range.
The Hasselblad True Zoom will be released on September 15th, and it'll cost $249.99 at Verizon Wireless stores or on Verizon's website. Oddly, it will also be available on Motorola's website, but it'll cost $299. Verizon will also have a limited-time deal that gives you 50% off a second Moto Mod when you purchase one at full price.