The launch of Apple Maps in iOS 6 wasn't exactly a smooth affair. Plagued by what seemed like an endless stream of bugs, usability issues and embarrassingly inaccurate mapping information, the first incarnation of Apple Maps is often viewed — deservedly so — as one of the biggest flops to ever come out of 1 Infinite loop.
Apple of course wasn't oblivious to the shortcomings that initially accompanied its in-house mapping software. Reflecting back on the matter, Apple executive Eddy Cue recently admitted that he and other higher-ups at Apple were embarrassed by the ordeal. With the company's reputation for excellence on the line, Apple decided, in the words of Craig Federighi, to "triple down" on their mapping efforts. And in the years that have since passed, the progress Apple has made is overwhelmingly clear.
DON'T MISS: The Galaxy Note 7 has a big problem, and it might also affect the iPhone 7
Since iOS 6, Apple Maps has improved by leaps and bounds. Not only has the interface improved, but Apple with the release of iOS 9 finally incorporated transit directions into the app itself. All the while, Apple Maps steadily became much better at non-trivial items such as real-time traffic updates and, you know, basic things like driving directions.
With iOS 10 looming on the horizon, Apple Maps is poised to experience yet another step forward in usability and reliability. Apple took some time during its WWDC keynote to highlight some of the changes and improvements coming to its Maps app. Some of the features to look forward to include the ability to more readily search for nearby places like restaurants and gas stations while on the road, book reservations at restaurants, pan and zoom further ahead on the Maps screen during on-screen navigation and much more.
Also noteworthy is that Apple Maps in iOS 10 will be graced with a completely revamped design that will make the UI much more easier to navigate through. Illustrating this, we recently stumbled across a chart on Twitter from Luke Wroblewski that showcases how much more intuitive mapping directions will be in iOS 10 (bottom) compared to iOS 9 (top).
As a whole, the driving directions UI in Apple Maps is much improved. pic.twitter.com/BLvAtF9uf2

— Luke Wroblewski (@LukeW) August 15, 2016
It may be hard to make out the differences but you can click here for a fuller screen version of the chart. Suffice it to say, the entire experience has been overhauled. Not only is initiating mapping directions a process that requires fewer steps, but the UI itself has been overhauled to make data entry and searching much more intuitive and seamless.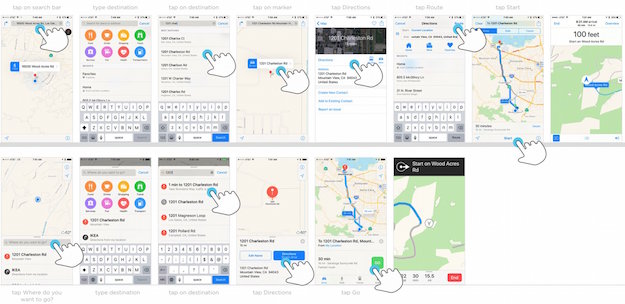 Another chart from Wroblewski highlights how navigation prompts are much more clear and obvious in iOS 10.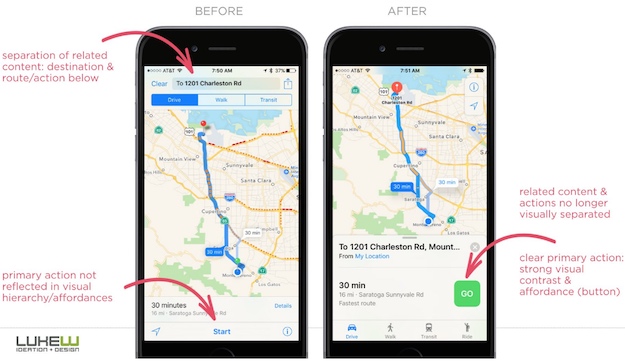 Even Apple "breaks" their guidelines for improved clarity/usability. Consistency isn't the goal. Predictability is. pic.twitter.com/tDtnSeVg5M

— Luke Wroblewski (@LukeW) August 16, 2016