Apple has a great lineup of products ranging from iPhones, Macs, iPads, AirPods, HomePods, and the Apple TV. That said, there's a secret product by the Cupertino firm that only a few people can get: the 10-year Award of Service. As the name suggests, it's an award for people who have been working for Apple for ten years.
This product has received a few designs throughout the years. The latest known was a crystal square with a laser-shaped Apple logo. Now, according to the YouTube channel DongleBookPro, Apple has changed the design of this product by using the same aluminum finish it applies to iPads and Macs. According to information seen by BGR, this new design has been used for at least two years.
The 10-year Award of Service looks like a Mac mini or a Mac Studio but with a giant reflective Apple logo. When you unbox this Apple product, the first thing you see is a letter signed by the company's CEO, Tim Cook.
Congratulations on reaching this milestone moment. The work you've done, the challenges you've met and the breakthroughs you've made possible–they all add up to a profound and lasting contribution to Apple's mission to change the world for the better.

On behalf of everyone at Apple, thank you for all you bring to our journey together.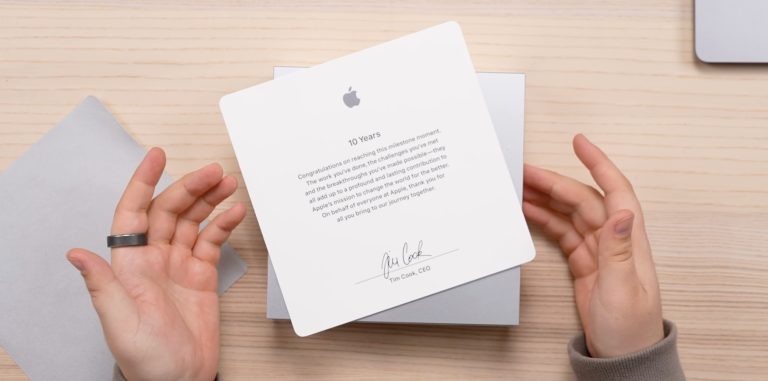 Then, you'll find a polishing cloth, the product, and printed in the box, some piece of information regarding this Apple product:
Your 10-year award is made from the same 6000 series aluminum that we use to make our products. Remnants from the production process are collected and reformulated to create a 100 percent recycled, custom alloy. The alloy is cast into long ingots, then each ingot is sliced into blocks that are machined to the finished size. The surface is fine blasted and the edges are diamond-cut. The block is then anodized to seal the finish and create a protective layer. Finally, a stainless steel Apple logo is set into the center.
The YouTuber says there are also versions of this award for 20-year and 30-year anniversaries. The YouTuber believes the 30-year Award of Service is in space gray aluminum, not silver. Below, you can find the unboxing and impressions of this secret Apple product.