To kick off New Year's resolutions, Apple Fitness Plus wants to give you a hand – or two –as the service is releasing one of its most important updates since its launch in late 2020. Starting next Monday, Kickboxing joins the other 11 kinds of workouts available – alongside Meditation. Here's what you need to know.
With more than 3,500 workouts available, Apple Fitness Plus offers the world's most extensive fitness library in 4K. With Kickboxing lessons, users will have to start eight activities with Jamie-Ray Hartshorne and Nez Dally. She's a Muay Thai fighter and made history when she became the first woman to compete in Thailand wearing a hijab.
Alongside Nez, Brian Cochrane and Jenn Lau are new additions as coaches for the service. Cochrane will practice HIIT while Lau will focus on Strenght. Those who like the Meditation classes will want to know that a new Sleep theme is coming next Monday.
In addition to all Meditation workouts available, the new Sleep program consists of four 20-minute meditation sessions that wrap up with five minutes of relaxing music. These classes want to help you wind down and sleep better.
Beyoncé's the next Artist Spotlight and more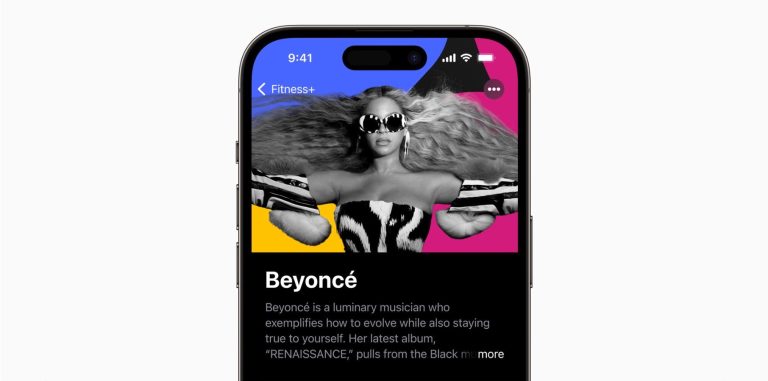 After Taylor Swift's Midnights album was featured in several workouts last December, it's time for Beyoncé's RENAISSANCE to debut on Apple Fitness Plus in seven different exercises. In the following weeks, Foo Fighters and Bad Bunny will also be featured in several workouts.
Time to Walk gets its fifth season, starting with the acclaimed actress Jamie Lee Curtis. Amber Ruffin, Jason Segel, José Andrés, Nina Hoss, Colman Domingo, Nathan Chen, and Sheryl Lee Ralph are other celebrities participating in this intimate walking moment.
Last but not least, there are two new collections: Six weeks to restart your fitness and level up your core training.