In 2019, Apple announced its ten-years goal to become completely carbon-neutral by 2030. While its offices already are, the company is taking an extra step to make its supply chain carbon-neutral.
After all, it's not Apple offices that represent a threat to climate change but how manufacturers extract materials, produce gadgets, and recycle the Cupertino firm's products once the customer upgrades to a new model.
That said, Apple has announced its manufacturing partners now support over 13 gigawatts of renewable electricity around the world, a nearly 30% increase in the last year. In total, more than 250 suppliers operating across 28 countries are committed to using renewable energy for all Apple production by 2030.
Apple says this represents more than 85% of the company's direct manufacturing spend and more than 20 gigawatts in commitments to become carbon-neutral.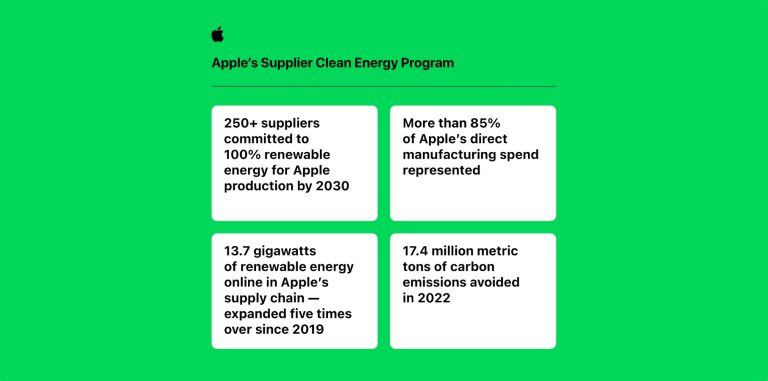 This goal includes $4.7 billion in Green Bonds, which are helping finance the expansion of clean energy solutions and emissions reductions around the world.
"At Apple, we're carbon neutral for our own operations and innovating every day to go even further in the urgent work to address climate change," said Tim Cook, Apple's CEO. "With partners around the world, we're adding even more renewable energy to power our global supply chain and investing in next-generation green technologies. The scale of this challenge is immense — but so is our determination to meet it."
Apple says more than 40 manufacturing partners joined the company's Supplier Clean Energy Program last year. The firm has called on its suppliers to decarbonize all Apple-related operations, including sourcing 100% renewable electricity.
Apple also supports about 1.5 gigawatts of renewable electricity worldwide to power all corporate offices, data centers, and retail stores spanning 44 countries. The company has also invested directly in nearly 500 megawatts of solar and wind in China and Japan to address upstream supply chain emissions.
The full report can be found here.