Apple Arcade, Apple's gaming streaming service, will get four new games this October, alongside more than 30 updates, showing that Apple is still pretty serious about this service.
The first highlight of October is the NBA 2K24 Arcade edition, featuring NBA legend Allen Iverson as the cover athlete. In MyCAREER, players can step into the shoes of their very own NBA superstar, gain fans, and unlock endorsements with iconic brands such as Nike, Jordan, or Adidas. They can also customize their fit with new shoes, accessories, outfits, and tattoos. In addition to current NBA stars, players can tap NBA legends to join their streetball squad as they take on AI opponents.
"Celebrating 25 years of NBA 2K, NBA 2K24 Arcade Edition pays tribute to where it all began. Allen Iverson, NBA 2K's very first cover athlete when the franchise launched in 1999, is back to lead us into a new era of basketball gaming," said Greg Thomas, Visual Concepts's president.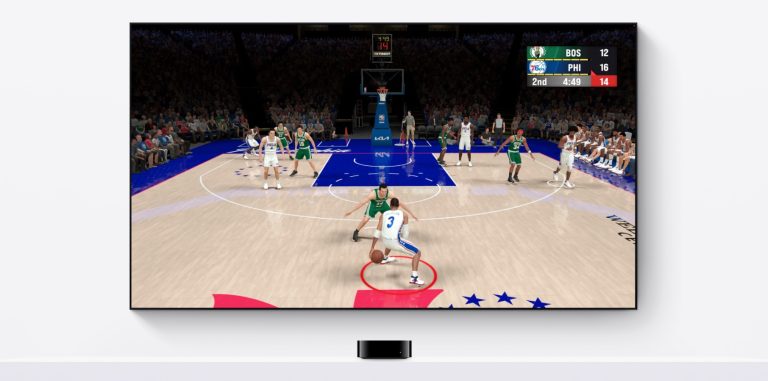 That said, NBA 2K24 Arcade Edition only arrives on October 27 to Apple Arcade subscribers. Before that, users will be able to take advantage of Jeopardy! World Tour+ brings a fresh way to play America's Favorite Quiz Show. With the true Jeopardy! experience in the palm of their hands, players will have fun competing with other players worldwide in thousands of categories and earning bragging rights as they climb the leaderboards to become Jeopardy! World Tour champion. The game launches on October 6.
On October 13, Cut the Rope 3 will be available for Apple Arcade users as the newest chapter in the hit mobile franchise, with more than 1.6 billion downloads. Players will explore uncharted territories with the game's protagonist, Om Nom, and cute little Nibble Nom. Their journey with these adorable monsters will take them to breathtaking locations and unique levels full of creative and challenging puzzles.
A week later, on October 20, Apple Arcade will get Crossword Jam+. This crossword-style word game will feature fresh daily challenges and "breathtaking natural sceneries" with no ads or in-app purchases, so users can solve puzzles whenever they want.
Apple says that besides these games, fan-favorite apps such as Cooking Mama: Cuisine!, Fruit Ninja Classic+, and Cityscapes: Sim Builder will get "exciting updates throughout the month."
Apple Arcade is available for $4.99 monthly with a one-month free trial and up to 200 titles. The service is also available with any Apple One subscription.