They may be tiny, but microSD cards pack a lot of storage space, and can be used with a variety of devices, smartphones and tablets included.
SanDisk makes 400GB microSD versions, and Samsung has 256GB cards available. It's probably just a matter of time before they launch their own 512GB microSD cards. In the meantime, a different company beat both SanDisk and Samsung to being the first storage device maker to announce a 512GB card.
Integral, a UK-based storage company, just announced the largest capacity microSD card in the world, the 512GB microSDXC V10, UHS-I U1 card — wow that's a lot of storage jargon.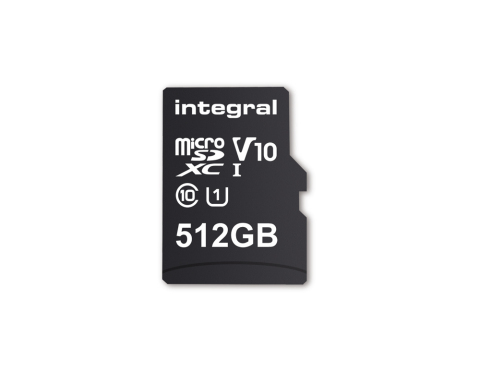 What you have to know is that the card meets the Video Speed Class 10 (V10) standard, which means it'll support fast data transfer of Full HD video — that's at least 10MB/s write speeds. Read speeds are at 80MB/s, which is slightly lower than the 100MB/s read speeds advertised for the SanDisk 400GB microSD card.
That said, the card will work great with a plethora of devices, Android smartphones and tablets included.
The Integral 512GB microSD card launches next month, although we don't have actual prices for it. Given that the next best thing (the SanDisk 400GB card) costs $249.99, you shouldn't expect Integral's new product to be that cheap – read more about the new product, at this link.
Samsung a few weeks ago announced that it's ready to manufacture 512GB storage modules for smartphone and tablets, prompting speculation that the Galaxy S9 will be available in 512GB storage versions. Assuming Samsung will indeed launch a 512GB Galaxy S9, Integral's new storage product would allow Galaxy S9 buyers to bump storage all the way up to 1TB.