We may never find out exactly how many Android users switched to the iPhone 7. Apple keeps telling us that many iPhone buyers come from the dark side, but at the same time, research notes indicate that Apple is losing market share to Android (although it's still handily making the most profit).
So how many people leave Android for iPhone in general? We have a partial answer to that.
DON'T MISS: The best MacBook Pro alternatives now that Apple ruined everything
You see, last year, Apple released a Move to iOS application for Android that should help you seamlessly move some of your data from an Android device running Android 4.0 or later to an iPhone. Android fans trolled the app with bad reviews initially, but as soon as late October 2015, the app had anywhere between 1 million and 5 million installs. Google doesn't offer a precise number.
That was impressive for an app that was just launched in the Google Play store and indicated there's measurable interest in iPhone from the Android crowd.
Now, a year later, that number has gone up significantly. The app was installed anywhere between 10 million times and 50 million times. Again, Google never tells.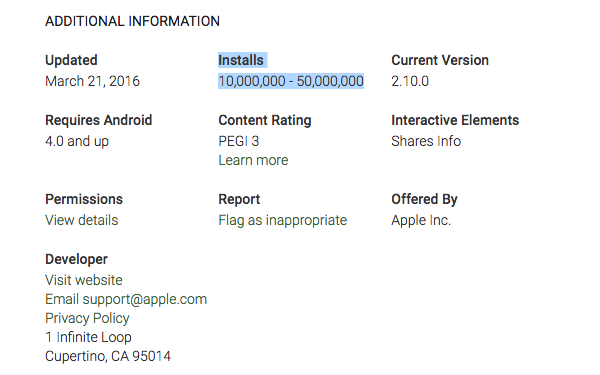 Even so, the app only does one thing. It moves data from Android to iOS. You can't use it for anything else. So it's likely that the people who tried it actually switched to an iPhone. At the same time, it's likely that not all switchers ported their data over using the app. There are other ways of backing up contacts, calendar, and photos.
So it turns out that, in just a little over a year since the app was launched, at least 10 million people used it. That's almost one million or potentially new iPhone buyers per month. And we just guess here, using the lowest estimate. But what if 50 million Android users bought iPhones in the recent year?