In the early hours on Thursday morning, Apple updated its App Store support page with new iOS version distribution data that is current as of the end of October. The data shows that 60% of all iOS devices are now running iOS 12, which was released 44 days ago on September 17th. Sixty percent. 29% of iOS devices are running iOS 11 from one year ago, and just 11% are running older versions of iOS. If you narrow that down only to iOS devices released in the last four years, the numbers are even more impressive. 63% of iPhones, iPads, and iPad touch models from the past four years are running iOS 12, while 30% are on iOS 11 and just 7% are on an earlier version of Apple's mobile platform.
Once again, the benefits of Apple's model are beyond obvious. Because Apple controls its hardware, software, and update mechanism, all iOS device users instantly gain access to Apple's latest software updates. That means the latest and greatest features are available instantly, along with all those important bug fixes and security updates. Some choose not to update right away for various reasons, but all have the opportunity to update if they want to. Android, meanwhile, still isn't showing any signs of improvement in this crucial area despite the introduction of Google's fragmentation fix, which was released over a year ago in August 2017.
First, let's look at Apple's iOS version distribution chart: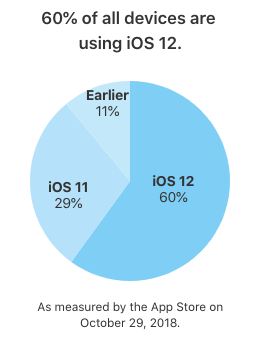 As we've already covered, the numbers are quite impressive for a software update that was released just 44 days ago. Now, let's take a look at Google's latest Android version distribution data, which is current as of October 26th.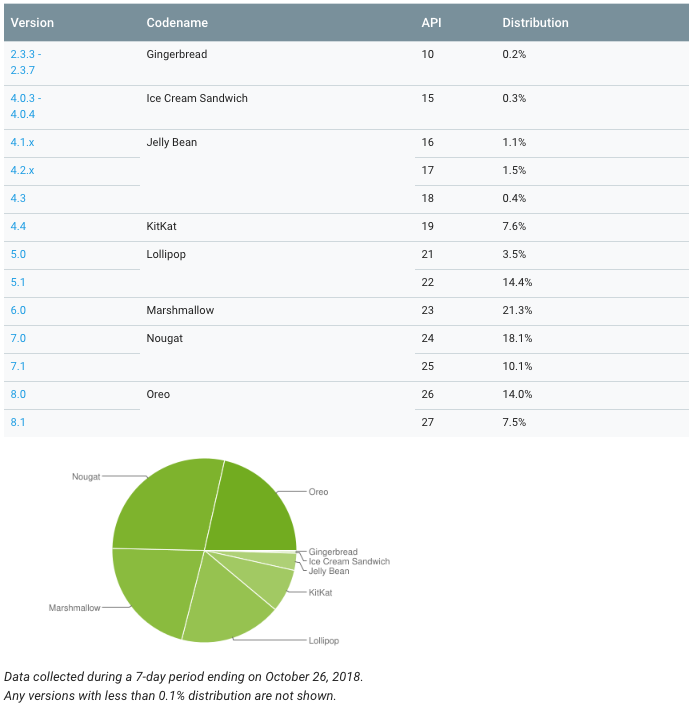 At 28.2%, the most widely used version of Android right now is Android Nougat, which was released back in August 2016 more than two years ago. The 14-month-old Android Oreo release comes in at number 2 with 21.5%, and Google's 3-year-old Android Marshmallow release is right behind it with 21.3%. Of course, you'll also notice a version of Google's mobile platform that is completely absent from this chart. That's right, it's Android Pie, which was released nearly three months ago on August 6th.
So, Apple's iOS 12 software is now found on 60% of all iOS devices just 44 days after its release. In 87 days, Android Pie isn't even on enough Android devices to be measured. As you'll note from the last line of the Google graphic above, that means it's on less than 0.1% of Android devices.
Put another way, more Android devices are running Android Gingerbread from 2010 — seven years ago — than Android Pie from 2018. That's absolutely insane.
The worst part about this whole ordeal is the fact that last year's Android Oreo release included Google's fix for Android fragmentation… and it's actually a fantastic solution. But it clearly isn't doing anything at all just yet. It's called Project Treble, and it gives Android smartphone vendors like Samsung and LG a way to separate the cord Android framework from their own interface tweaks and extra features.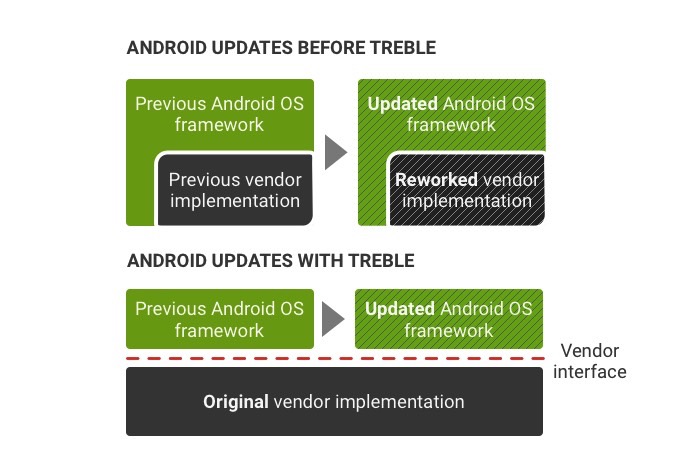 Before Android Oreo, Android phone makers would have to rework their software from top to bottom in order to build a new version of Android. Then the software has to be tested thoroughly by vendors and by wireless carriers before it can be released. With Project Treble in Android Oreo and above, however, the process is simplified. Android phone makers can apply their previous "vendor implementation" to the updated core Android framework and they're done. It's obviously a bit more complicated than that, but the process is simplified dramatically compared to how it used to be.
Android phone makers have had more than a year to work with the changes brought about by Project Treble. What's more, we know that Treble works — OnePlus took just 45 days to update the OnePlus 6 to Android Pie. 45 days! That's practically a miracle compared to Android updates of old. But as we can see in Google's Android version distribution data above, Treble isn't having the impact Android fans hoped it would. At least, not yet. As a result, we're still in a place where almost no one has access to all of the great new features available in Android Pie.