At I/O 2018, Google surprised Android fans by making the first public beta of Android P available to seven non-Pixel phones. It's a first for the company, signaling that Google hasn't given up on trying to accelerate Android app updates. The Galaxy S9 isn't one of the hot Android devices of the first half of the year that will run Android P betas right now, but Samsung's flagship phone might get the final Android P build a lot faster than you might expect.
It's all thanks to Google's Project Treble efforts, a project intended to allow chip makers, OEMs, and carriers to release Android updates faster than before. In a blog post on its Android Developers blog, Google explained that it's already working with top chip makers including Qualcomm, Samsung, and MediaTek to accelerate the Android P rollout with the help of Treble:
Any device with the latest version of Android must be based on an SoC with the proper software support for it. This software, commonly referred to as the Board Support Package (BSP), contains not only the chip-specific vendor implementation, but also all of the Android Open Source Project (AOSP) and pieces of the framework that are missing from AOSP itself (e.g., carrier-specific telephony functionality).
Google explains that OEMs will not have to wait as long for BSPs from chip makers this year, which means Android P should roll out faster than any update before it. Considering 22% of Android devices currently run a version of Android that was release 4 years ago, 25.5% run Android Marshmallow from 2015, and 31% run Nougat from 2016. This is big news. Less than 6% of active Android devices currently run Oreo, the most recent version of Android that was released last year.
Here's how things worked before Project Treble: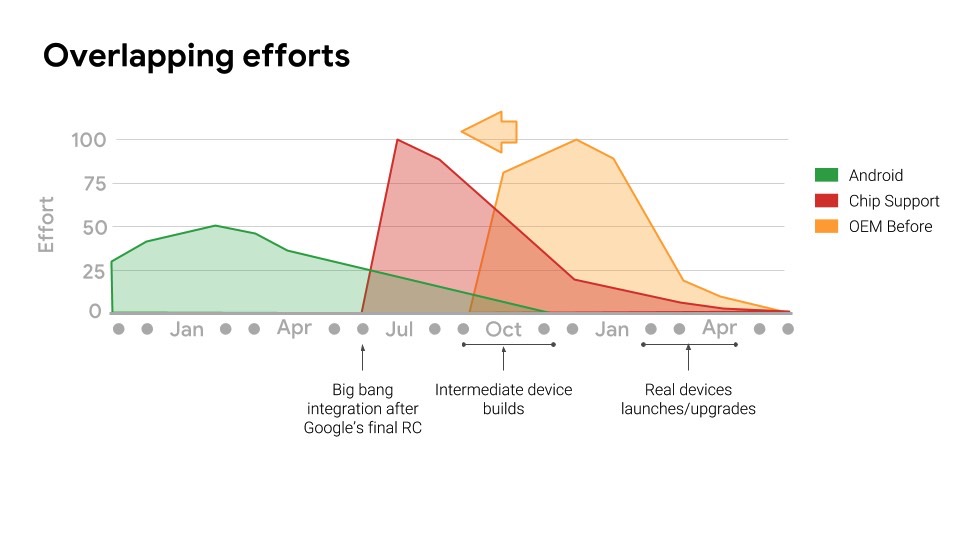 And here's how they're supposed to work this year: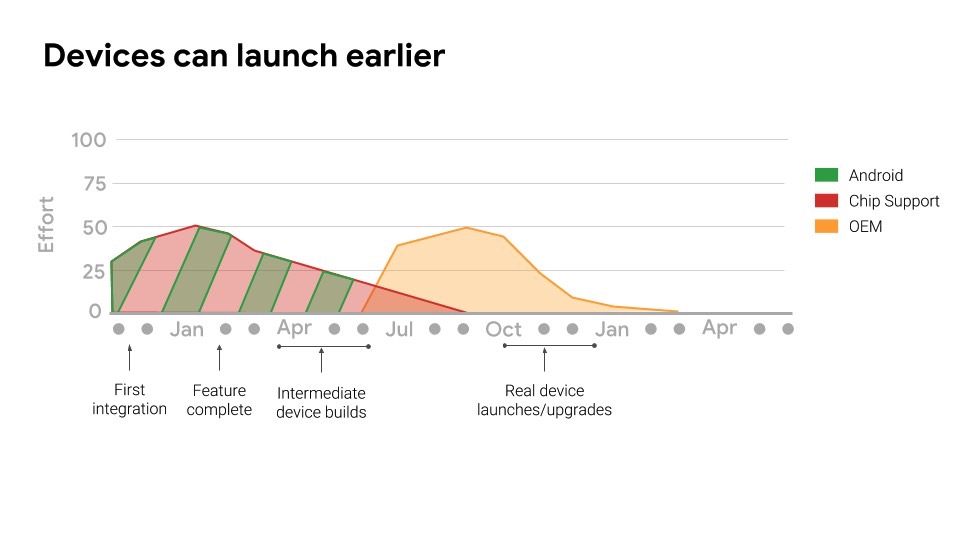 The graphics above indicate that the first Android P updates for non-Pixel devices may arrive as soon as October, as much as three months earlier than you'd expect. The Galaxy S9 might be one of these devices, although Samsung is yet to announce any Android P plans. After all, Android P doesn't even have an official name and it's still in beta. Once Google launches the final Android P version this summer, we'll see plenty of OEMs reveal details about their upgrade plans. Hopefully, plenty of 2018 flagships will get Android P by the end of the year.