Google released the first Android P version to developers many weeks ago, without revealing all the new features coming to Android this year. But on Tuesday, the company shared many new details about Android P during its primary I/O 2018 keynote, including the fact that the first Android P public beta is ready for anybody to try.
That was hardly a surprise, as there's no better place than I/O to release the first public beta for the next major Android release. But Google stunned the Android crowd when it revealed that it's not just Pixel phones that will be able to run Android P public beta. A slew of 2018 handsets, including smartphones that haven't been released yet, will support it.
It's finally happening. But, sadly, Samsung isn't one of Google's partners to support this push.
In addition to the Pixel and Pixel 2 phones that can run Android P public beta right away, seven other devices can also be upgraded to Android P, including Sony Xperia XZ2, Xiaomi Mi Mix 2S, Nokia 7 Plus, Oppo R15 Pro, Vivo X21, OnePlus 6, and Essential PH‑1. Well, six of them, as the OnePlus 6 launches only next week.
This is a huge win for Google, signaling that the company is still interested in improving Android update times and fight fragmentation.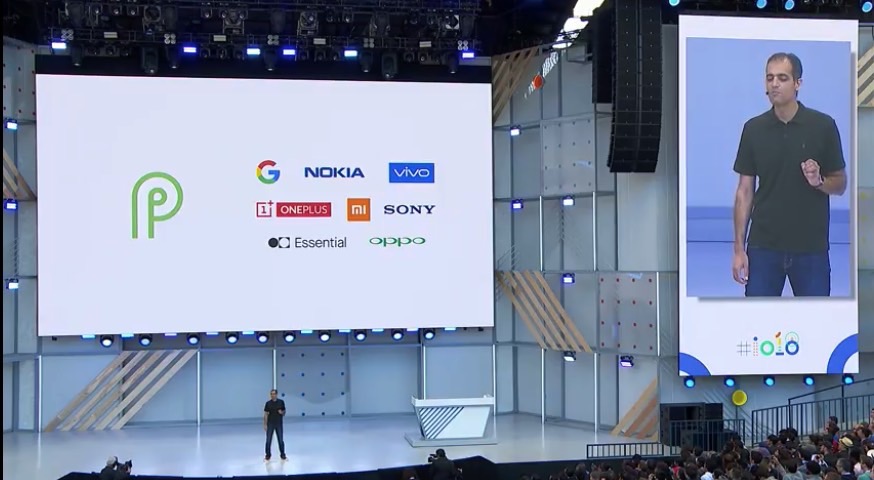 Last year, Google announced Project Treble, an initiative meant to help its partners roll out faster Android updates to their devices. At the time, Google said that all Android phones launching with Oreo out of the box will be compatible with Project Treble.
It's Project Treble that gives companies like Sony, Nokia, OnePlus, and everyone else supporting Android P betas right now, the ability to offer this feature to savvy Android customers who want to try Android P without having to own a Pixel phone.
Samsung's Galaxy S9 does support Project Treble as well, which means Samsung could have partnered up with Google to allow Galaxy S9 buyers to test Android P public beta right away.
However, Samsung chose not to do it, and the move is somewhat understandable. The company probably doesn't want customers to move from a Samsung Experience Galaxy S9 to a vanilla Android experience.
Furthermore, Samsung would still have to provide some sort of support to the Galaxy S9 buyers who get in trouble after upgrading to Android P beta. And that can be quite a headache for the company, given the large number of handsets it sells everyone, compared to the others.
On the other hand, supporting Android P beta right now would have been a huge PR hit for Samsung too, signaling the fact that Samsung might be getting ready to offer its customers faster Android updates in the very near future. Because, if that's just one thing to hate about Samsung's flagship phones, that's the painstakingly slow Android update process. It takes many months for Google's latest Android handset
It's worth pointing out that Huawei and plenty of other Android device makers are also absent from that list. But then again, it's Samsung that's the most important Android handset maker in the world right now.