Is it a problem that the most popular version of Android in the world is always at least two years behind? Well, it depends who you ask. If you ask hardcore Android fans, they often don't care because they buy brand new flagship Android smartphones anyway each year. They still often have to deal with year-old versions of Android unless they decide to go with a Google Pixel phone, but that still doesn't seem to bother them. If you ask anyone else, however, it's pretty apparent that an ecosystem where the vast majority of users are forced to use versions of Android that are two or three generations old is… well… less than optimal.
Our latest reminder of the less than optimal situation in Google's Android ecosystem came on Tuesday morning when Google updated its Android version distribution for February.
For the first time since it was released back in 2016, Android 7 Nougat has officially become the most popular version of Android in use by Android devices around the world. Meanwhile, last year's Android 8 Oreo release reached a major milestone as well. With Android 9 about to launch at the Google I/O developer conference in just a few months, 2017's Android 8 release is finally in use on just over 1% of Android devices.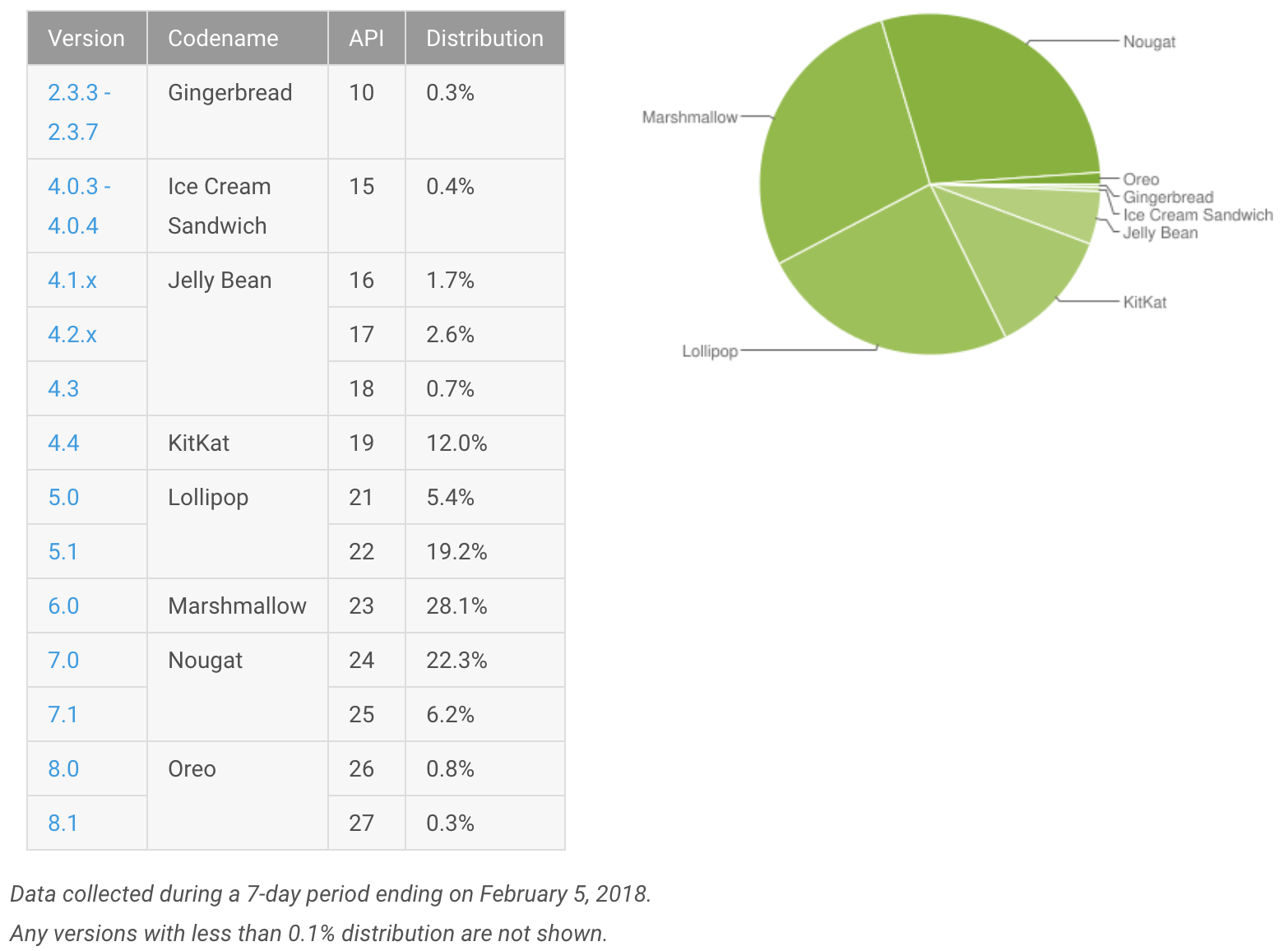 The data above was updated on Google's developer site on Tuesday morning, and it once again paints a troubling picture of Google's Android platform. Because updates pass through so many hands before they can actually roll out to third-party devices, most users around the world don't have access to the latest and greatest Android features.
Android is now home to approximately 2 billion monthly active users, which means hundreds upon hundreds of millions of people across all markets are using versions of Android from two, three, or even four or more years ago. As you can see above, just under 25% of Android devices are still on Android 5 Lollipop from 2014, and 12% still have Android 4.4 KitKat from all the way back in 2013.