Amazon is taking on SpaceX and Starlink in the satellite internet space.
In a blog post, the company offered a first look at its upcoming satellite internet dishes while providing more details about their size, weight, speed capabilities, and cost. The lineup, which is part of Project Kuiper, Amazon's low Earth orbit satellite network, aims to undercut Starlink in cost for consumers and businesses.
The first of the company's satellite internet lineup is the standard terminal which, according to Amazon, is 11 inches square and 1 inch thick. It weighs less than five pounds (if you don't factor in the mounting bracket. The company says that the standard dish is capable of speeds up to 400 megabits per second and will cost less than $400.
The second dish that the company is making is a smaller model that will likely be used by those needing less speed and more portability with their connection. The smallest model will be 7 inches across, weigh less than a pound, and offer speeds up to 100 megabits per second.
The final model that Amazon is launching as part of Project Kuiper is a larger 19-inch by 3-inch model that will be targeted to enterprise, government, and telecommunications applications. The company says that the largest model will be capable of speeds up to 1 gigabit per second.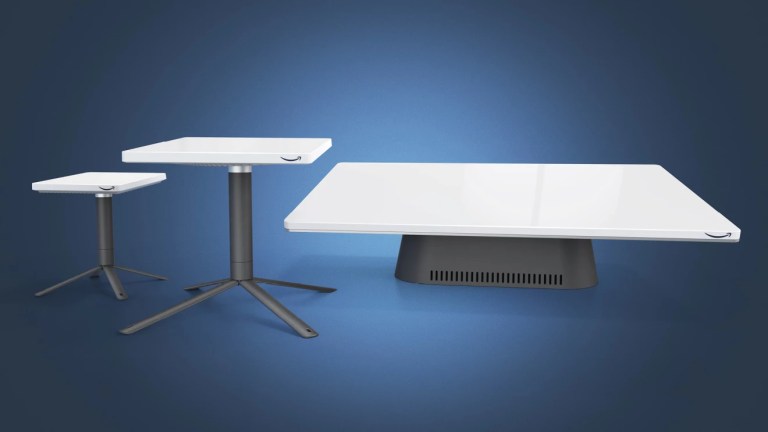 Rajeev Badyal, Amazon's vice president of technology for Project Kuiper, said in a statement that it doesn't just want to connect people but to "delight them with the quality, reliability, and value of their service."
"Our goal with Project Kuiper is not just to connect unserved and underserved communities, but also to delight them with the quality, reliability, and value of their service. From day one, every technology and business decision we've made has centered on what will deliver the best experience for different customers around the world, and our range of customer terminals reflects those choices."
The company says that it plans to bring the first customers online with the service by the end of 2024.
While Amazon will certainly bring competition over the next few years, Starlink still has a commanding lead in the satellite internet space. Recently, the company started testing its global roaming service and launched Starlink Aviation, its satellite internet service for airplanes.