Back in early May, Lenovo teased image of what appeared to be the closest thing the world had ever seen to a true all-screen smartphone. Some other companies out there like Apple flat-out lie in their marketing when calling their phones "all screen," but the Lenovo 5 looked as though it would be the first phone without a "notch" at the top of the screen or a "chin" bezel at the bottom of the phone. As it turned out, Lenovo told the biggest lies of all, and the "all-screen" phone it was teasing was also a blatant lie. When the Z5 was announced, it ended up having both a notch at the top and a chin at the bottom. Lame.
Now, it looks like we're about to see another almost-all-screen phone debut, but we're hesitant to get our hopes up. A full render of the upcoming new phone was shared recently by the manufacturer and it looks absolutely stunning, but after Lenovo lied to shamelessly in its teasers, we're not entirely convinced that this new Android handset will look this good in real life.
In the race to create phones with the best possible screen-to-body ratios, Android phone makers started out slow. In a nutshell, almost every single Android phone vendor on the planet copied Apple's iPhone X. No, seriously… just look at this image showing 20 different iPhone X copycats in a single graphic.
We're now about halfway through 2018, and Android phone makers have gotten so much guff for stealing Apple's iPhone X design that they've finally begun to get creative with their all-screen phone efforts. There are still no companies willing or able to get rid of the chin at the bottom of the screen — for the time being, only Apple has the design prowess and budget to make that happen — but they're finally starting to find ways to minimize or even completely eliminate the notch at the top.
We've seen pop-up selfie cameras that emerge from the top edge of the phone, and companies like Samsung and Google are working on phones that use the screen as a speaker to help eliminate the need for a notch. We're not yet sure what solutions Chinese smartphone maker Oppo ended up using to achieve an incredible 93.8% screen-to-body ratio on its upcoming Oppo Find X smartphone, but it looks fantastic in a render Oppo shared this past weekend on Chinese microblogging platform Weibo.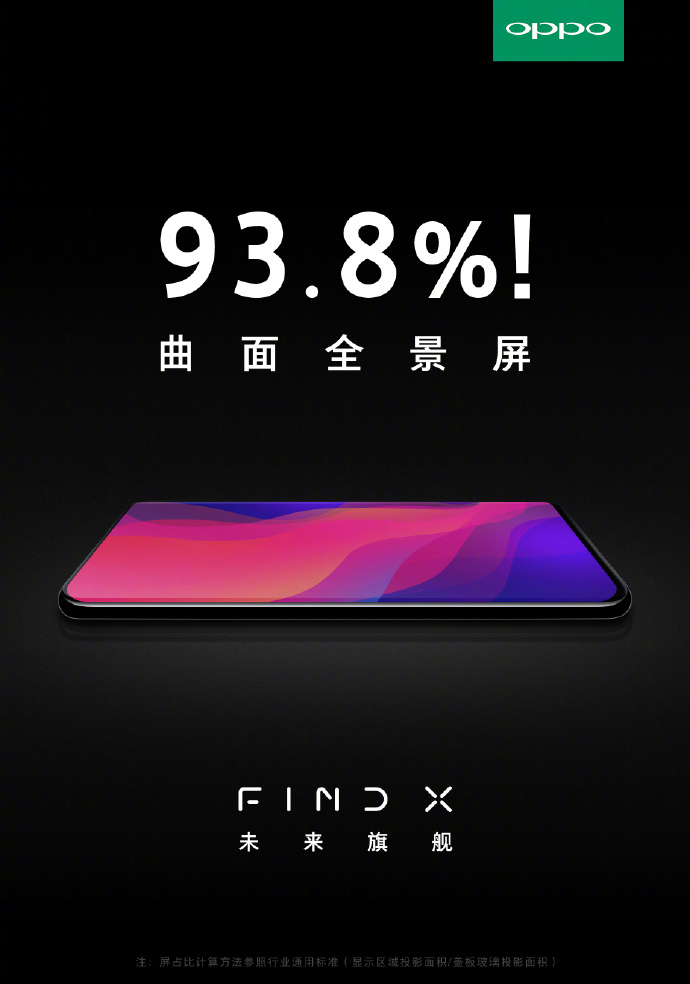 Again, this is definitely a "we'll believe it when we see it" situation. 93.8% is indeed an incredible screen-to-body ratio, but we can't say with certainty that it'll look quite as impressive in real life as it does in that render. In either case, the phone sadly won't be available in the United States unless you want to pay big bucks to a smartphone importer.