After Google impressed many of us with its AI photography features during the Pixel 8 event last week, Adobe is doing the same during its MAX conference. The company has previewed exciting new generative AI features for photos, videos, audio, and even 3D.
Although BGR has already teased some of the features being announced today by Adobe, here's everything new coming to the company's products:
Photo
Project Stardust is a powerful object-aware editor that lets you remove objects simply by clicking on them. You can easily select, edit, and delete complex elements in any image, move the object to a different place, and more with ease.
Project See Through is an AI-powered tool that makes it simple to remove reflections from photos.
Video & Audio
Project Fast Fill brings the power of Firefly generative AI to video. It offers an early look at what human-prompted generative AI could enable inside Adobe video editing tools, including Premiere Pro and After Effects.
Project Dub Dub Dub automates the video dubbing processor. A recording or audio track of a video can be automatically translated to all supported languages while preserving the voice of the original speaker.
Project Scene Change makes it easy for video editors to composite a subject and scene from two separate videos captured with different camera trajectories.
Project Res Up is a tool that easily converts video from low- to high-resolution.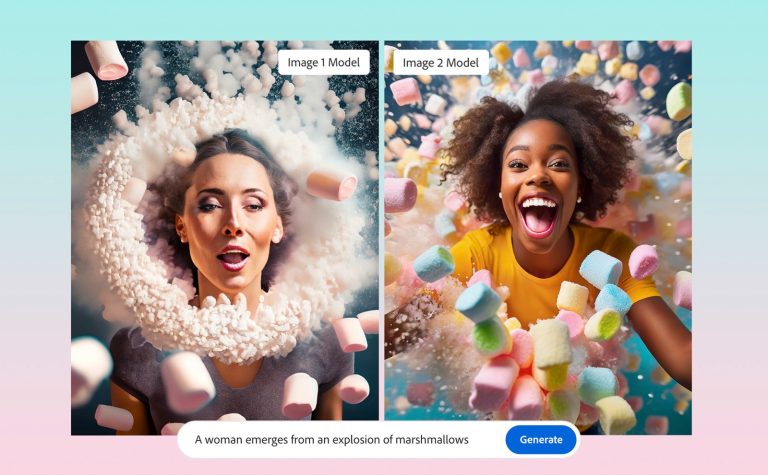 3D & design
Project Poseable represents a breakthrough in AI-based image generation models, making it easy for the image generator to seamlessly interact with large 3D objects, including poses from photos of real people.
Project Neo enables creators to incorporate 3D shapes in their 2D designs with Adobe products.
Project Primrose turns clothes into creative canvases. This interactive dress can offer infinite style possibilities, displaying content created with Adobe Firefly, After Effects, Stock, and Illustrator.
Project Glyph Ease makes customized lettering more accessible by streamlining the tedious design process of glyphs – the specific design and shape elements of each letter character.
Project Draw & Delight offers a suite of generative AI tools that help anyone along their creation journey, from transforming initial ideas into polished and refined sketches then experimenting with color palettes, style variations, and different backgrounds.
It's important to note that this is just a sneak peek at what Adobe plans to bring. BGR will keep reporting on these features' availability as we learn more about them.