Social media app BeReal, which was named the 2022 App of the Year by Apple, is planning to add Spotify integration for posts. Alongside a picture from your main and selfie cameras, the app will be able to identify which song you're listening to the moment it's time to be real.
The discovery was made by reverse engineer Alessandro Paluzzi. According to him, users will be able to share with their friends what they're currently listening to when they post on BeReal.
As of now, Paluzzi has shown where this integration would be on an Android phone. In Settings, below the Memories tab, will be a music option. There, you can connect to your Spotify account. With that, the app will identify which song is playing the moment you record your BeReal.
The app was released last year and differed from Tiktok, Instagram, and other social media apps. Described as "the simplest photo-sharing app to share once a day your real life in photos with friends." You can see what you're friends are doing once a day or discover more people on the Discover tab.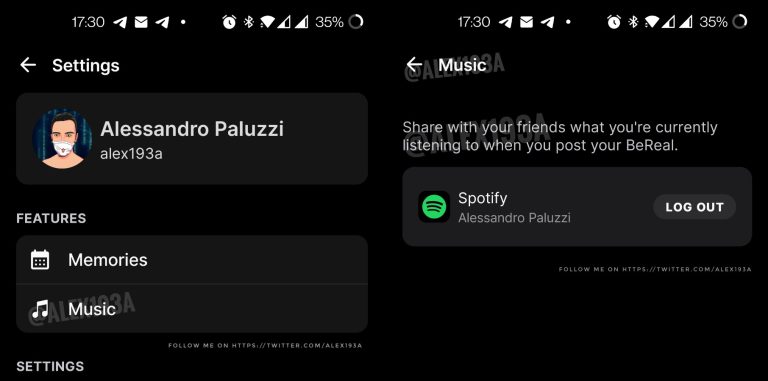 By taking a selfie and frontal photos simultaneously, users can't fake what they're doing. In addition, the app shows how many times you retook a shot, encouraging you to be as realistic as possible.
Users can comment on their friend's BeReal posts, react, and see where in the world their friends are. With a Memories tab, you can discover your archive of posts, and at the end of the year, the app will recap all your posts.
As of now, it's unclear when this feature will launch or whether BeReal will support other music streaming services, such as Amazon Music, YouTube Music, and Spotify.
BGR will let you know once this feature launches to all users – if it ever does.