Thunderbolt 4 docks are now much more widely available, meaning that it's much easier to get a high speed dock that works with your laptop. But unfortunately, while they're relatively widely available now, they're still quite expensive. Thankfully, however, that price seems to now be coming down a little through products like the new Satechi Thunderbolt 4 Slim Hub.
To be clear, the new hub isn't necessarily cheap. At $200 you're still putting down a hefty chunk of change to get it. But considering the fact that previous hubs have come at $300 or more it's bringing down the price a little. But is it still worth buying? And are there even cheaper options out there? I've been using the Satechi Thunderbolt 4 Slim Hub for a while now to find out.
BGR may receive a commission
Pros
Sleek design
Very portable
Three Thunderbolt 4 ports
Cons
Slower charging speed
Not as cheap as some
Satechi Thunderbolt 4 Slim Hub design
Generally speaking, the Satechi Thunderbolt 4 Slim Hub is a good-looking device. It has a sleek, slim design that Satechi is well-known for with their other products. Moreover, the black and grey color scheme fits nicely with Apple devices, and fits with the rest of Satechi's lineup.
The hub itself is quite small which helps when you don't have much room on your desk or in your bag. That, of course, does impact the port selection — but there's definitely room for a hub that prioritizes portability over a huge port selection, especially for those looking for something to take on the road.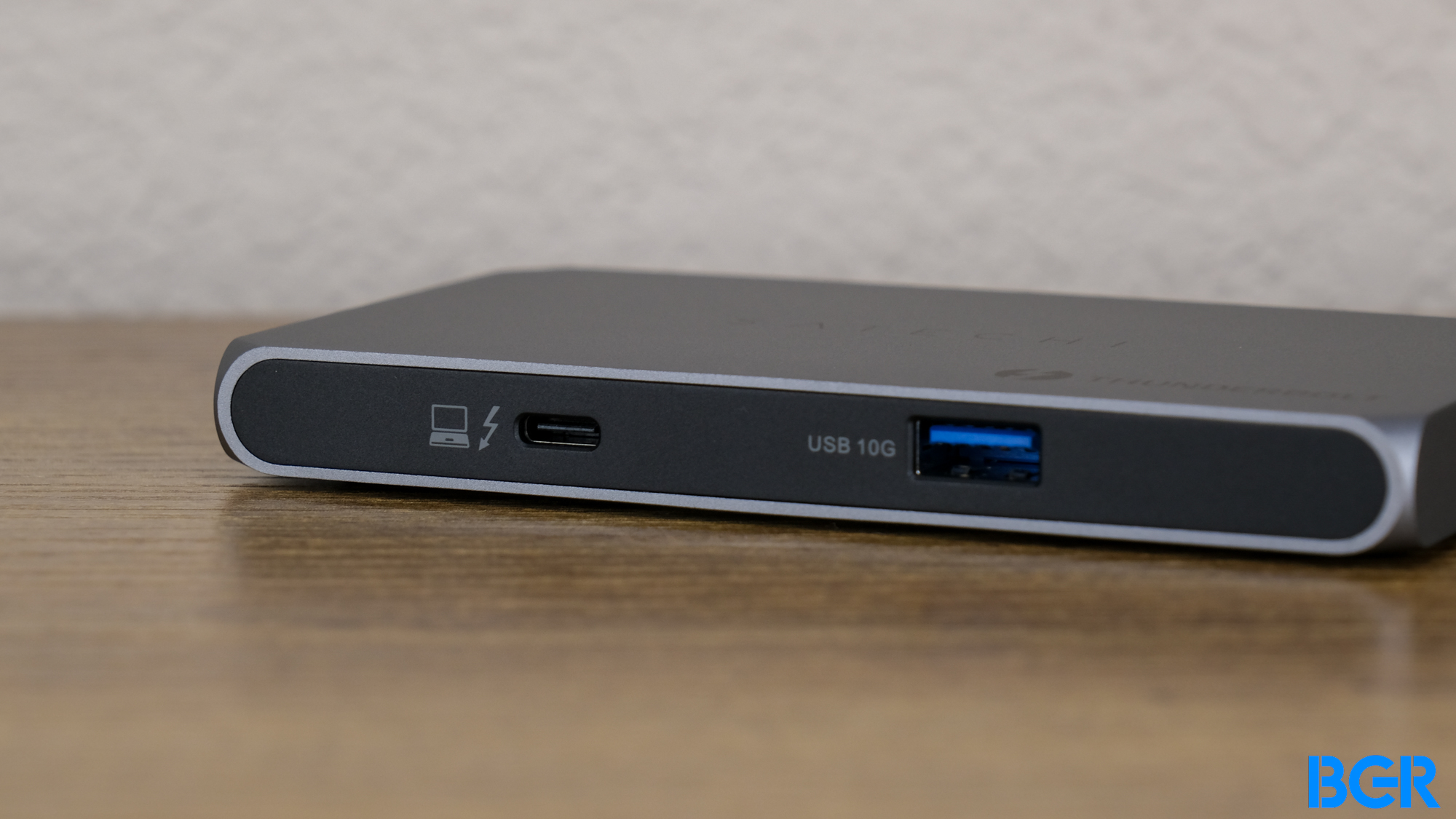 The Satechi Thunderbolt 4 Slim Hub has three downstream Thunderbolt 4 ports, one upstream Thunderbolt 4 port (for connecting to your laptop), and a USB 3.2 Gen 2 data port at up to 10Gbps. The selection is far from comprehensive — I would have liked to see an SD card slot, for example, but at least it expands on the selection on offer by your laptop. The Thunderbolt 4 upstream port supports charging at 60W, which is fine, but not incredible. Many competitors can charge at 100W or more.
Satechi Thunderbolt 4 Slim Hub in use
The Satechi Thunderbolt 4 Slim Hub is specifically designed for use with Apple products. It supports newer Macs, along with modern iPads that have a USB-C shaped port. Satechi notes that they do not recommend using it with a PC with a Thunderbolt 3 port, but it can be used with a Thunderbolt 4-equipped PC.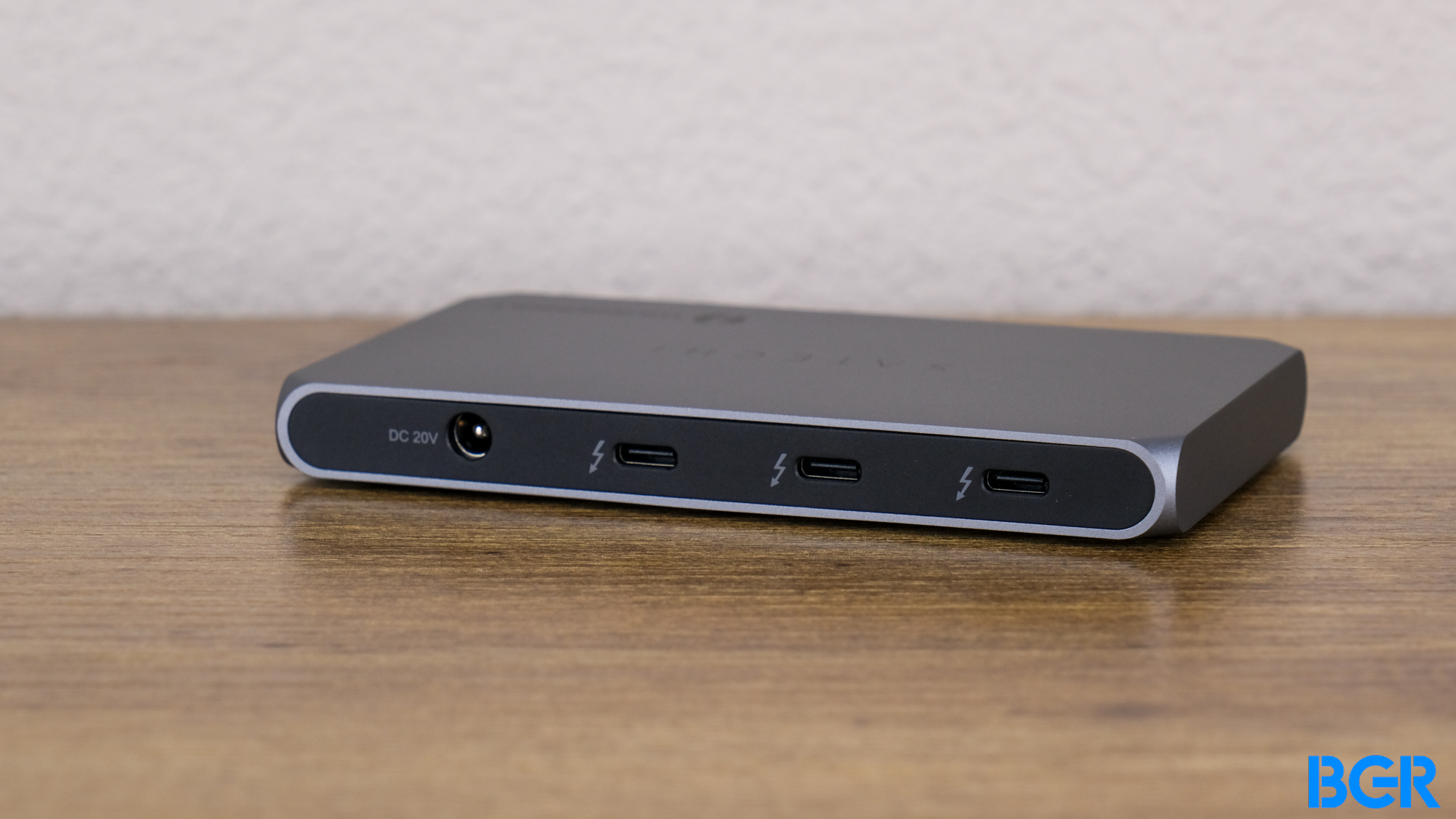 That slim build does indeed make it easy to carry in a bag or backpack, but it's still a little bigger than an average USB-C dongle or hub. That said, it does offer quite a bit more in terms of port selection and speed, so if you're looking for something with more features that can go with you then Satechi's Thunderbolt 4 Slim Hub is worth a look.
Conclusions
The Satechi Thunderbolt 4 Slim Hub is a good, portable option for those that need a dock with more ports than what their laptop offers. It's also relatively affordable compared to many other Thunderbolt 4 docks on the market, though it still isn't cheap.
But it's not actually the cheapest hub with this selection of ports. The OWC Thunderbolt Hub has the same selection of ports and the same charging speed, at $50 less than this.
The competition
As mentioned the OWC Thunderbolt Hub has the same port selection and charging speed, at a lower price. If you don't care as much about Satechi's sleek design or if you're looking for something cheaper then the OWC option is worth considering.
Should I buy Satechi Thunderbolt 4 Slim Hub?
Maybe, but only if you really care about the sleeker design and are willing to pay $50 more than the OWC hub for the same features.