The long-awaited Nothing Phone (2) is finally here, and on paper, it has a lot to offer. How does it perform in the real world?
Pros
Unique design
Glyphs can be helpful
Good performance
Solid battery life
High-quality display
Cons
Doesn't work on Verizon
Low light camera performance could be better
Nothing is back. A year after the launch of the original Nothing Phone (1), which was a solid phone for the price, Nothing is following it up with a second iteration, aptly titled the Nothing Phone (2).
But the Nothing Phone (2) takes a slightly different approach than the original device. While the Phone (1) was a fine phone, it was more of a mid-range device than a true flagship. It definitely laid out Nothing's vision for the near-term future of smartphones — but at the cost of ultimate performance and top-tier specs. That's an issue that Nothing aims to remedy with the Phone (2).
How so? Well, the Phone (2) offers much more powerful internals, which immediately makes it a better device for enthusiasts who might want a phone that's gaming-ready. In fact, the Phone (2) is largely what the Phone (1) should have been, with many of the smaller issues ironed out. What about the rest? I've been using the Nothing Phone (2) to find out just how well it performs.
Nothing Phone (2) specs
Dimensions
162.1 x 76.4 x 8.6 mm
IP rating
IP54
Display resolution
1080 x 2412 pixels
Display size
6.7 inches
Display type
OLED
Display refresh rate
120Hz
Display brightness
1600 nits (peak)
Chipset
Qualcomm Snapdragon 8+ Gen 1
Memory
12GB
Storage
128GB, 256GB, 512GB
Rear cameras
Wide: 50MP, f/1.9, OIS
Ultrawide: 50MP, f/2.2, 114-degrees
Video
4K at 60fps, 1080p at 60fps
Front camera
USB-C
Ports
USB-C 2.0
Battery size
4,700mAh
Charging
45W wired, 15W wireless, 5W reverse wireless
Connectivity
Bluetooth 5.3, Wi-Fi 6E, 5G
Colors
White, Dark Grey
Price
$599+
Nothing Phone (2) design
The design of the Nothing Phone (1) was one of the standout features of the device, and that was a breath of fresh air in a world of colorless, blank phones. Thankfully, the Nothing Phone (2) continues that trend of offering an interesting design, and while that design isn't necessarily all that different than the Phone (1), it's still unique, at least when it comes to slab phones.
Let's get the boring stuff out of the way first though. On the front, the Phone (2) has a 6.7-inch display with a hole punch cutout in the middle, at the top. Under that display is a fingerprint sensor, which worked reasonably quickly and accurately in my testing. On the right side of the phone can be found a power button, while on the left are the volume controls. On the bottom, you'll find a USB-C port.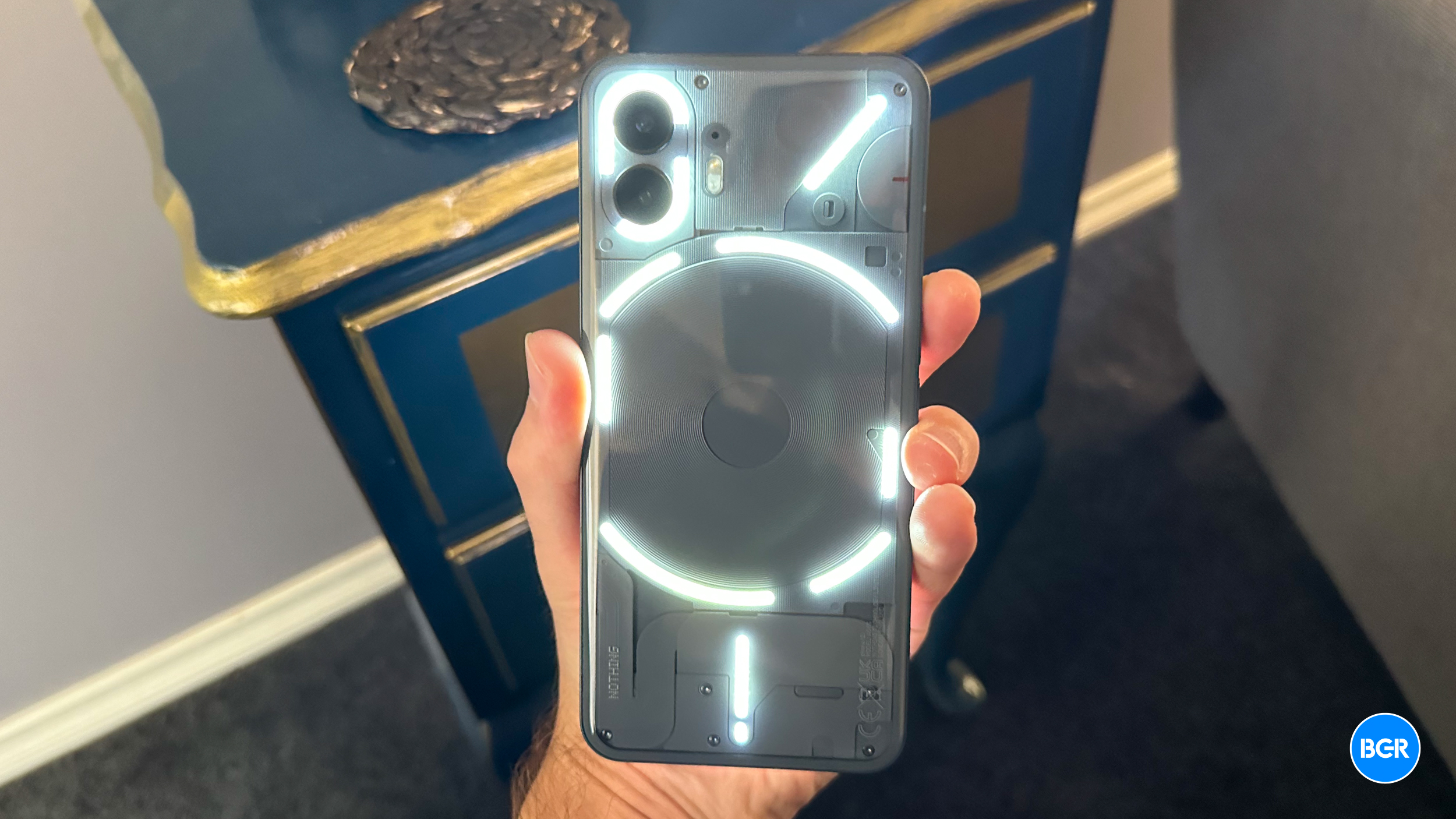 The phone largely feels durable. It offers Gorilla Glass on both the front and the back, with an aluminum frame holding the two panes of glass together. The back pane of glass is slightly curved towards the edges, helping make the phone feel a little more comfortable in the hands while retaining that flat-edged look that has made a resurgence over the past few years.
The back is where the action is though. The Glyph Interface on the back of the Phone (2) is mostly the same as that on the Phone (1) in terms of shape and design, but you can control them a little more precisely, which is handy. Nothing has also included a new feature called Flip to Glyph, which allows you to show glyphs for notifications, silencing notification sounds. You can even designate certain notifications as "essential," and when one of those notifications shows up, the glyph will stay illuminated until the notifications are addressed, which is handy. And, the glyph supports other features, like a countdown timer.
The Phone (2) is available in two different colors — White, and Dark Grey. I'm reviewing the Dark Grey model, which I prefer to the White model.
Nothing Phone (2) display
The Phone (2) offers a great display too. It's an OLED display with a 1,080p resolution, and it's an LTPO display with a refresh rate that can cycle between 1Hz and 120Hz. The screen is always on, and it's quite bright — brighter than that on the Phone (1).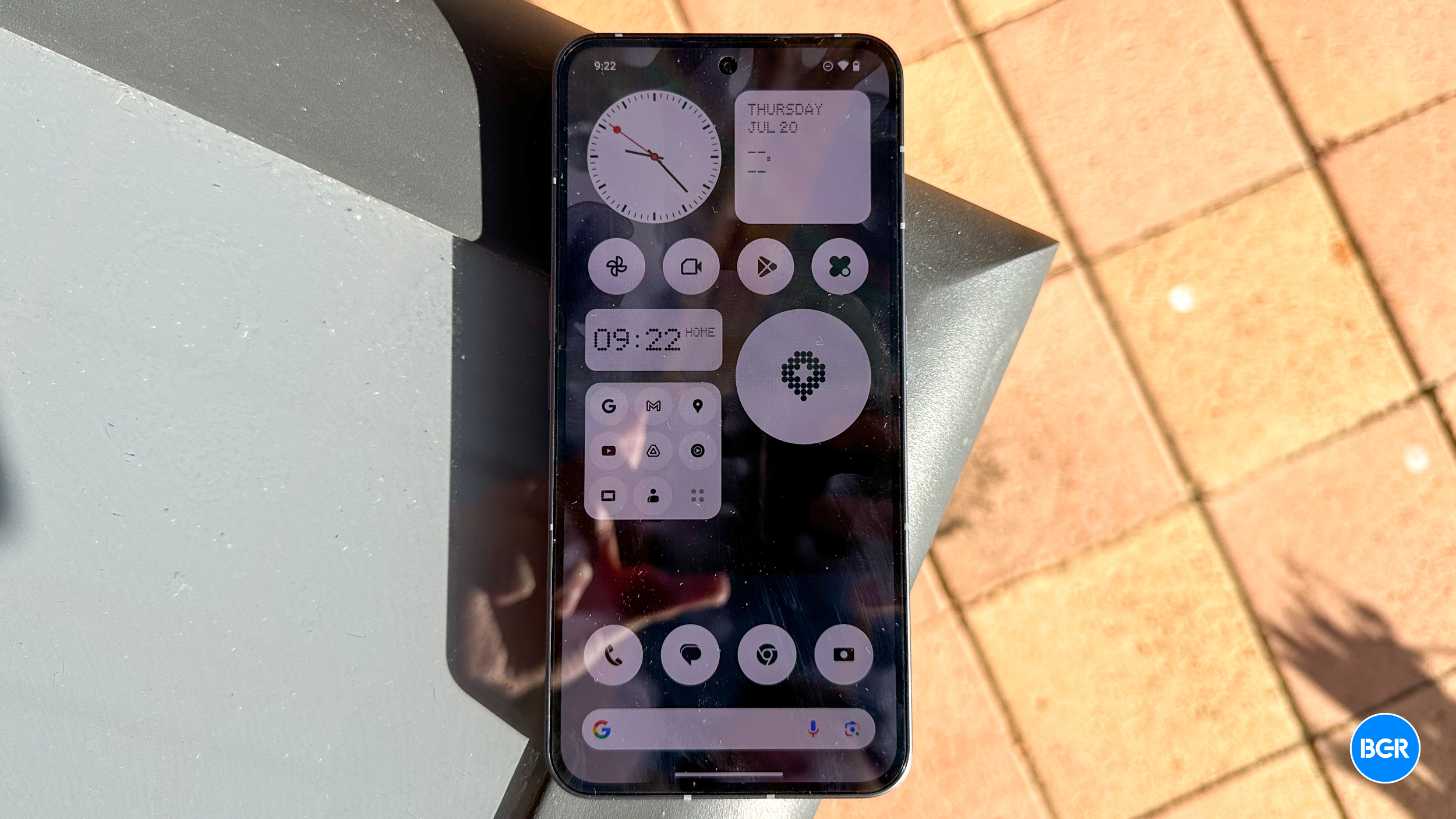 Generally, I found that the display produced vibrant and bright colors, and it got bright enough for use even outside in the sun.
Nothing Phone (2) performance
Under the hood, the Nothing Phone (2) is much more high-performance than the Phone (1). The Phone (2) still doesn't have the highest-performing Qualcomm chip out there, but it does have one that gets pretty close — the Qualcomm Snapdragon 8+ Gen 1. Qualcomm has launched an 8 Gen 2 since the 8+ Gen 1, but this phone should still be able to perform against many of the best-performing phones out there. My review model has 12GB of RAM.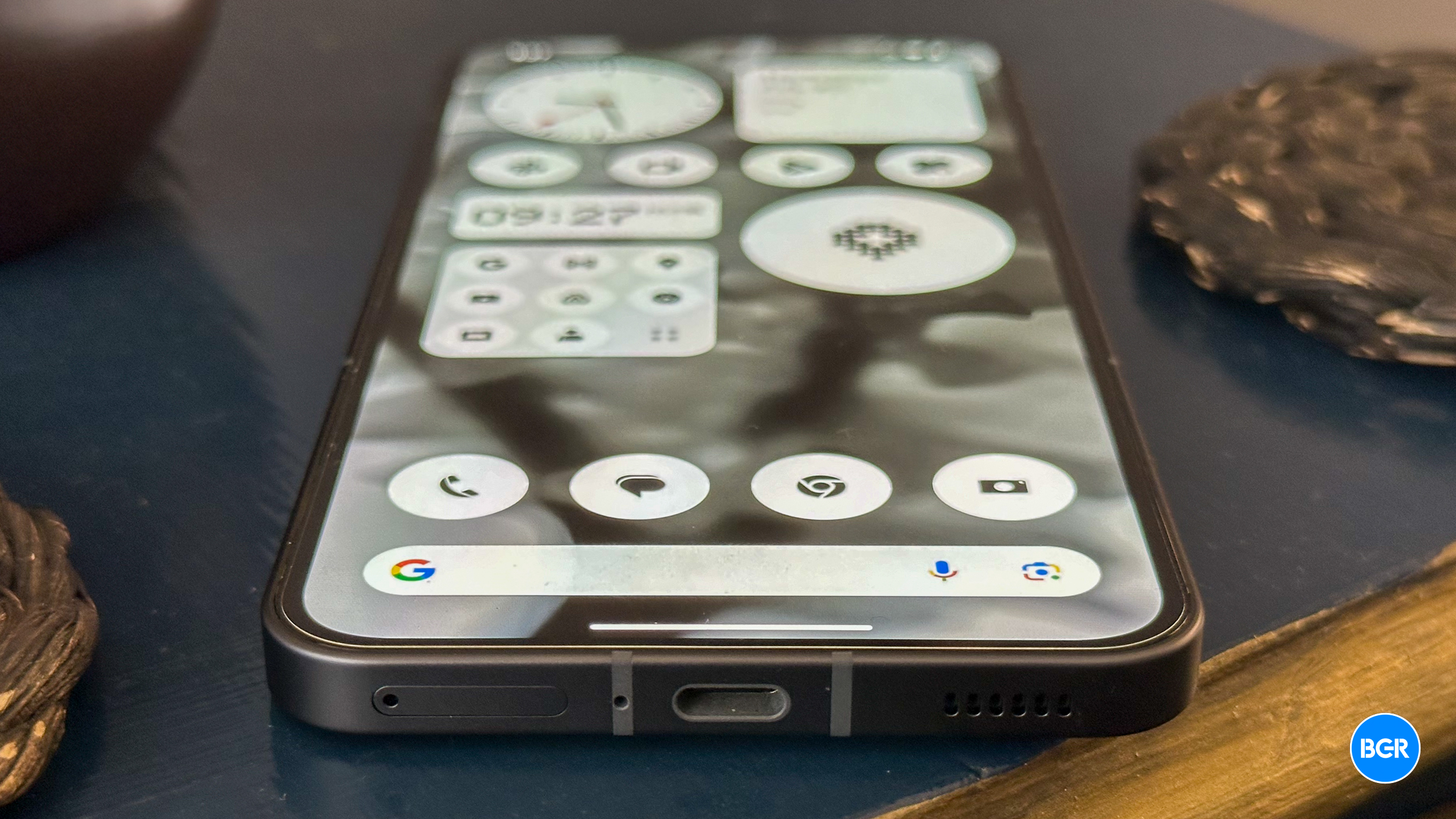 Generally, I found that the phone was able to perform excellently. It multitasked with ease, and I never had apps freeze or stutter on me. It handled gaming very well too — games loaded quickly, and performed smoothly overall.
Benchmark results confirmed the good performance. Here are the scores our review phone achieved.
GeekBench 6: 1,734 single-core, 4,581 multi-core
3DMark Wild Life Extreme: 2,779
These results are excellent and demonstrate that the phone should be able to handle everything you can throw at it in 2023. With these scores, the phone was mostly on-par with other 8+ Gen 1-equipped devices, though it didn't get close to devices with the 8 Gen 2, or any iPhone from the last few years.
Nothing Phone (2) battery and charging
Powering the Phone (2) is a 4,700mAh battery, which I found was large enough to get through a full day of even heavier use. Some will find that it will be able to stretch to a day and a half of use, and if you're good at ensuring your device is charged up, I don't think you'll have an issue with the battery life at all.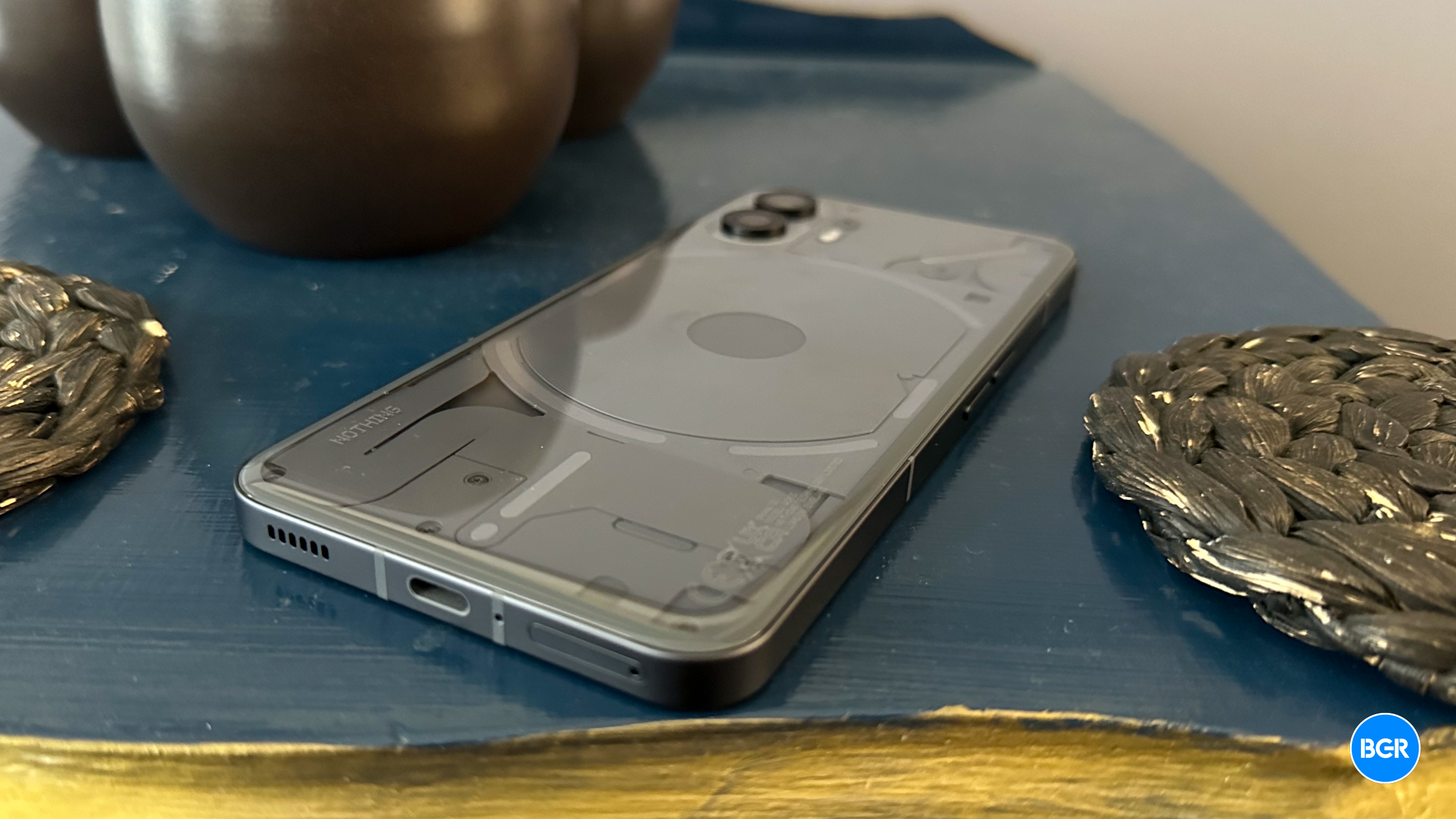 The phone can charge at 45W with a wired connection, which is fine, but not incredible. There are plenty of phones that can charge much faster — though again, most will be fine with it. Thankfully, it supports wireless charging at up to 15W, which is relatively quick — and it even supports reverse wireless charging at 5W, so you can use it to keep your wireless earbuds topped up. Handy.
Nothing Phone (2) camera
The Nothing Phone (2) has a dual rear-facing camera, which is made up of one 50-megapixel main camera with an aperture of f/1.9 and optical image stabilization, along with one 50-megapixel ultrawide camera with an f/2.2 aperture and a 114-degree field-of-view. Dual camera arrays are still common in this price range, and I prefer this to adding a third low-quality macro camera and raising the price. However, a telephoto camera still would have been nice.
The camera quality on the Nothing Phone (2) is quite good. In well-lit environments, the phone was able to capture good detail, and as Nothing claimed, the phone does indeed handle HDR a little better than the Phone (2). Nothing also claims that the phone is able to capture moving objects a little better, and again, I found this to be true. The low-light performance on offer could be better, but it wasn't terrible.
While the Phone (2) was able to capture pretty good photos in most situations, it still generally doesn't quite match the quality of the Pixel 7a, which is $100 cheaper, or the standard Pixel 7, which is the same price.
Still, most will be perfectly happy with the camera quality on the Nothing Phone (2).
Nothing Phone (2) software
Along with the Glyph Interface, Nothing has put a lot of effort into the software on the Phone (2). There are plenty of software touches that make the device more unique, and for the most part, they are indeed interesting and sometimes helpful additions. It's all wrapped up in an interface that Nothing calls Nothing OS 2.0.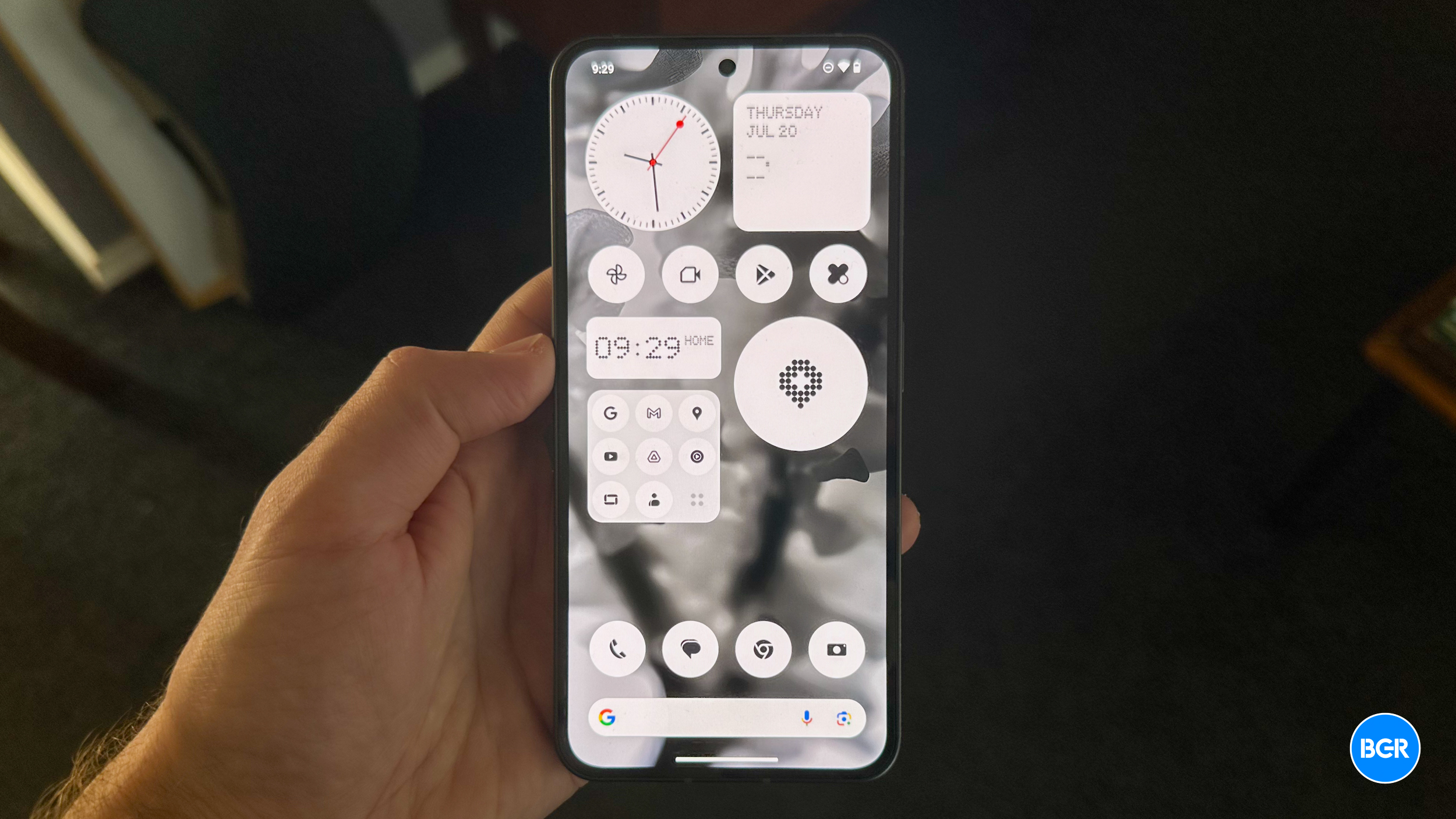 Overall, the Phone (2) software experience is stripped-back and sleek, like other devices with a stock-like experience. But on top of that scaled-back feel, you'll get a range of tweaks.
When you first set up the phone, for example, you'll be able to choose between a pure stock experience, and Nothing's grayscale icon pack with a few different widgets pre-placed. I went for the more interesting latter choice, which I quite like — despite the fact that there are plenty of apps that don't support the Nothing icon look, unfortunately. The whole thing is designed to be grayscale so that you're a little more intentional with how you use your phone. To be honest, I don't think this changed how I use the phone at all — but I do like the overall look of it.
Conclusions
The Nothing Phone (2) has a lot going for it, and at a great price. The phone is a solid performer, has a good-looking screen, and shows off a unique and interesting design — and all for $599. It's important to note that the Nothing Phone (2) is not supported on Verizon, so if you're a Verizon customer, you will need to keep looking.
If you like the overall look and feel of the Nothing device, you'll love the Nothing Phone (2) — it really has a lot more charm than much of the competition out there.
The competition
Charm, however, isn't always enough. The Phone (2) has to compete, and there's one series that could make that challenging — the Pixel series. The Pixel 7a comes at $499, and the Pixel 7 at $599 — the same price as the Nothing Phone (2). The Nothing device performs a little better, and some will prefer the software — but the Pixel 7a offers a better camera, even if it's not much more versatile than that on the Nothing device. Ultimately, I think the Pixel 7a is a more well-rounded phone at a cheaper price — though you certainly can't go wrong.
Should I buy the Nothing Phone (2)?
Yes. It's an excellent phone at a great price.