Pros
Versatile form-factor
Great cameras
Vibrant displays
Software works well
Outer display is usable
Cons
Not as high-performing as some
Expensive
Google has a vision for Android, and it turns out that vision isn't constrained to phones only. Until recently, the Pixel phone has represented an evolving vision of how Android should be. Last year, it expanded that vision with a Pixel Watch, and this year, finally, it's completing the mobile device lineup with the Pixel Tablet and the long-awaited Google Pixel Fold.
But while Google is new to foldables, foldables are no longer new. Samsung is about to enter its fifth generation of foldable devices, while the likes of Honor and Huawei are on their second or third generations. To that end, Google has a lot to prove if it wants to convince customers that it can build high-end, versatile foldable phones, especially at a price of $1,799.
Can it? Well, yes, but you may still want to consider what Samsung has to offer.
Google Pixel Fold specs
Dimensions
Folded: 139 x 79.5 x 12.1mm
Unfolded: 158.7 x 139.7 x 5.8mm
IP rating
IPX8
Display resolution
Cover: 1080 x 1920 pixels
Interior: 1840 x 2208 pixels
Display size
Cover: 5.8 inches
Interior: 7.6 inches
Display type
OLED
Display refresh rate
120Hz
Display brightness
Cover: 1550 nits peak
Interior: 1450 nits peak
Chipset
Google Tensor G2
Memory
12GB
Storage
256GB, 512GB
Rear cameras
Wide: 48MP, f/1.7, OIS
Telephoto: 10.8MP, f/3.1, 5x optical zoom
Ultrawide: 10.8MP, f/2.2, 121-degrees
Video
4K at 60fps, 1080p at 240fps
Front cameras
Cover: 9.5MP, f/2.2
Interior: 8MP f/2.0
Ports
USB-C 3.2
Battery size
4,821mAh
Charging
30W wired, 7.5W wireless
Connectivity
Bluetooth 5.2, Wi-Fi 6E, 5G
Colors
Porcelain, Obsidian
Price
$1,799+
Google Pixel Fold design
The Pixel Fold looks pretty much as you would expect a folding Pixel to look. It has a camera bar along the back, though that camera bar doesn't blend in quite as seamlessly as on the Pixel 7 or Pixel 7 Pro.
On the front of the phone, there's a 5.8-inch display with a hole-punch cutout for the front-facing camera. The inside display takes a slightly different approach, with a relatively large bezel on the top and bottom. This also houses the interior front-facing camera which means that the inside screen is uninterrupted. The bezels do make the inside of the phone look slightly dated, but it's not a big deal, and you'll get used to it.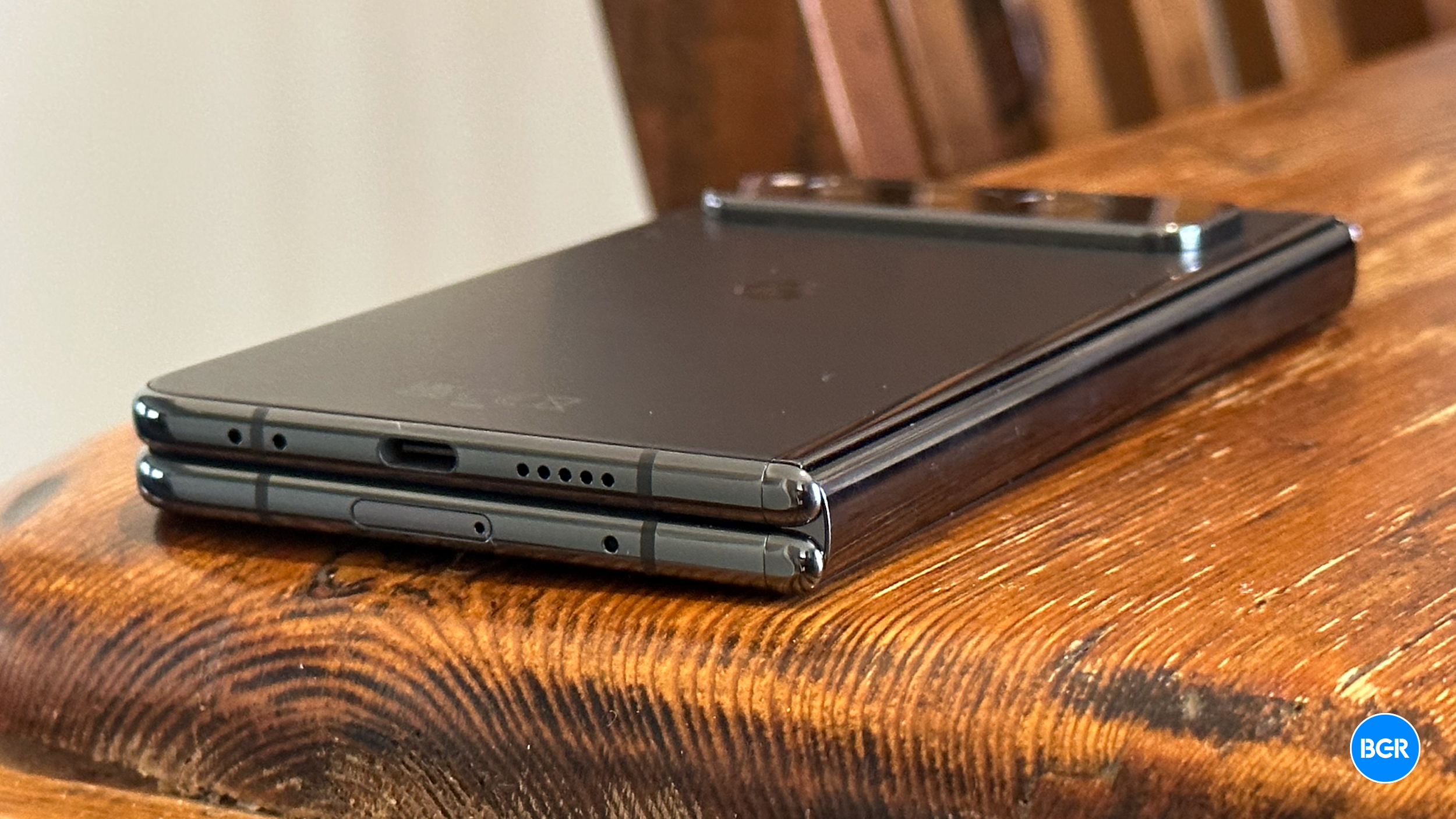 One of my favorite things about the Pixel Fold is that the hinge feels quite premium, and allows the phone to fold with no gap in between the two sides. This seems to be the direction that all foldables are going, but it's nice to see on a first-generation product like the Pixel Fold. The tight fold does seem to make for a more pronounced crease, and it can be felt — but that's another thing that most will get used to relatively quickly.
Another thing I really appreciate about the Pixel Fold is the fact that it's shorter and wider than other foldables. This means that in tablet mode, the is wider than it is tall, so when you unfold it it's essentially in horizontal orientation. It also means that the front screen is much more usable on its own, so you can go about most tasks like any other phone, only unfolding it when you want to, not when you need to to get something done.
On the bottom of the phone can be found a USB-C port and SIM card slot, while on the right side are the power button and volume rocker.
Generally, I found the Pixel Fold to look and feel quite premium. I should note that plenty of reviewers have had issues with the durability of the phone, however I did not.
Google Pixel Fold displays
Like most modern foldable phones, the Pixel Fold has two displays — and they're both as important as each other considering the fact that if you're like me, you'll use the front display for most quick phone things, and the interior display for entertainment, where a high-quality screen can come in handy. That's to say, I probably used the front display more, but the times that I used the interior display were times when the display quality were more important.
Thankfully, both screens are pretty good. The front display is a 1080p OLED display with a 120Hz refresh rate, while the interior display is a 1840 x 2208 OLED display, also with a 120Hz refresh rate. The front display has a slightly higher pixel density, though you won't notice it — I certainly couldn't tell. The front display is also always-on, like other recent Pixel phones.
The displays get quite bright too. The front display can technically get a little brighter than the inside display, but both, I find, get bright enough for any situation, including outdoors. I did find that the device would sometimes dim the screen in outdoor situations, I assume to help prevent overheating — and that was a little frustrating. But in most situations, you'll find that the screen quality is quite good.
The crease in the display is noticeable though — but you'll get used to it over time. Most will end up not really seeing it when they use the phone, however if you look for it, you'll notice it any time you use the inside display. If you think you're likely to find a crease bothersome, you likely will with the Pixel Fold — but it didn't bother me.
Google Pixel Fold performance
The Google Pixel Fold, as you would expect, offers the same Tensor G2 chipset as the Pixel 7 and Pixel 7 Pro, coupled with 12GB of RAM. In my experience, that means that it'll be able to handle anything you can throw at it in 2023, and should remain high-performing for at least the next few years.
Now, let's be clear — the Tensor G2 won't perform quite as well as the likes of the Qualcomm Snapdragon 8 Gen 2, which is currently the best-performing chip for Android devices. But you won't notice the difference. The Pixel Fold was easily able to handle heavier multitasking and mobile gaming, and I never noticed the phone freeze up or crash.
Benchmark results confirmed the solid performance. The Pixel Fold scored the following:
GeekBench 5: 1,481 single-core, 3,910 multi-core
3DMark Wild Life Extreme: 1,861
These results are good, though as expected, not quite as good as phones with the Snapdragon 8 Gen 2, nor as good as any iPhone from the last few years.
Google Pixel Fold battery and charging
Powering it all is a 4,821mAh battery, which is a little small for a foldable like this. Most days, I found that the device was able to get through a full day of use without issue, however on those days I usually ended with around 20-30%. On heavier days, when the interior display was used a lot, the battery didn't quite last the day.
If you're a light to moderate user, I think you'll be perfectly happy with the battery life on the Pixel Fold — however, if you're a heavier user, you'll need to charge regularly.
The Pixel Fold supports 30W wired charging, however, you'll need a compatible charger to get those speeds, and Google doesn't support one in the box. It isn't the fastest charging speed, and you may not get much from a quick top-up like you would get from phones that can charge at a much faster rate.
The phone also supports wireless charging at up to 7.5W, with a compatible Qi wireless charger. It's nice that wireless charging is an option here — all phones in this price range should have it though. Again, charging at this speed is better suited for overnight charging rather than quick top-ups during the day.
Google Pixel Fold camera
Camera quality has always been important on the Pixel series, and thankfully, the Pixel Fold continues that trend. I expected that the phone would have the same camera system as the Pixel 7 Pro, but it actually has a completely different one. That doesn't mean that camera quality is much worse though.
On the back, the Pixel Fold offers a triple camera system with a 48-megapixel main camera with optical image stabilization and an f/1.7 aperture, a 10.8-megapixel telephoto camera with 5x optical zoom and an f/3.1 aperture, and a 10.8-megapixel ultrawide camera with an f/2.2 aperture and a 121-degree field-of-view.
The camera quality is excellent. In well-lit environments, the camera is able to capture detailed, vibrant photos, including at high levels of zoom. 5x optical zoom is already pretty good, and you'll get up to 20x zoom when you add in digital zoom. Google seems to have stepped back from constantly over-saturating images, and the result is that photos look a little more natural.
Low-lit environments aren't an issue for the device either. Like other Pixel phones, in low light, you'll still get relatively detailed and vibrant photos except in much darker settings.
There are two front-facing cameras on the device. On the cover, you'll get a 9.5-megapixel camera, while on the interior, there's an 8-megapixel camera. They're both fine, but they can struggle a little in more challenging situations, like with lots of backlighting. The benefit of a foldable, of course, is that you can use the rear-facing cameras for selfies — which you may want to do in any situation where quality is important to you.
Google Pixel Fold software
The Pixel has always been known for its increasingly Google-focused software experience. Initially, Pixel phones simply had near-stock Android — the version of Android that's shipped to manufacturers before they built on top of it. These days, Google has its own Android skin, but thankfully it has kept the scaled-back, Googley feel that users know and love.
For the most part, the Pixel Fold has the same software experience as that on previous-generation Pixel phones, and if you use the cover display only, you won't notice much of a difference. Open the phone, however, and you'll notice a number of software tweaks that are built for a more versatile experience.
When you open up the Pixel Fold, the home screen is essentially two home screens from phone mode. Initially, I didn't really like this — but over time, I figured out the kinds of apps I used in tablet mode compared to phone mode, and simply put app icons and widgets for those tasks on the second screen. It's not a perfect solution — after all, that second screen is still there in phone mode. But it's not a bad way to use that extra screen space.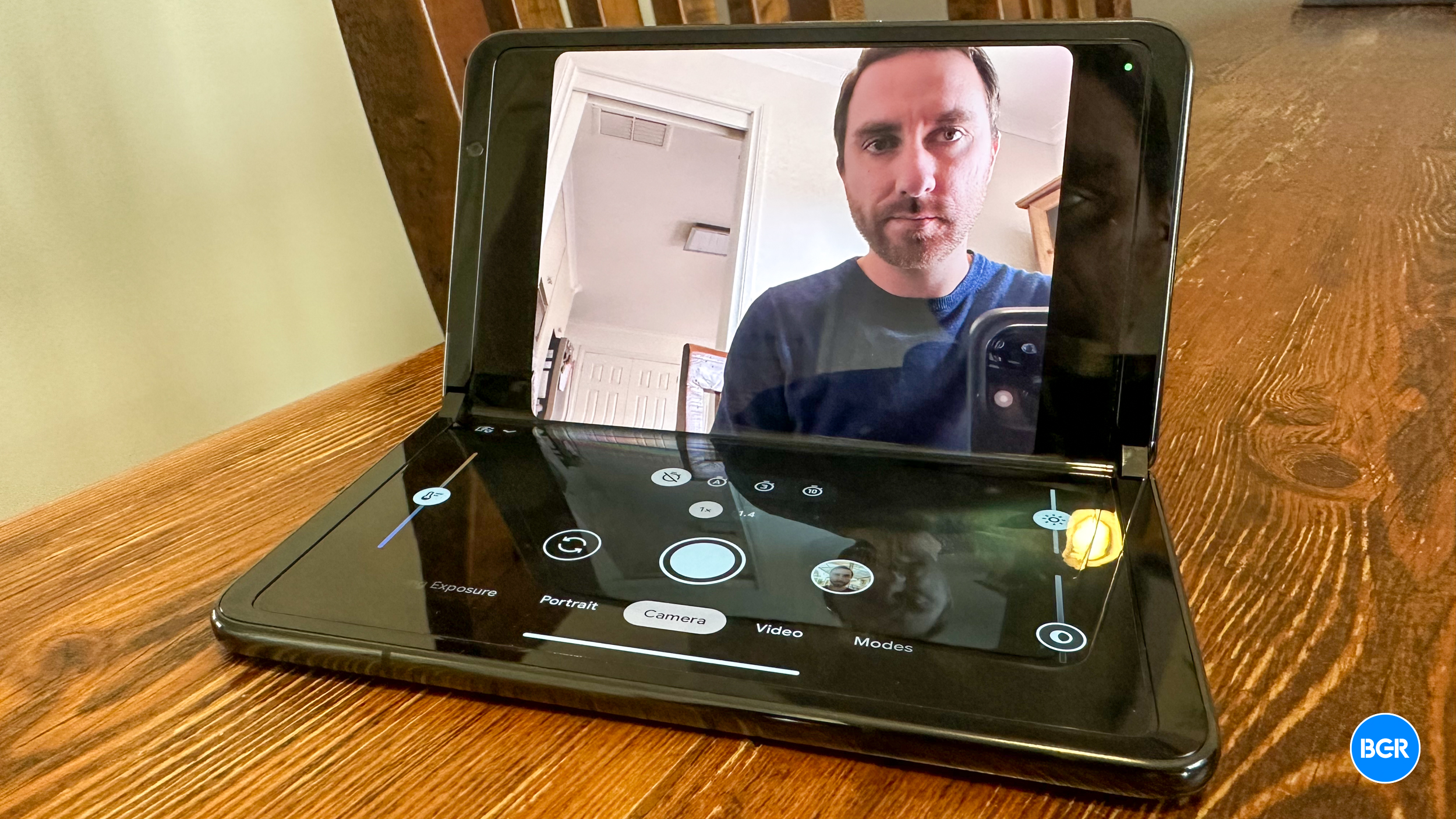 There are some good multitasking tools though. You can use apps in split screen, allowing for two full-screen apps to be open at once, and you can drag and drop content between them.
You can also physically set up the Fold in different modes. You can use tent mode for watching video hands-free, and you can use laptop mode for some apps, allowing you to see content on the top half, and controls on the bottom half. It works well, and while you probably won't use it on a daily basis, it can be helpful for multitasking at times.
The main issue with the big-screen Android experience? It's 2023, and many third-party developers still haven't optimized their apps for a bigger screen. Twitter and Instagram are the big culprits in my app drawer, but there are plenty of others too. Thankfully, some developers aren't just optimizing their apps, they're making them more functional with the extra space. Hopefully, this will continue.
Conclusions
I'm a sucker for a great Pixel phone. I love the software experience, and I really like how streamlined it all feels compared to Samsung's software. The end result is that the Pixel Fold is my favorite foldable device so far.
But it's not the best foldable device so far. In using the Fold, you simply can't ignore the fact that Samsung has years of experience in building foldables, and it shows. The upcoming Galaxy Fold 5 is likely to be the best-built foldable phone so far, and it'll likely be cheaper than the Pixel Fold too.
That doesn't take away from this device though. If you like the Pixel experience and want it in foldable form, it's worth considering despite the high price tag.
The competition
The biggest competition comes from Samsung, with the current-gen Galaxy Fold 4, and the next-gen Galaxy Fold 5. The Galaxy Fold 4 is better built and cheaper than the Pixel Fold, but is much thinner and taller, which to me, makes it harder to use in phone mode.
Should I buy the Google Pixel Fold?
Yes, if you want the Pixel experience in a foldable, and are willing to spend a lot to get it.