Samsung has been the main beneficiary of a profitable niche it helped create in the smartphone industry: foldable phones. But the lack of competition isn't good for the future of this form factor. That's something the arrival of Google's Pixel Fold could correct. We're looking at the first foldable phone in the world that will run optimized Android software out of the box. It's a phone that will always get the latest software updates before Samsung's foldable phones and any other folding devices.
Add the more affordable price and preorder bundles, and the Pixel Fold suddenly becomes a top contender in the foldable phone market.
The Pixel Fold looks a lot like Samsung's Galaxy Fold models. Several Chinese vendors have also employed the same design, delivering various improvements that Samsung wasn't ready to implement. The Z Fold's external display was largely unusable, considering its aspect ratio. Also, Samsung's foldable phones still have a gap when you fold them.
That's something Z Fold alternatives have corrected, and the same is true of the Pixel Fold.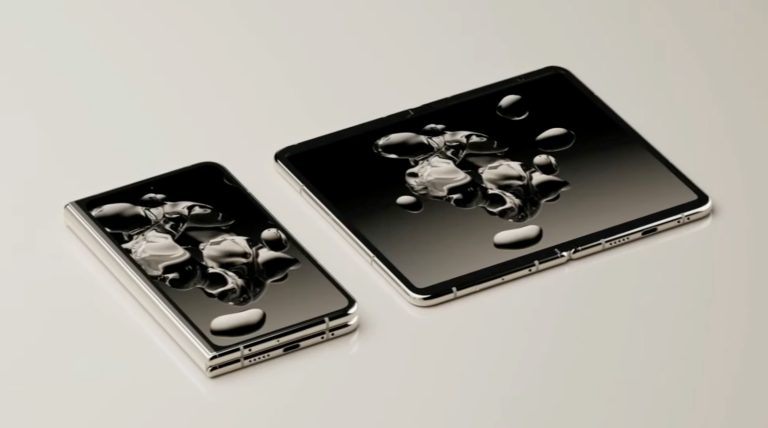 Pixel Fold design and features
The Pixel Fold has a large external display that seems comfortable enough for one-handed operation. We're looking at a 5.8-inch OLED panel with a 17.4:9 aspect ratio and 120Hz refresh rate.
On the inside, the Pixel Fold packs a 7.6-inch OLED screen with a 6:5 aspect ratio and 120Hz refresh rate.
The foldable phone also has a no-gap hinge, so it folds perfectly when closed. Interestingly, the phone offers IPX8 water resistance, which is a great feature to have on a foldable. The phone might still be exposed to dust ingress, however.
Of note, Google says the Pixel Fold will have the most durable hinge in the industry.
Pixel Fold specs
When it comes to size and weight, the Pixel Fold measures 139.7 x 79.5 x 12.1 mm when folded or 139.7 x 158.7 x 5.8 mm when unfolded. The Google foldable phone weighs 283 grams.
The Pixel Fold does have one controversial design feature: the foldable screen has large top and bottom bezels. But, as I've already explained, that might be an advantage over the Galaxy Z Fold design.
Larger bezels on the foldable screen can better accommodate your fingers to prevent accidental taps. Also, they offer protection when the phone is folded. Plus, the larger bezel makes room for a traditional selfie cam rather than an under-display camera that offers compromised performance.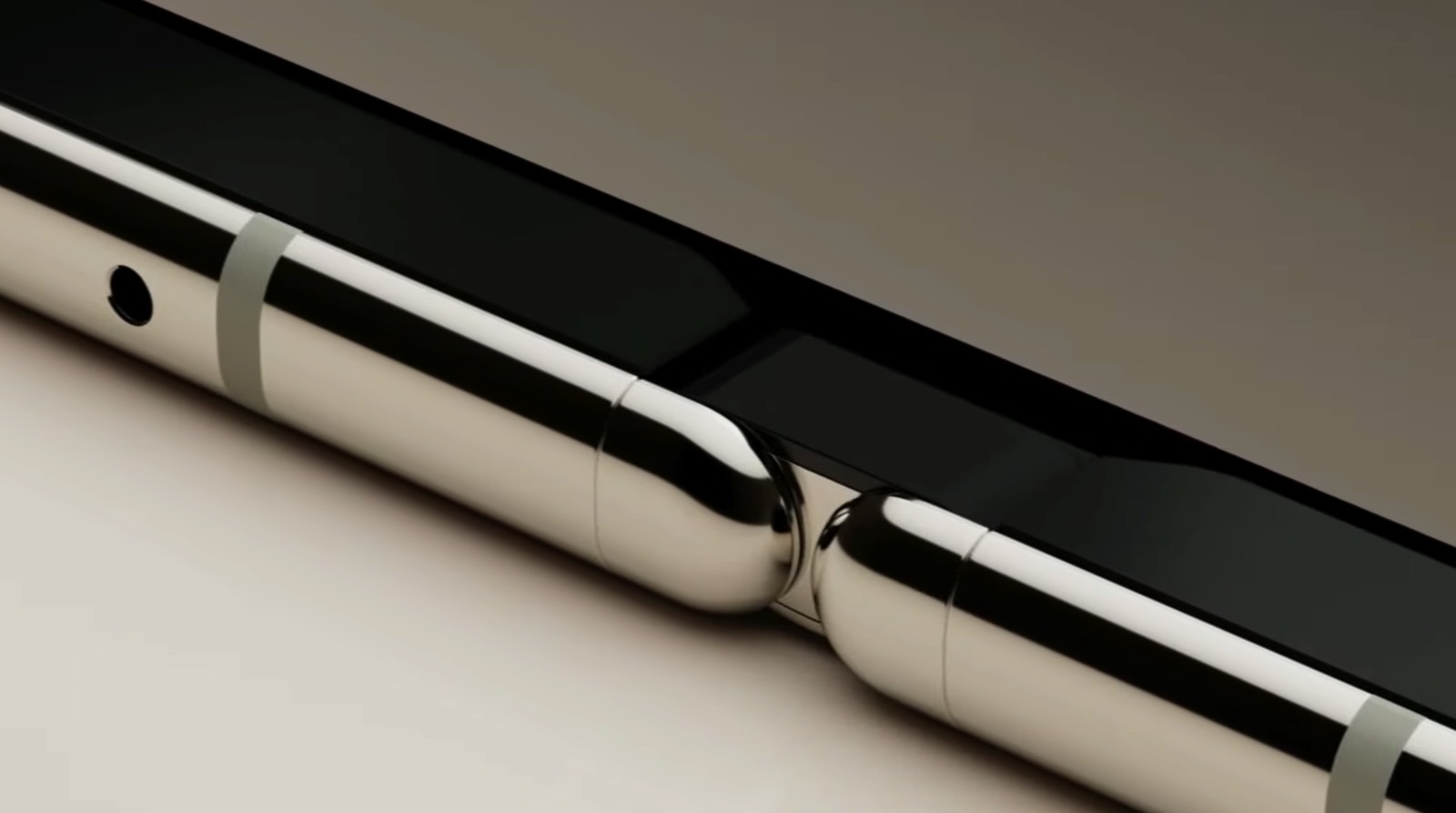 As for the cameras, the inner selfie cam has an 8-megapixel f/2.0 sensor. The cover display selfie cam packs a better 9.5-megapixel f/2.2 selfie camera. But the main triple-lens camera system also works as a selfie camera on this type of phone.
We're looking at a 48-megapixel f/1.7 main camera, a 10.8-megapixel f.2.2 ultra-wide sensor, and a 10.8-megapixel f/3.05 telephoto lens (5X optical zoom). What really matters here is that the Pixel Fold will deliver Google's camera magic, and that could be a huge advantage over Samsung's foldables.
Another potential downside of the Pixel Fold concerns the system-on-chip (SoC) choice. Rather than featuring the Tensor G3 SoC that will undoubtedly power the Pixel 8 series, we're looking at the same Tensor G2 that Google used for all Pixel 7 series, Pixel 7a included. The chip is paired with 12GB of LPDRR5 RAM and 256GB or 512GB of UFS 3.1 storage.
Finally, the Pixel Fold will pack a 4,821 mAh battery that supports 30W wired charging and up to 72 hours of low-power battery life.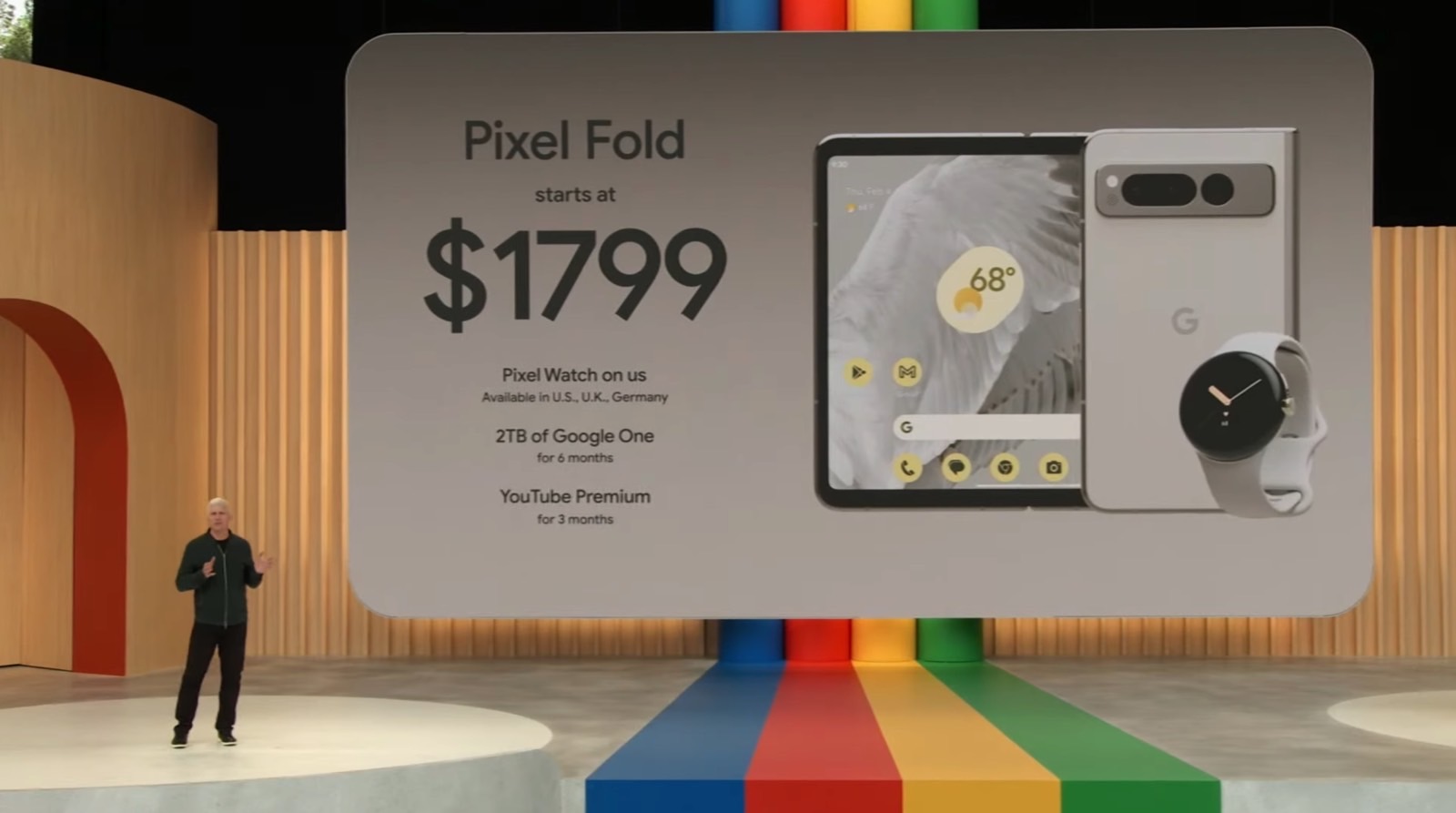 Pixel Fold price and release date
Google might be ready to challenge Samsung in the foldable arena, but the Pixel Fold won't be significantly cheaper than the Galaxy Z Fold 4. We're still looking at a $1,799 price tag for the handset.
However, Google will run a great preorder deal for the Pixel Fold, offering buyers a free Pixel Watch with their foldable. The device is available for preorder on Wednesday.
Unlike the Pixel 7a, which starts selling this week, you'll have to wait until June to get your hands on a Pixel Fold. Google's foldable will hit stores right in time for Android 14's arrival later this summer. That operating system update should feature optimizations for big-screen devices like the Pixel Fold and Pixel Tablet.