Sometimes, you need to step away from your devices and unplug. Sometimes you need to pay attention to one task for a specific amount of time and you don't want someone to bother you. That's why you should use the Focus feature on your Apple device.
For a few years, Apple devices have had a notifications filter feature that helps users control their screen time and minimize distractions. Called "Focus," it will temporarily silence all calls and notifications while you have it on.
The great thing about Focus is that you can share your Focus status with anyone to let them know that you are doing something else, like driving or sleeping. But, you can also choose which notifications can come through while you're utilizing the feature. You can pick ones from apps for work, specific people that can call or text you (in case of an emergency), and so on.
So how do you share your Focus status on your iPhone or iPad? It's incredibly easy. Here's how.
How to share Focus status on your iPhone
To share your Focus status, you first have to turn on the feature in your device settings app.
How to turn on Focus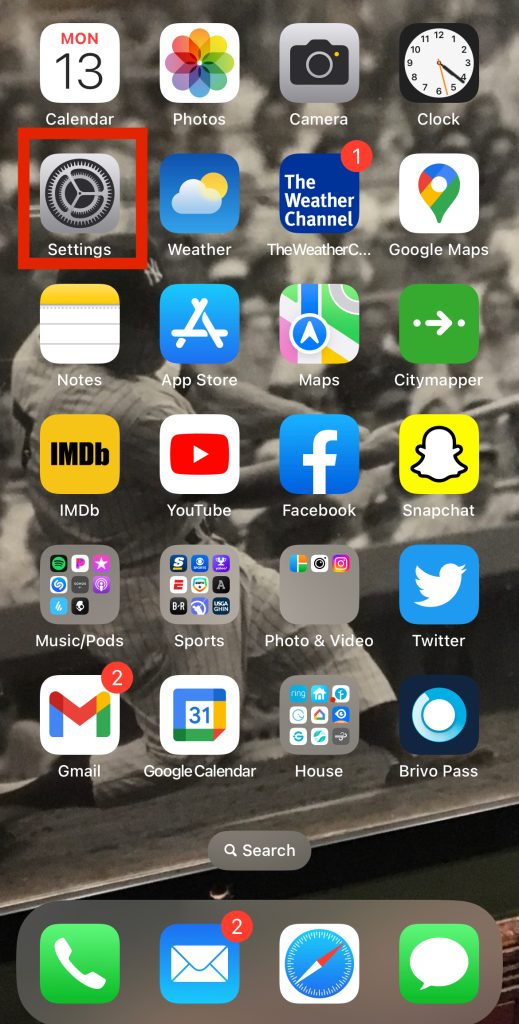 Scroll down in Settings to the Focus tab.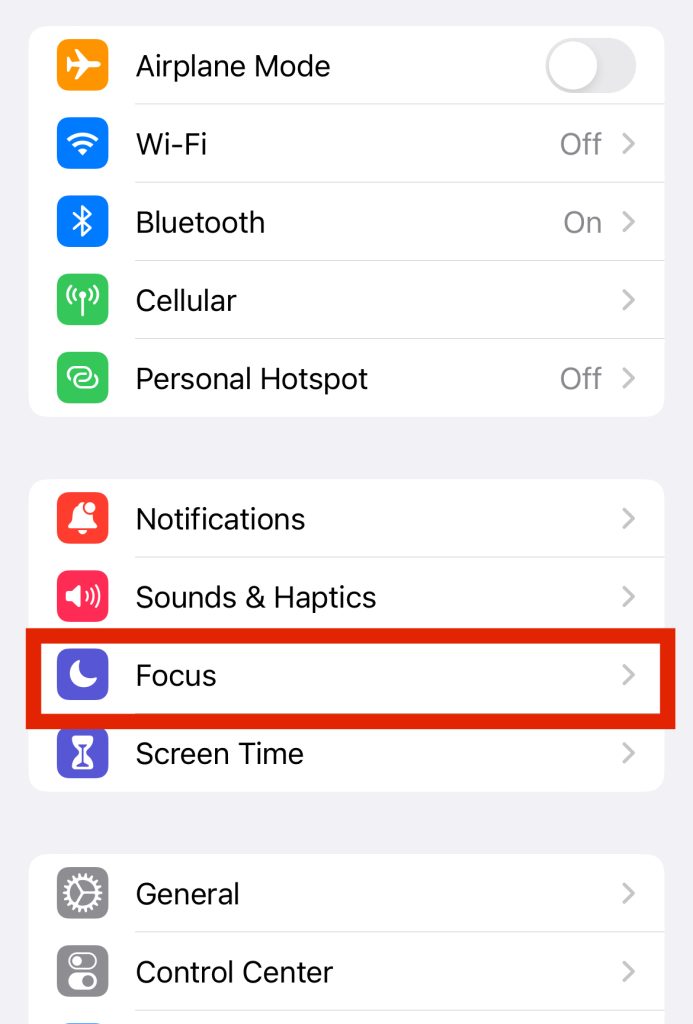 Once inside, you'll see multiple options on the kind of Focus setting you want to turn on. The preset options are Do Not Disturb, Personal, Sleep, and Work. You can click on the one that you want to turn on.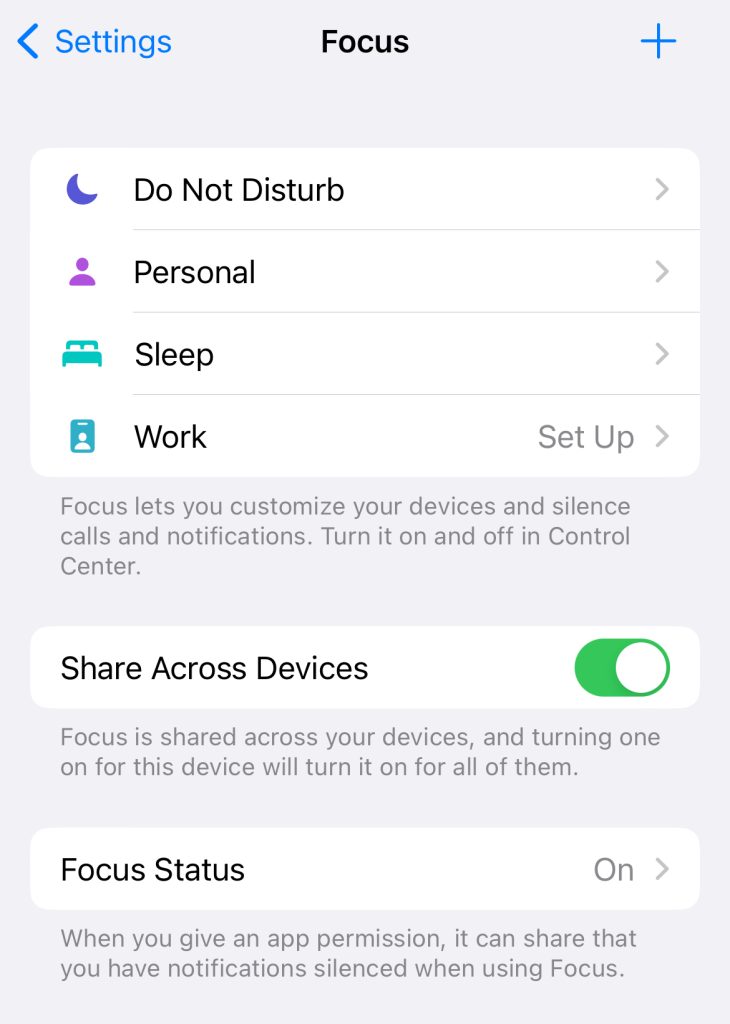 You can see here that you can choose which people and which apps are allowed to send you notifications while you're in a specific Focus mode. You can also customize how the screens of your different devices look while the Focus is turned on. Set up a schedule for when your Focus mode should turn on if it's something you want to do frequently.
You'll also be able to set up a Focus filter to customize how your apps and devices behave while you're in Focus.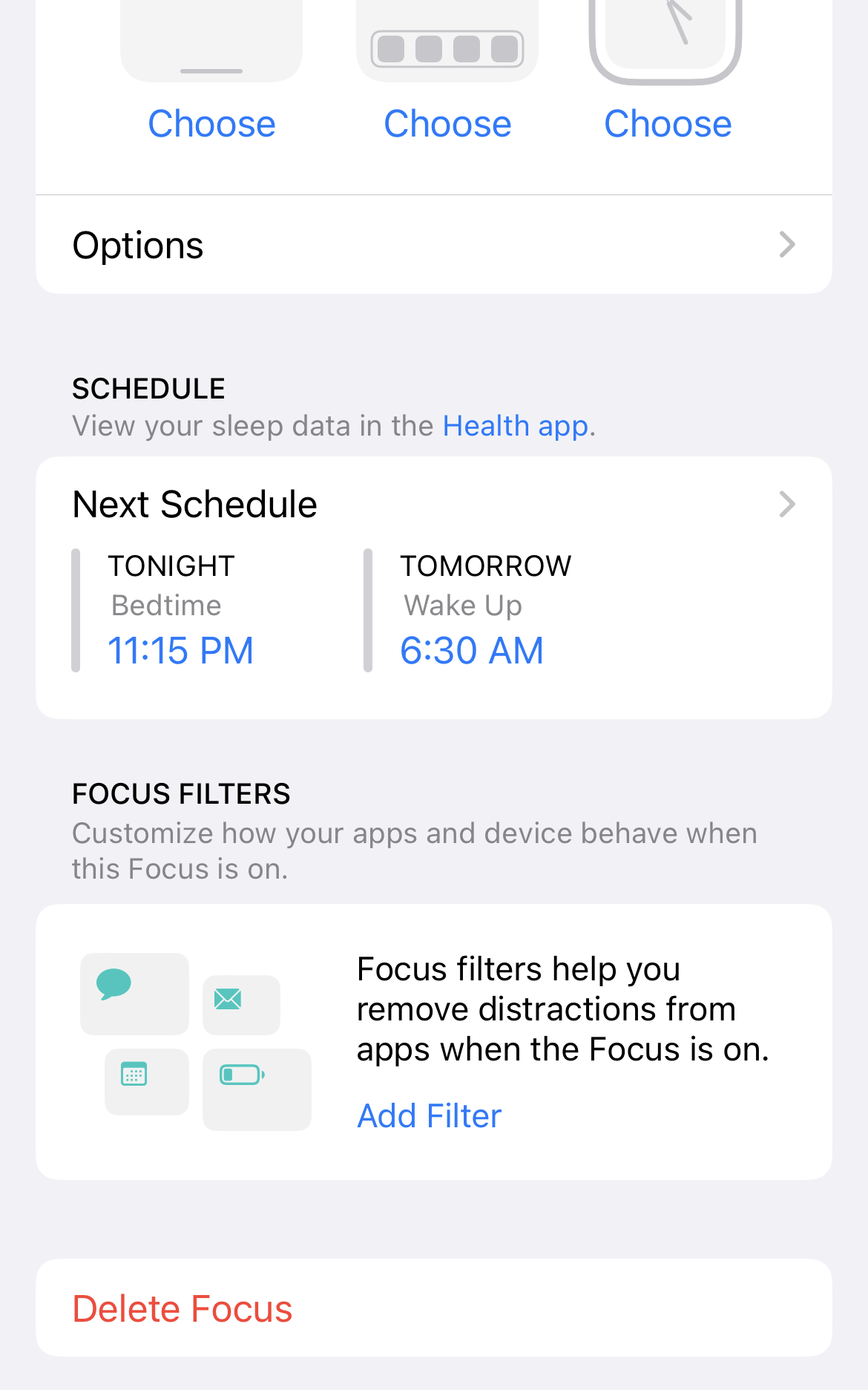 How to set up a custom Focus
You don't have to rely on the Focus modes that come with your phone. You can create your own. Just go back into the Settings app and click on the Focus button again.
There is a plus button at the top of the screen. Click that.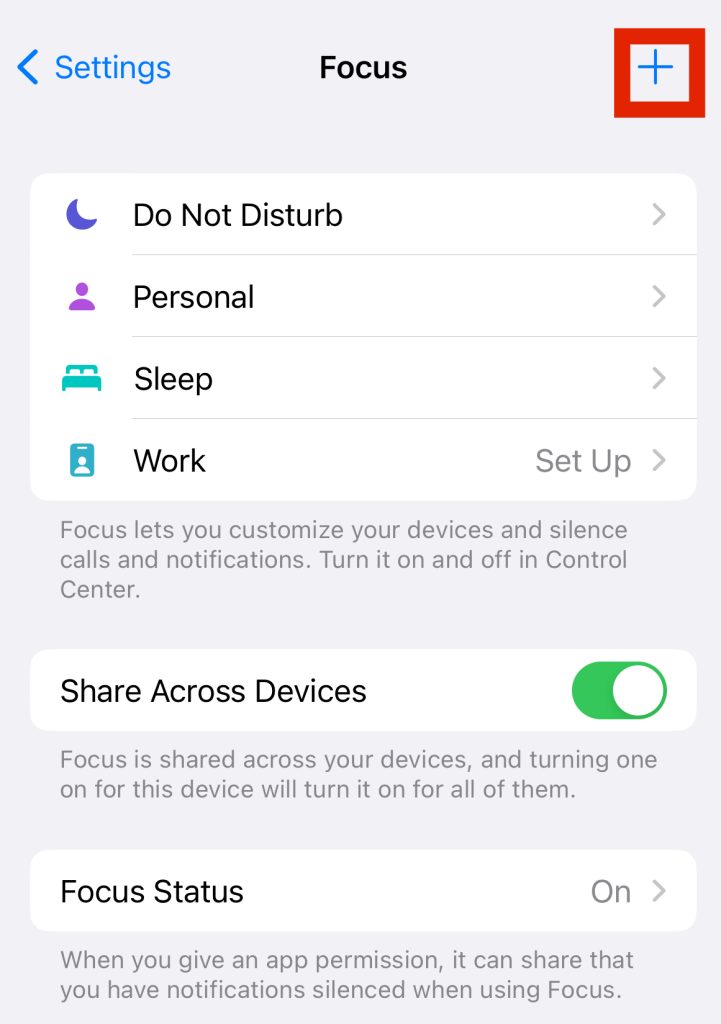 Choose what kind of Focus you want to set up or make a custom one.
If you choose a custom one, you can name it, give it a fun logo, and it'll be added to your list.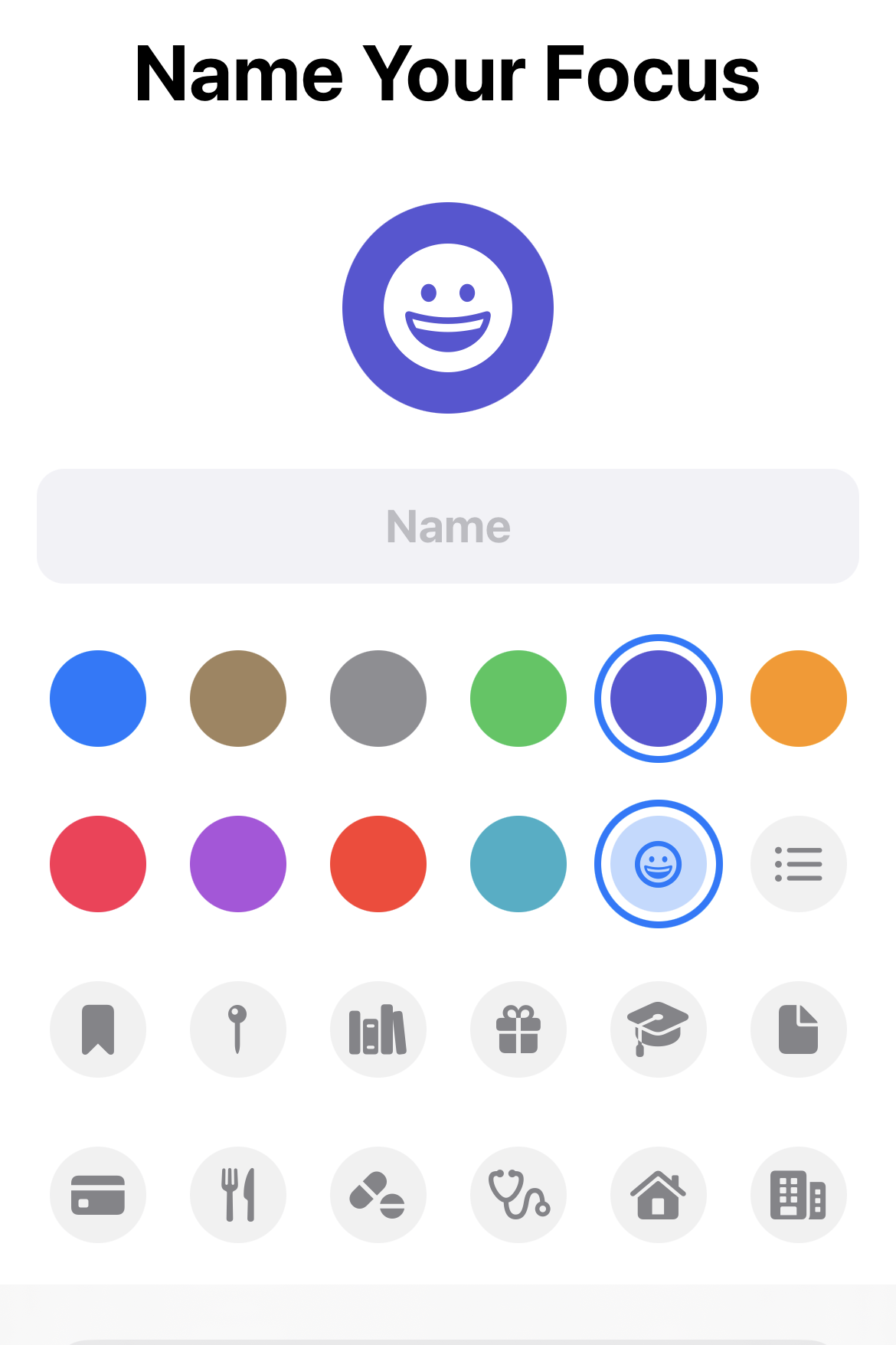 You can then customize the other options.
Now that you know how to turn on and customize your Focus, let's talk about how to share your Focus status with others.
Sharing your Focus status on an iPhone
Once you're inside the Focus app in settings, you can share your Focus status.
You'll see in the Focus setting, at the bottom, it says "Focus Status". Click that.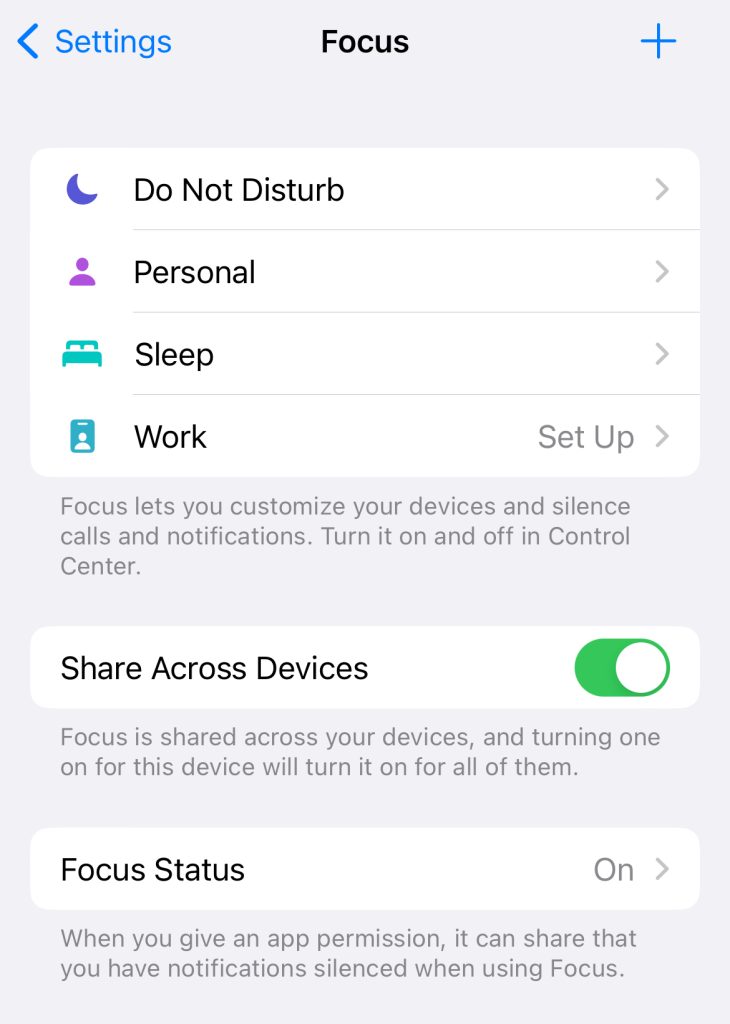 Once on this screen, you'll be able to turn on your Focus Status and also choose which one of your Focus modes you want to share the status from. You don't have to choose all of them. Turning your Focus Status will alert people who do reach out to you while you're in a Focus mode that you are in the middle of doing something and won't be able to respond because your notifications are silenced.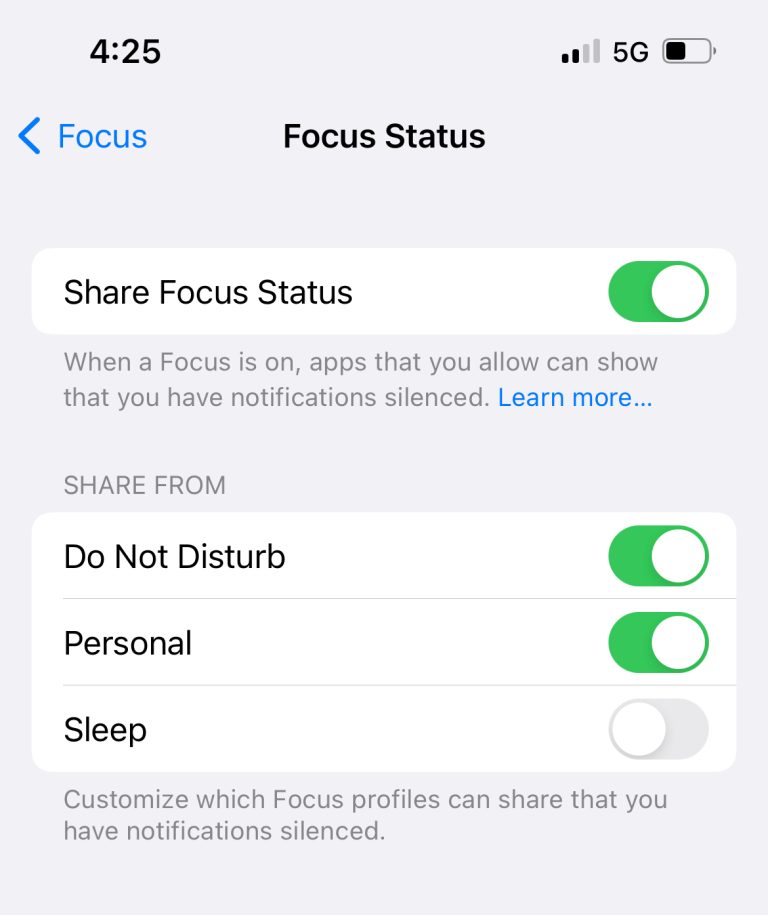 It should be noted that people can still send you notifications even though your Focus Status is shared with them. They just will be asked if they still want to send something, like a text message. And, of course, the people and apps that you designate as okay will be able to send through notifications.
Create Focus settings for the lock screen
If you don't want to have to go into the Focus settings each time to turn one of these on, you can control it from your Lock Screen.
Swipe down to get to your control center.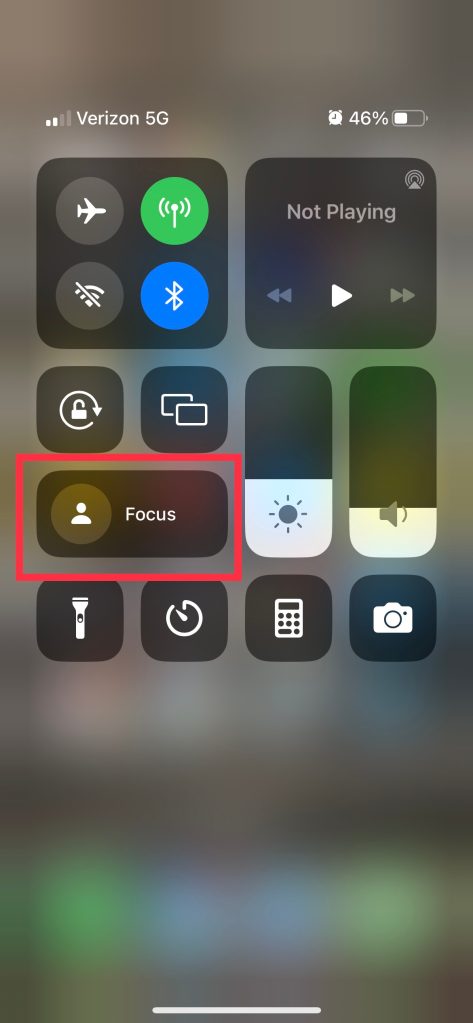 You can click into this and choose which one you want to turn on.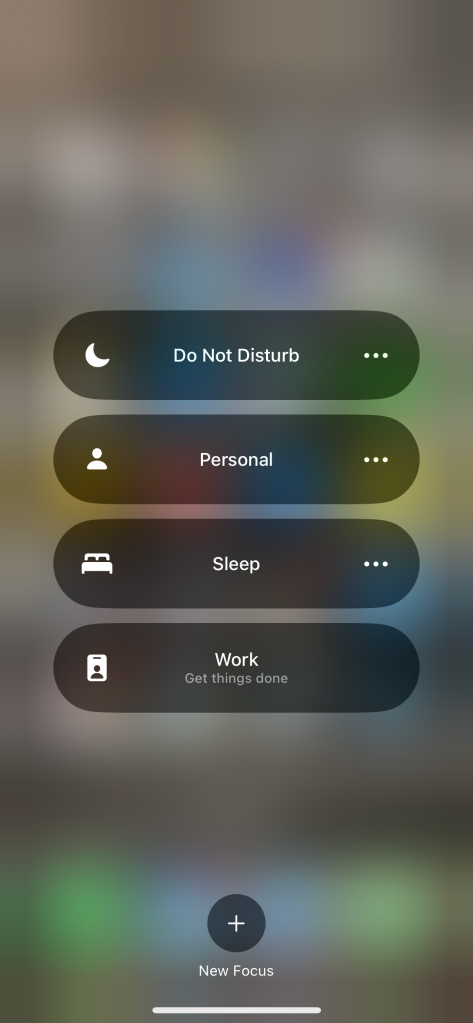 From there, you can click the three dots next to one of the modes and choose how long you want to put it on. Clicking the Settings button will bring you into the Focus Settings menu.