Before the release of iOS 11, you needed a third-party app to screen record on an iPhone. Frankly, it was quite a hassle until Apple came to the rescue. The release of iOS 11 made the screen recording process much easier for iPhone users. Mainly because iOS devices now come with a built-in screen recorder.
However, if you're finding it difficult to figure out where the screen record feature on your iPhone is, we've got you covered! In today's article, you'll learn how to screen record on an iPhone. We'll also do you one better by showing you how to record with your voice and edit your screen recordings to your taste.
Set Up Screen Recording.
Before you can start to record your screen on your iPhone, iPad, or iPod touch, you'll have to enable the screen recording feature in the Control Center.
To do this, follow these easy steps: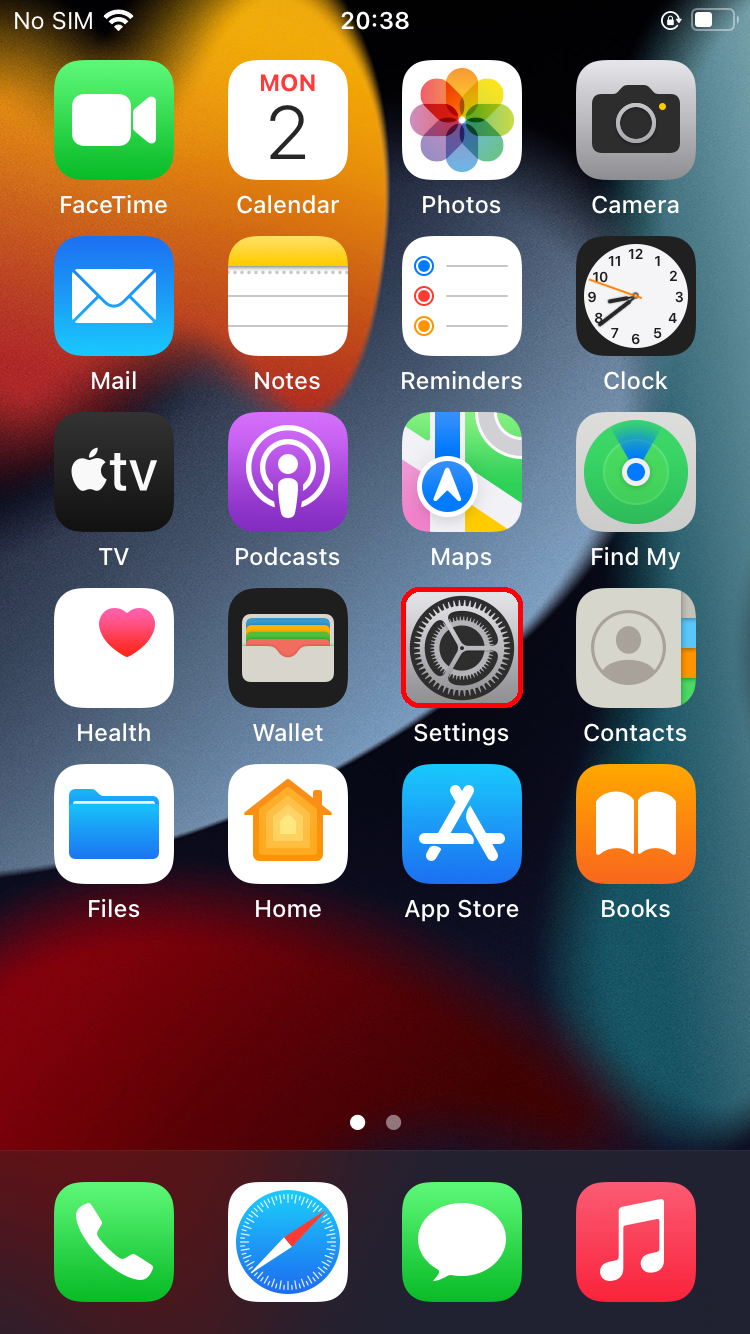 1: Open the Settings app, and select "Control Center."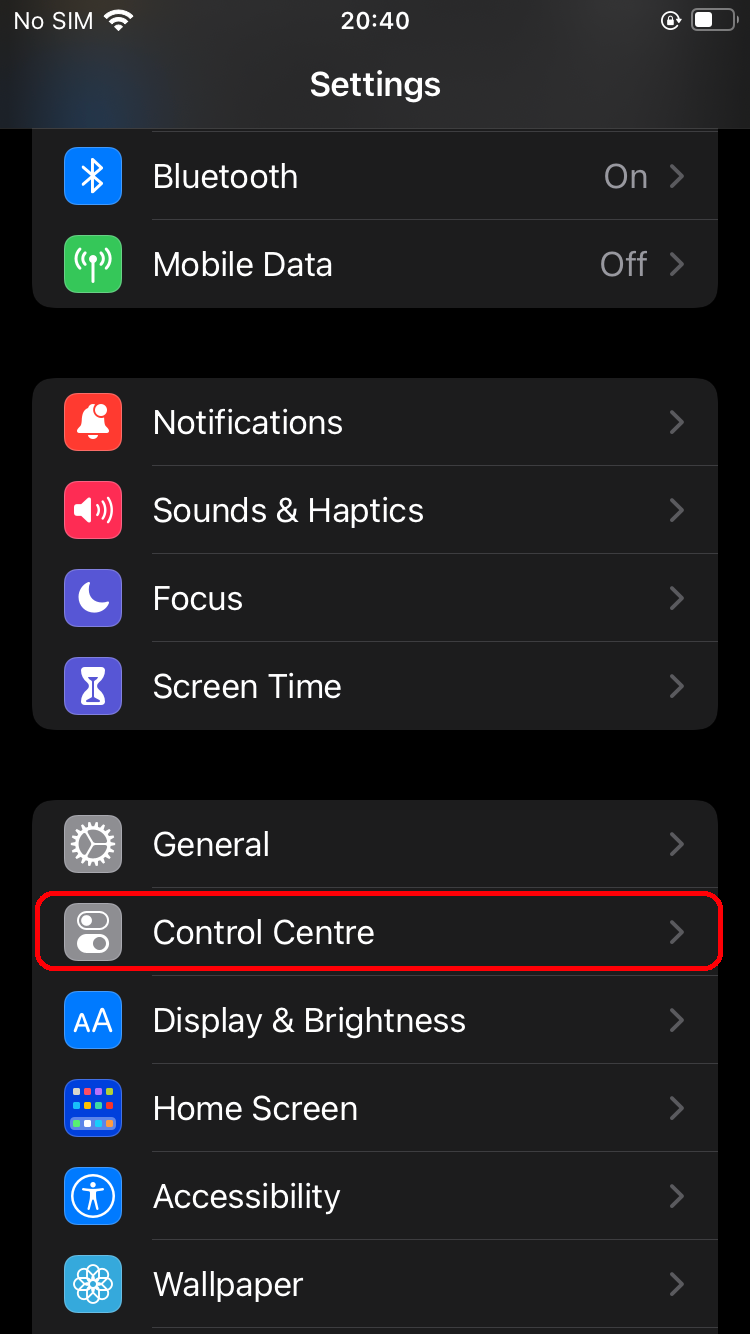 2: Scroll down to the "Screen Recording" button. If the button has a red minus sign, it has already been added to your Control Center. However, if the sign next to the screen recording button is a green plus, tap on the plus sign to have it appear in your Control Center.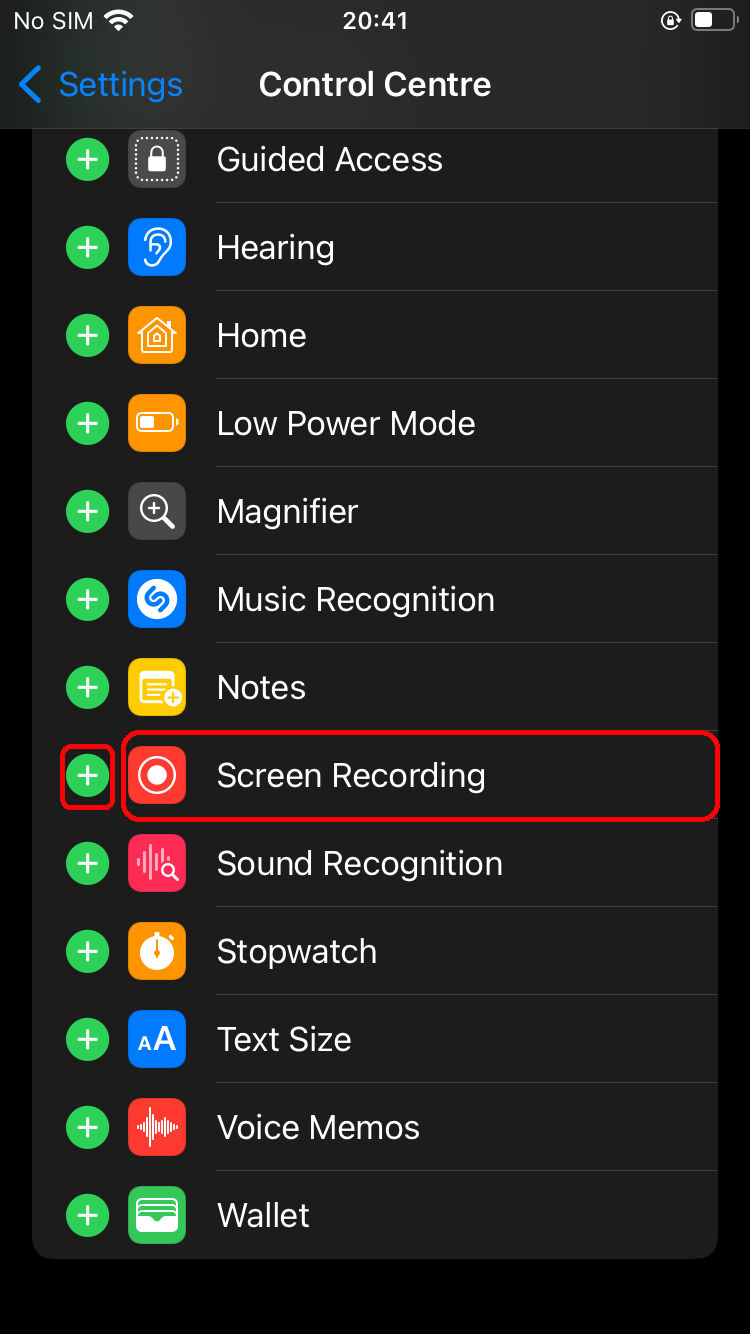 3: Once this is done successfully, you will be able to see the Screen Record icon in your Control Center.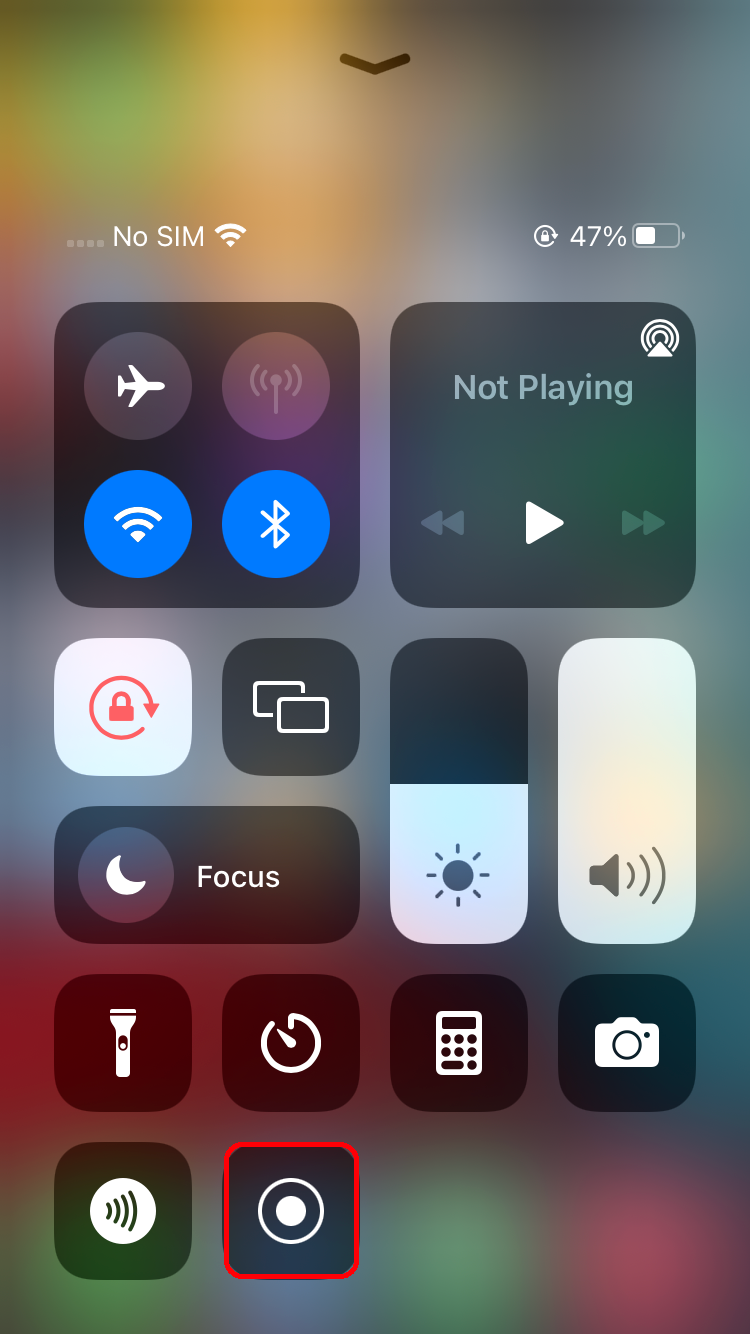 Depending on your iPhone model, there are two main ways of accessing your Control Center.
If your iPhone has a physical home button, swipe up from the bottom of the screen to open the Control Center. However, if your iPhone uses Face ID, swipe down from the top right corner of the screen.
Start Recording
Now that your iPhone is set up, let's get to the screen recording itself.
We'll be breaking down the process into two simple steps:
1: Open your Control center, and click on the Screen Record button.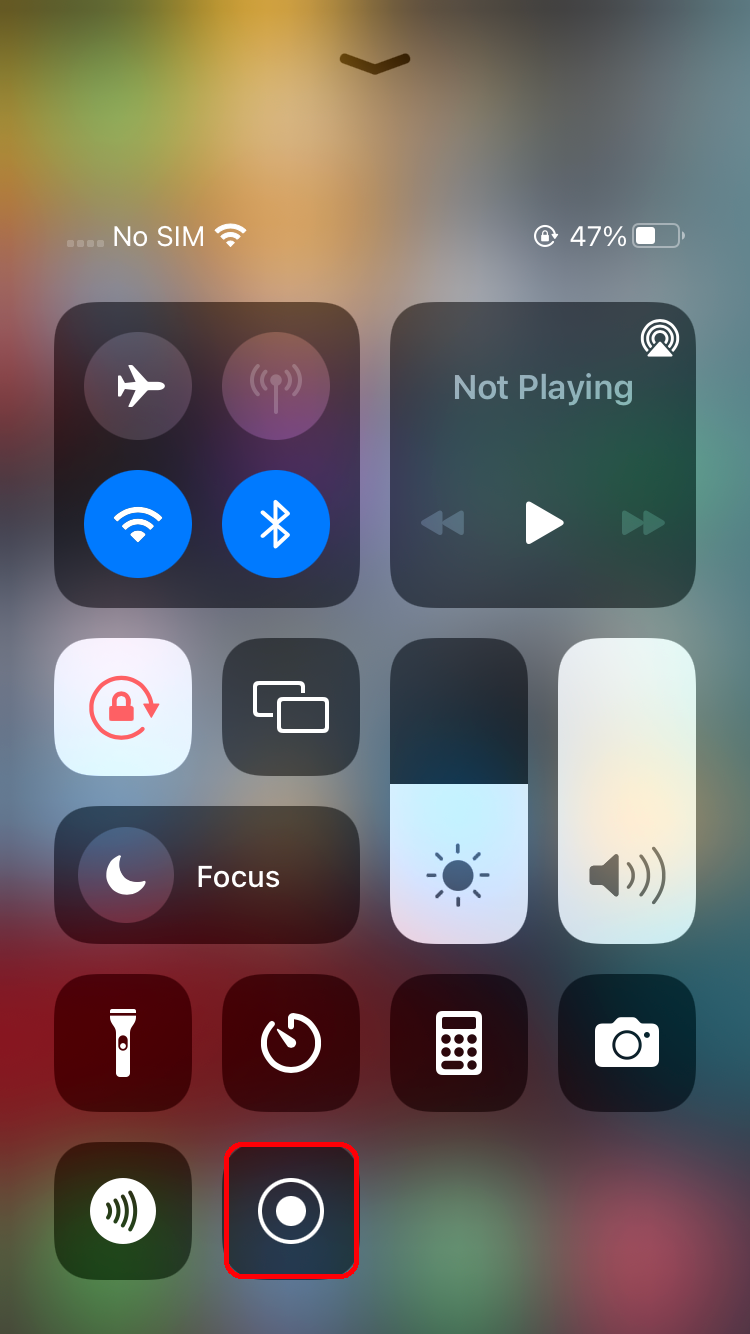 Step 2: You have three seconds to close the Control Center once you tap the Screen Record button. Immediately after the three-second countdown is over, your iPhone will start to record your screen. You will know it has started by the red bar that appears at the top of the screen.
Be sure to turn on "Do Not Disturb" while you record the screen on your iPhone. Do this to avoid any notifications popping up in your video.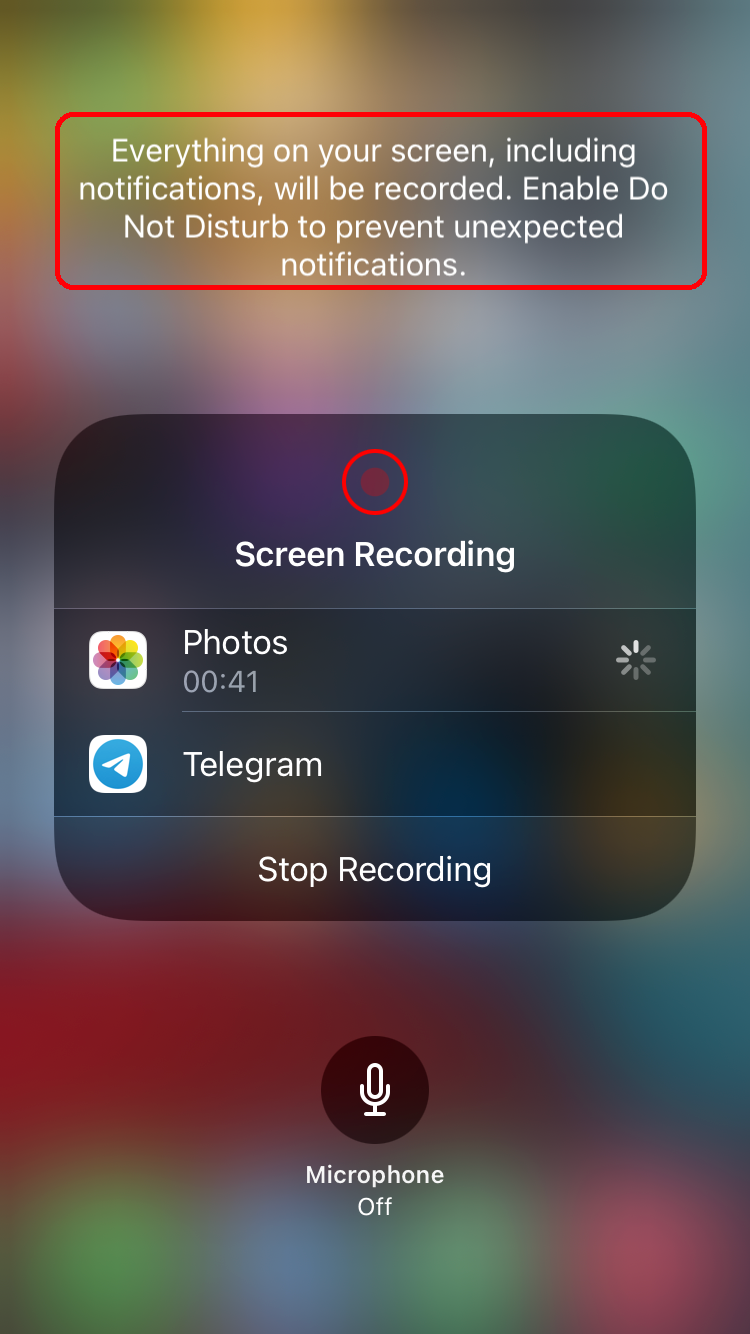 How to Record with Audio
Screen recording with audio on your iPhone follows slightly different steps, but it is just as quick and easy to do.
To add audio while recording your screen:
1: Press and hold the screen recording icon for more options. You will see a pop-up menu in the middle of your iPhone screen.
Step 2: Tap on the Microphone at the bottom of the screen, and it will turn red. Once this is done, tap the "Start Recording" button to proceed.
You can also include narration in your video with this method.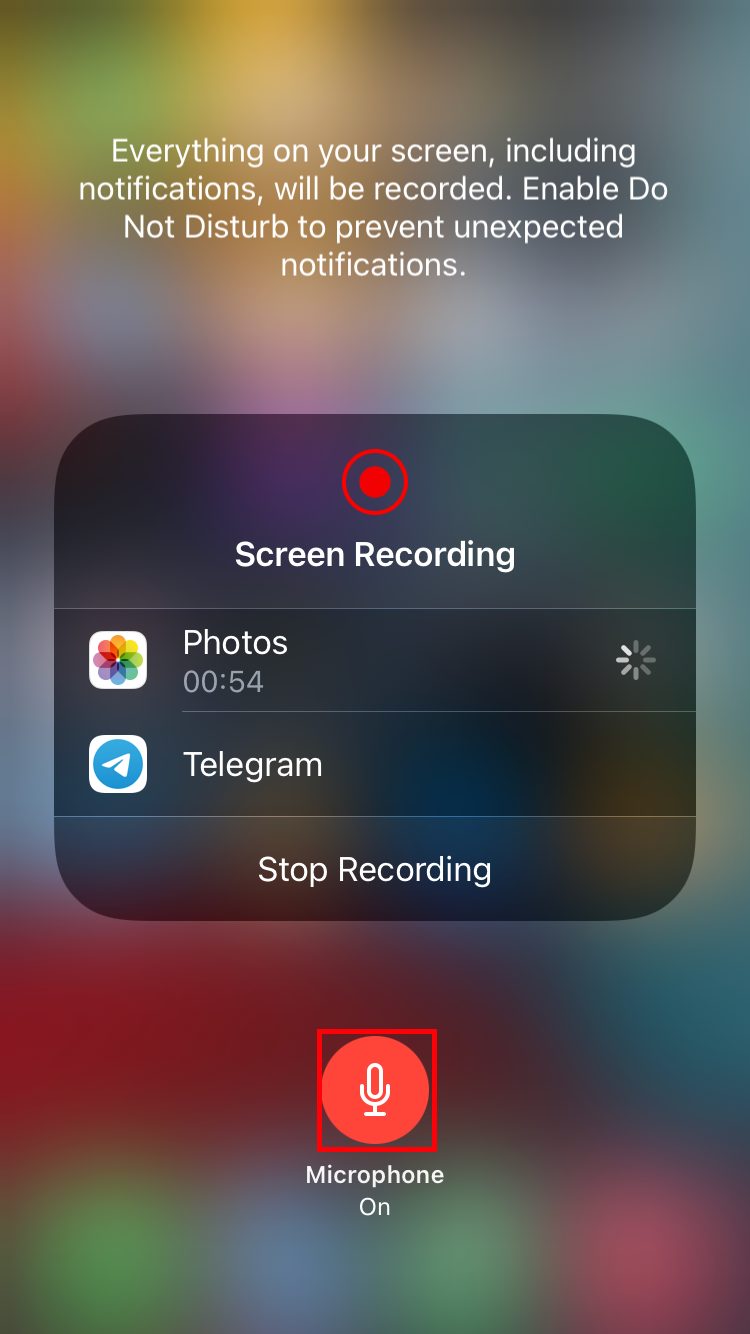 To stop recording, tap on the red timer at the top of the screen.
A message will appear in your Notification Center to let you know that your Screen Recording video has been successfully saved to the Photos app or Camera Roll.
Another way to stop recording your iPhone screen is by going to the Control Center and tapping the record button again or the red status bar.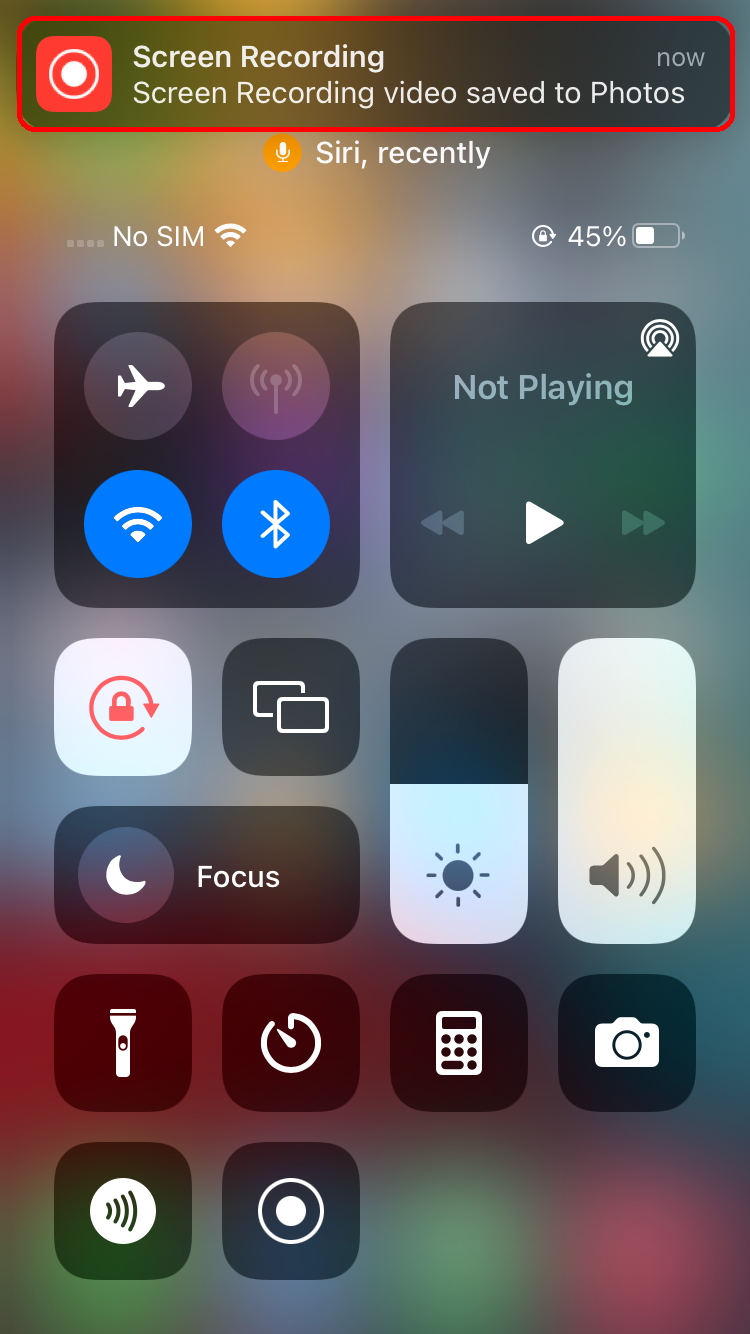 How to Record with Screen Recorder+ App
Screen recording on an iPhone has been made easy with Apple's built-in feature. However, if you desire more screen recording functionality, you can explore other third-party apps. For us, Screen Recorder+ takes the crown. Mainly because it allows you to do more with your recording in just a few taps or clicks.
The Screen Recorder+ app allows you to explore even more functions than the built screen recording of any iOS device.
Follow these steps to record on an iPhone with the Screen Recorder+ app:
1: Install Screen Recorder + on your iPhone. You can find the app in the App Store on your phone. After the installation process, launch the app.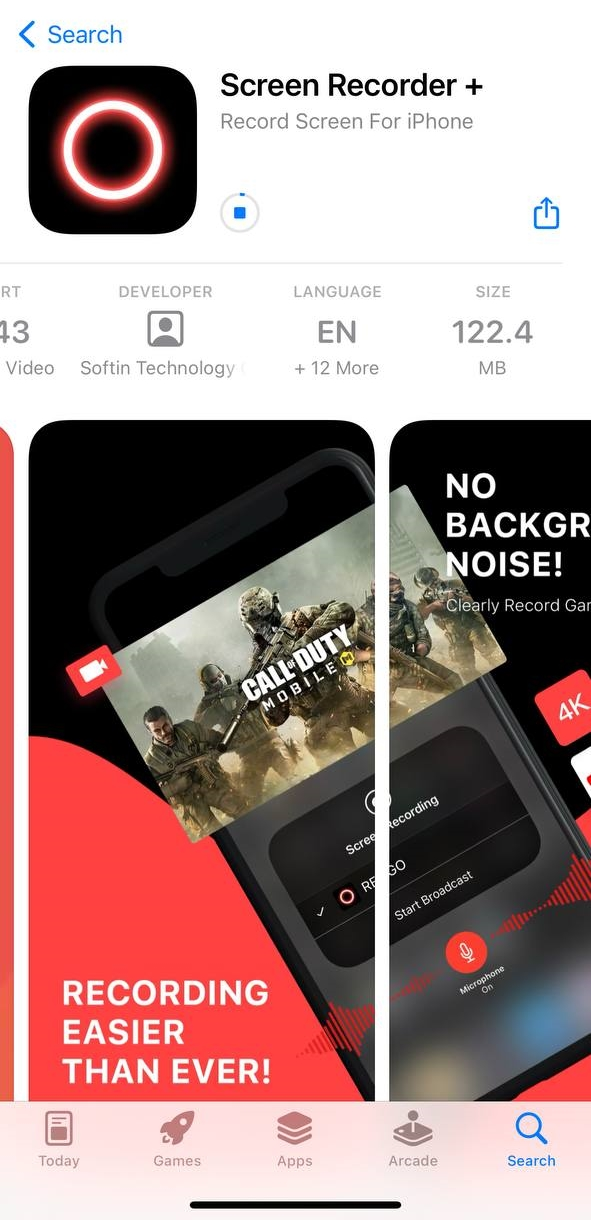 2: Make adjustments to your preference for the video recording. For example, you can adjust the frame rate, set a time of recording or the recording orientation, turn on your microphone audio button to record your voice, etc. You can do this before you start recording.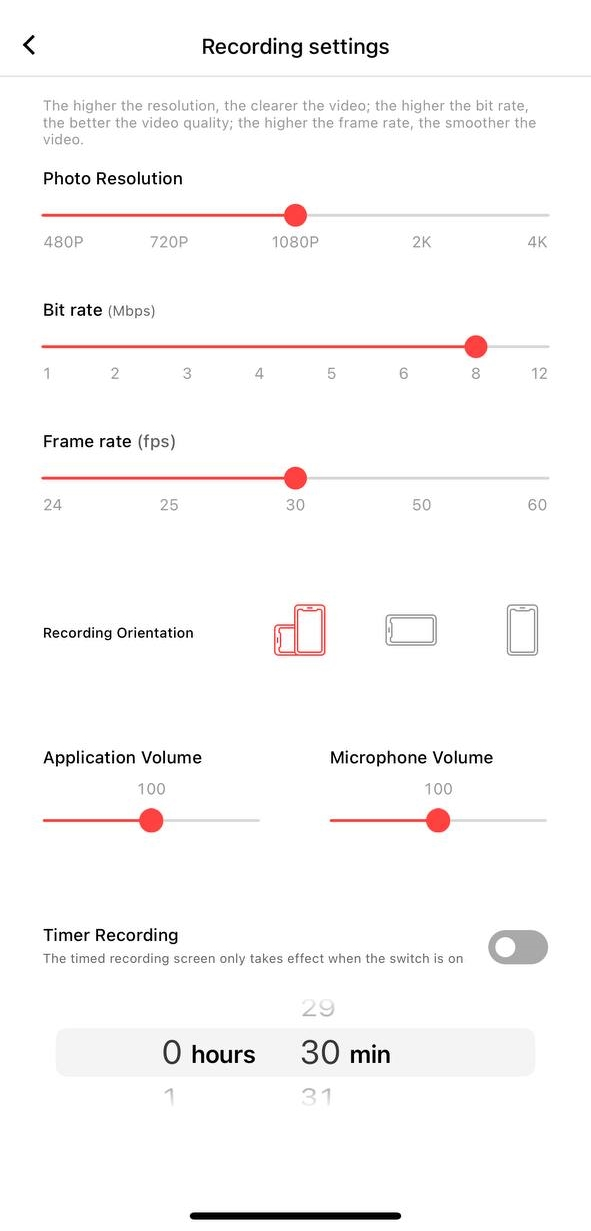 3: Proceed to click "Start Recording," A window will appear. You should tap "Continue" and then "Start Broadcast" on the following page. If you want to go back to the system interface, you can tap on any white space.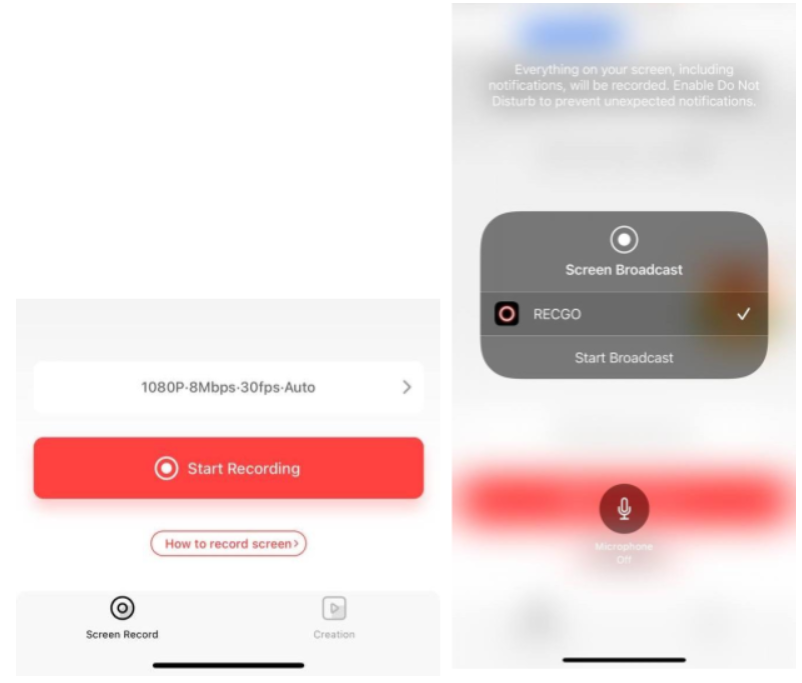 4: To stop recording, click the red box displaying time and tap "Stop Broadcast" to end the recording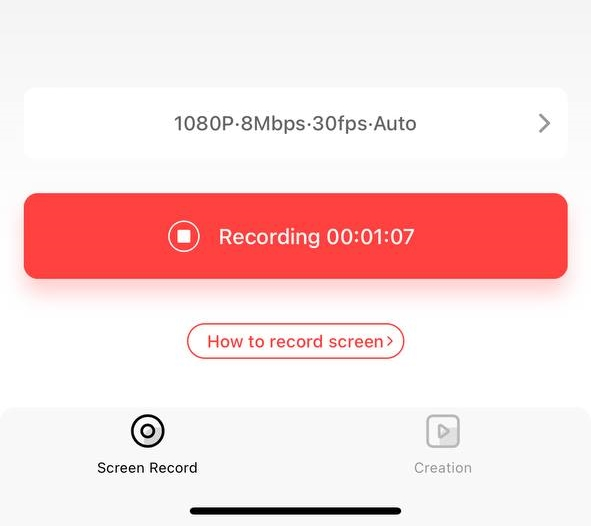 You will find your saved video in the following interface. If you want to edit your video, you can use the editing tools offered by the Screen Recorder+ video editor or share your video as it is.
Editing/Adding Finishing Touches
You can edit your screen recording even after the recording process is complete.
All you have to do is follow these steps:
1: When you finish recording, tap on the notification. Or, you could open your Photos app and select the video.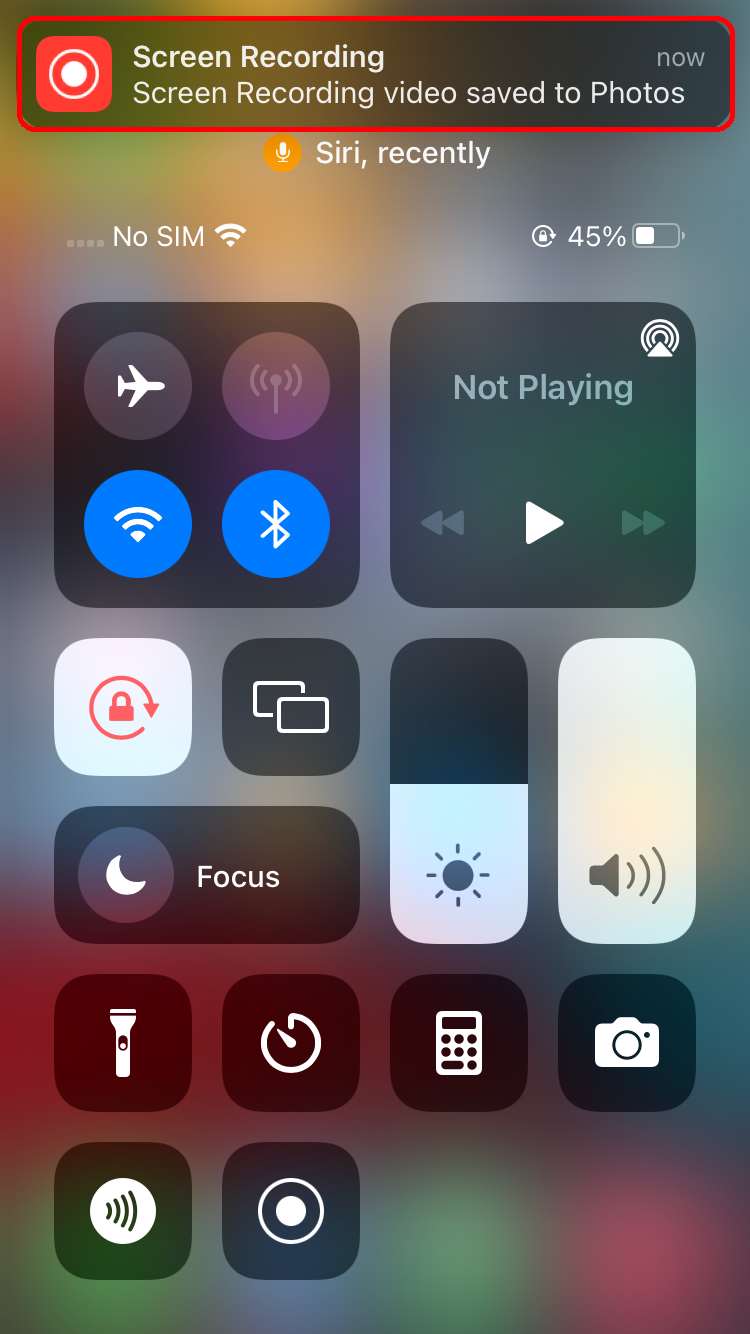 2: Tap on the "Edit" button at the top right corner of the screen recording hub to edit the video.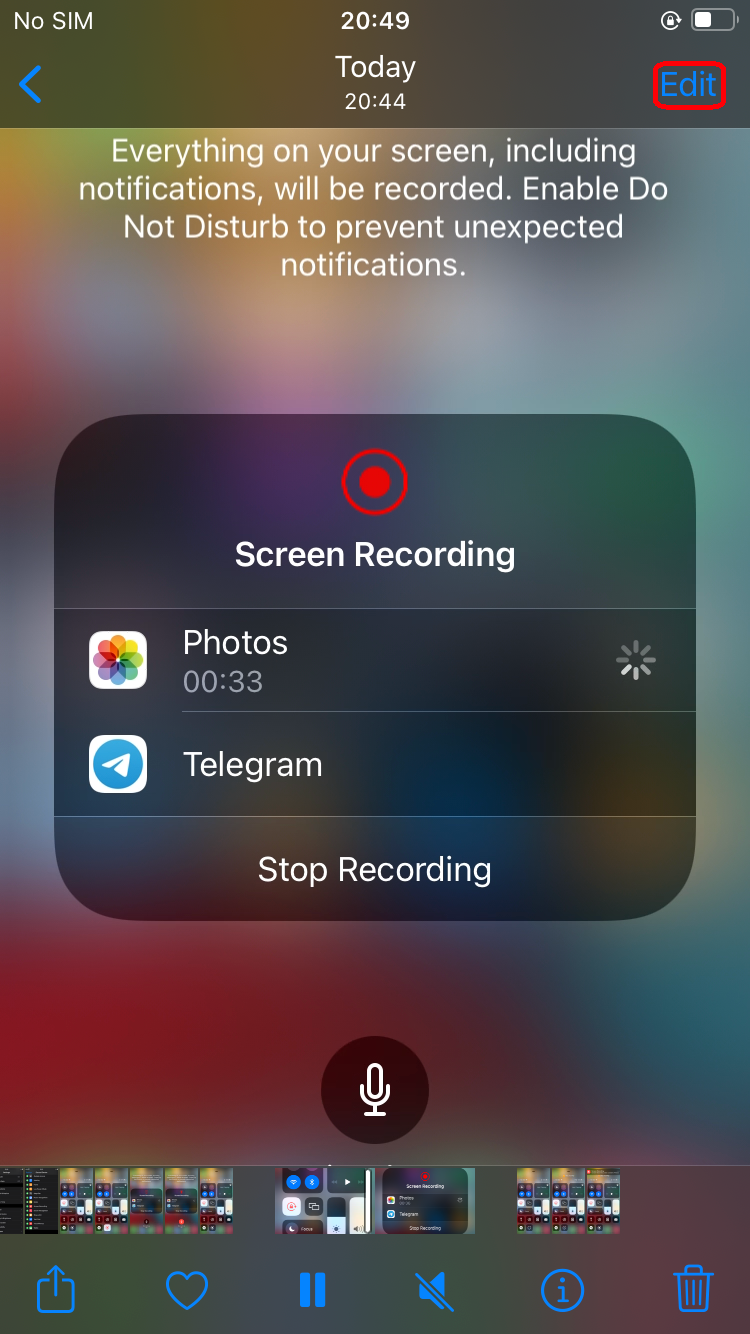 3: Selecting the button will cause a slider bar to appear below the screen recording. You will then see toggle bars at both ends of the slider. These bars will allow you to edit the video frame by frame.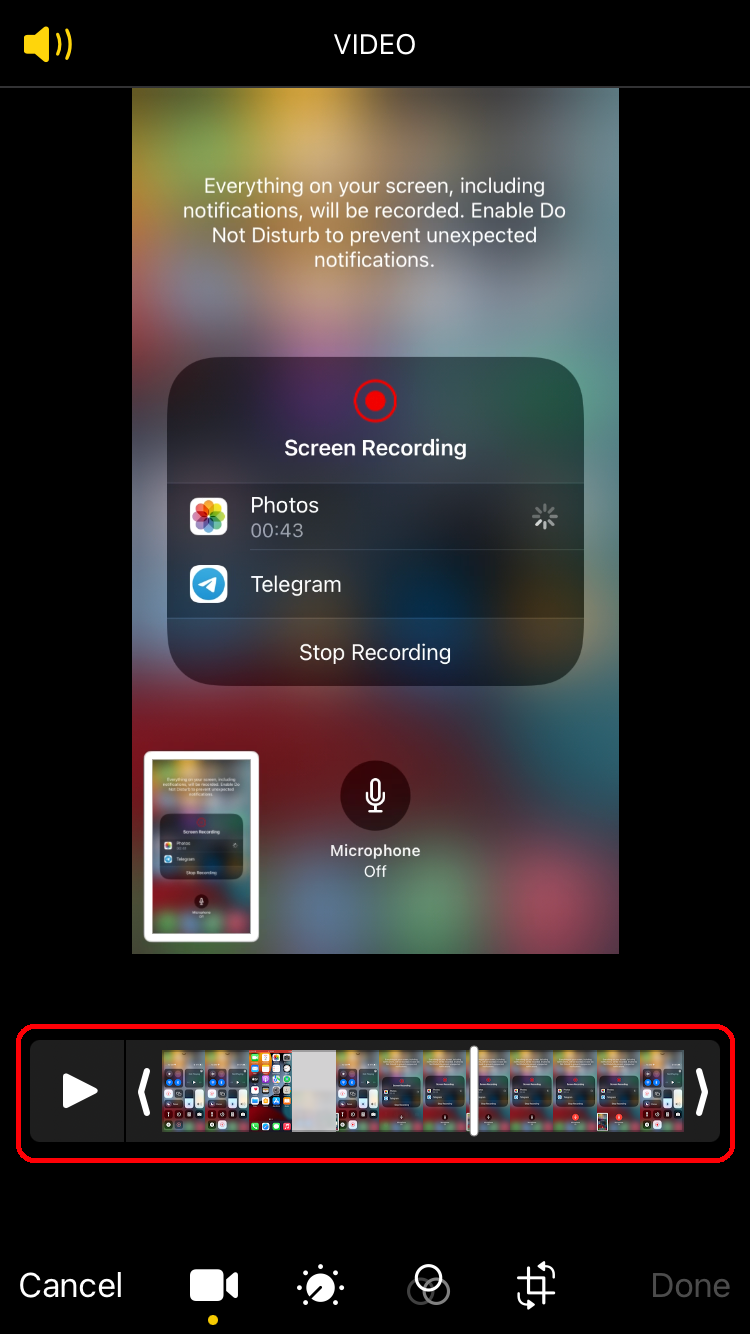 4: Drag the toggle bars to adjust the beginning or end of your recording.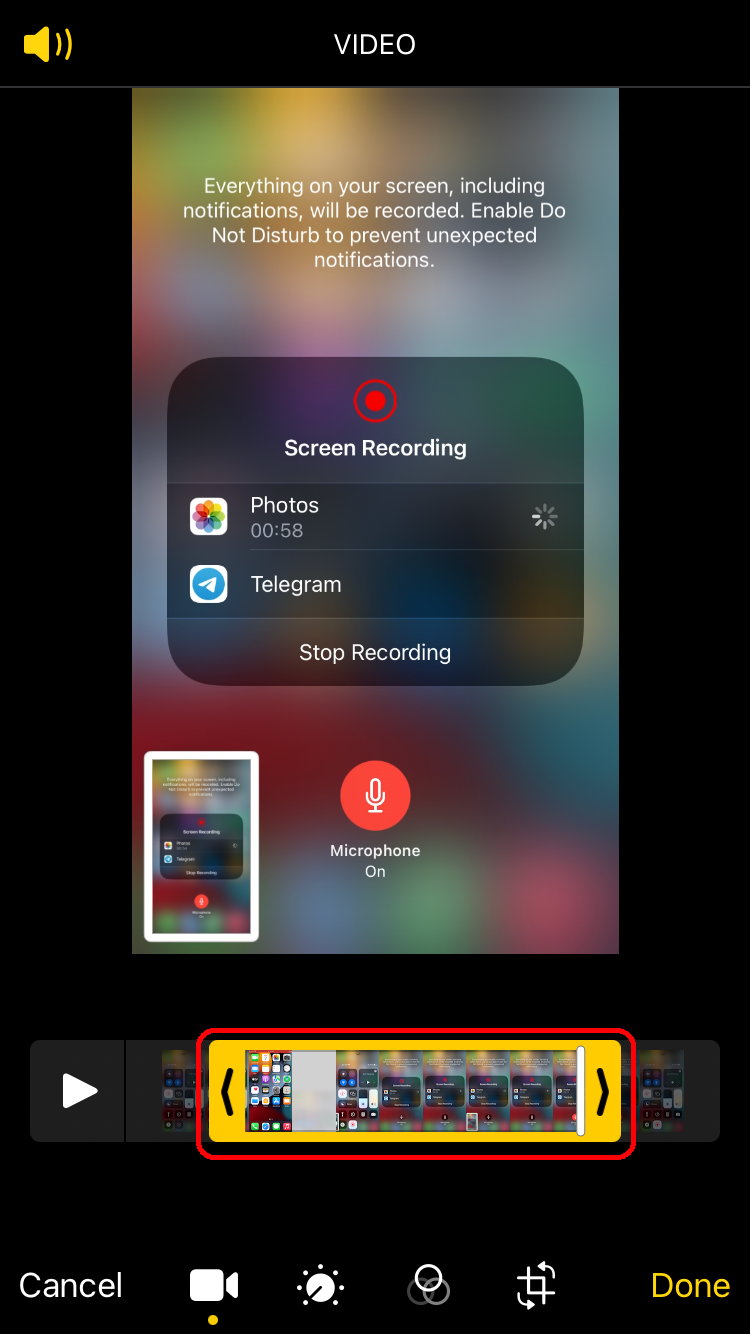 5: Press "Done" when you have no more edits to make to your video. The edited version of your video is complete. Remember to save the video you edit. So, do not forget to tap "Save as New Clip" before navigating away from the editing screen.
Tip: You can add sound effects or voiceover music to your videos in the Photos app. Although it's a bit more complicated, it enhances your presentations, video demos, and tutorials.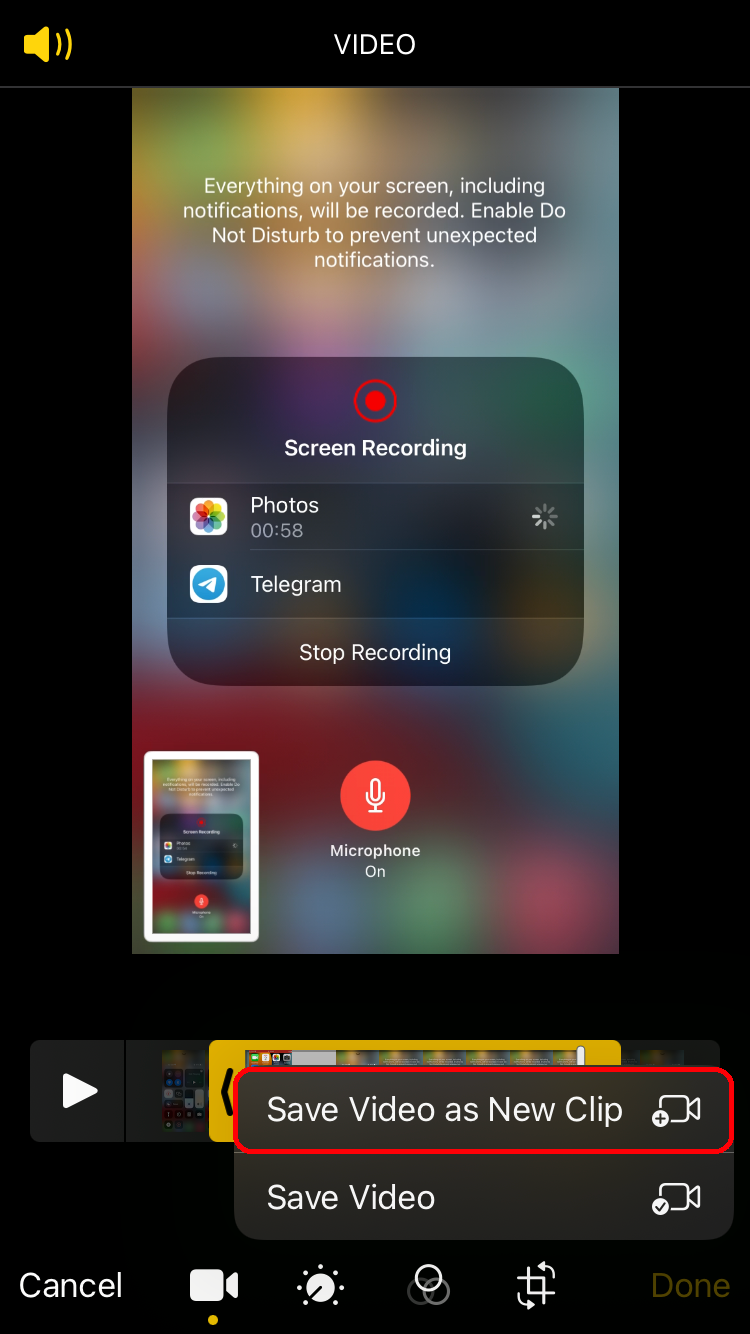 So, if you've been looking to learn how to screen record on an iPhone, we hope you found this article helpful. You can also watch video tutorials online or visit Apple Support for more information.