If you're an outdoorsman and love to hunt, shoot photography outside, or keep an eye on your land, you can use a cellular trail camera. The best cheap cellular trail cameras are what's that are invaluable to your mission. They can provide surveillance to aid you in whatever it is you're doing.
Rather than having to be outside, constantly checking on your land, you can set up a wireless camera like a cellular trail camera. You'll be able to keep an eye on everything that's going on. It's even better if you choose one that's solar-powered with a rechargeable battery.
We've made a list of the best cellular trail cameras to help you with your hunting, photography, or security. These are models we use in the woods, check remotely, and love. Here are our picks.
The best and most affordable cellular trail cameras
Moultrie Mobile Delta Base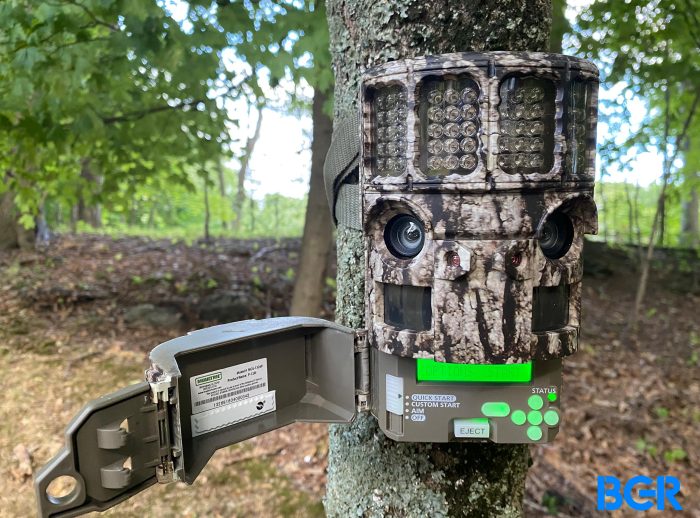 BGR may receive a commission
Pros
Automatically detects specific animals
Activity charting within the app
High photo clarity
Powerful antenna
Cons
Requires a subscription to take full advantage of features
This is an ideal trail camera for hunters who are looking to keep an eye out all around them. There are many handy features that they'll love. It is a 24-megapixel camera with an 80-foot range. Also, the smart identification feature can differentiate between a buck and a deer, which is a huge plus because you don't have to search for the answers yourself while you're out in the wild. This will also sync up data with your other Moultrie cameras.
Break down the data even more with analytics on animal movements, detailed info on everything going on around your hunting grounds, and keep an eye on the weather with weather reports
If you want to get the most out of this, you need to utilize the free app along with a cellular plan (as we stated, you can choose between Verizon or AT&T through Amazon). You'll need the plan to look at your photos remotely. You can also upgrade to a subscription plan for more features. You'll have the ability to pay monthly or annually. Even if you cancel your plan, Moultrie won't delete your files. Utilize a bunch of trail cameras and have them work together and Moultrie makes it easy.
Bushnell CelluCORE 30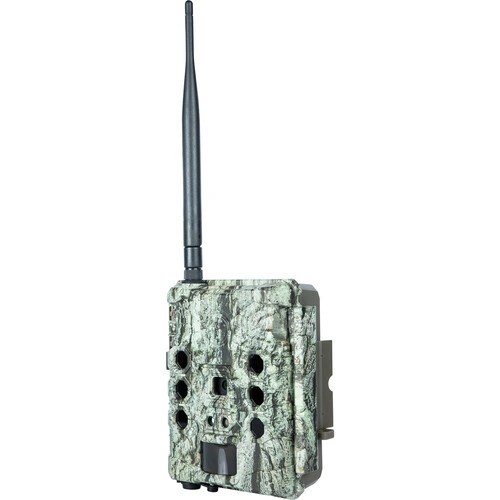 BGR may receive a commission
Pros
Great photo and video quality
80′ No-Glow LED night range
Transmits video over LTE 4G
Cons
High power consumption
Still have to pay for a data plan
The Bushnell CelluCORE 30 has picture quality that you can't beat and you're able to capture 30MP photos with it. But that's not all it can do, as it also takes 1080p video at 60fps. Compared to other trail cameras that are limited to shooting 30fps at 1080p, this is a huge step up.
It takes no time to take a picture, thanks to the extremely fast 0.2-second trigger speed. The 80-foot night vision No-Glow LED flash helps you get better pictures when it's dark out. You will have to pay for a data plan and the $15 per month option gives you unlimited access to photos and videos. You can also add a solar panel accessory that helps you with photos during the day. You need your own SD card and it takes up to 32GB. The battery life lasts up to a year.
Spypoint LINK-MICRO-LTE-V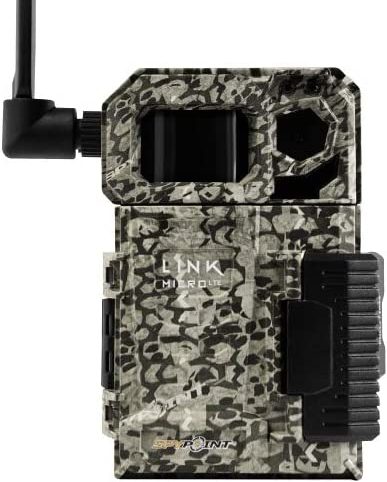 BGR may receive a commission
Pros
Free app option for up to 100 photos a month
Subscriptions cheaper than competitors
80-foot detection range with multi-shot mode
Cons
Only shoots in 10MP
Requires multiple subscriptions for multiple cameras
This is a compact, versatile trail camera with complimenting hardware and a solid mobile app. This runs on LTE and the camera sends photos directly through an app service, making it more affordable than others. You can also enjoy a free plan with 100 pictures that allow. Priced plans deliver from 250 photos up to an unlimited amount for you to store.
You'll love the camera and its unique features like a species recognition feature, mapping, and weather updates. Allow yourself to stamp photos with temperature and moon phases because you'll have to know more about the photos when you look back on them. The built-in solar panel and protection case allows you to do more and protect the camera. It has a 0.5-second trigger time as well as an 80-foot range. The mobile app makes it simple to use with your phone.
Spypoint LINK-S-DARK Solar
BGR may receive a commission
Pros
Fast trigger speed
Solar panel
110-foot detection range
90-foot flash range
Cons
Average build quality
No video downloads over cellular
While this trail camera carries a hefty price tag, it is one of the best options out there. The mobile app helps you get the most out of this camera. The image quality is excellent, even if you're shooting in different lighting conditions. You'll be able to take videos and photos with this in 1080p Full HD. This has a 0.07-second trigger speed, which is the best you can get.
The Hybrid Illumination Technology flash system makes it seem like there isn't even a flash. Buck Tracker Antler Recognition Technology helps you capture images of deer and bucks. The solar charging system works for you and you won't need to replace the battery or charge it for months. There is also an LCD menu and a viewing screen that gives you a firsthand look at what you're seeing.
Covert Blackhawk LTE
BGR may receive a commission
Pros
Extra quiet operation
60-LED infrared night flash
Decent plan pricing for most needs
Time lapse mode
Cons
Video quality at night lacks
App is clunky
This Covert-built cellular camera has a lot to like. This boasts an extra quiet operation, making it easier to use and not scare off game. The 60-LED infrared night flash allows you to take terrific quality photos while it's very dark outside. The visual range is larger than average, so you can see more. The multi-burst mode can get you the shots you want.
Its impressive 12MP feature, which can take up to ten-exposure burst shots, maximizes your ability to get those photos. It has a special infrared delivery and uses multiple LEDs for up to 100 feet of visibility at night. The video quality at night isn't stellar though. There is a time lapse mode that gives you the ability to follow what's happening in a certain spot. It can accept up to 32GB SD cards.
Stealthcam DS4K Transmit
BGR may receive a commission
Pros
4K video and decent overall specs
Transmit video over LTE 4G
100-foot range detection
32MP sensor
Cons
Expensive
Have to choose Verizon or AT&T plans
This cellular game camera can record video in 4K, producing clear images with its 32MP camera sensor. You'll be able to look at them on the camera in 4K but uploads are limited to 720p or 1080p resolutions. It also has a 0.2-second trigger speed, allowing you to snap quickly. The 100-feet detection range is impressive. With 1-9 images per triggering burst mode, the odds that you're getting the picture you want increase.
Its data plan has to come from either Verizon or AT&T, but you'll get the SIM card for both with your purchase. It is powered by multiple batteries, so you will have to keep an eye on how long they last.
Creative XP GlassRaven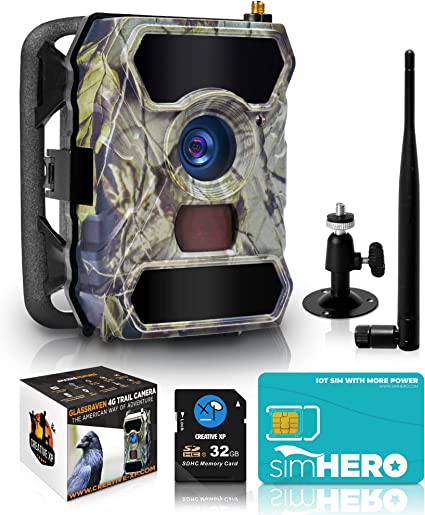 BGR may receive a commission
Pros
Transmit video over 4G LTE
Wide angle lens captures more
HD night vision
Battery and solar powered
Cons
Pricey plans
Manual is hard to read
This can be used as a security option as well as a trail camera. This has a wide 110-degree PIR angle, offering you plenty to look at. The 65-foot range will deliver crystal clear photos and you can transmit video over 4G LTE. With its 56 LEDs with no glow technology, you are bound to get some of the best night shots on the market.
It snaps between one to five photos at a time with a 0.35-second trigger time. With a Wi-Fi connection, you can look at your photos and videos whenever you want. The battery life is aided by solar power that allows it to run for longer. This is a durable option that won't set you back as much as some of the other brands.
Spartan Ghost 4G/LTE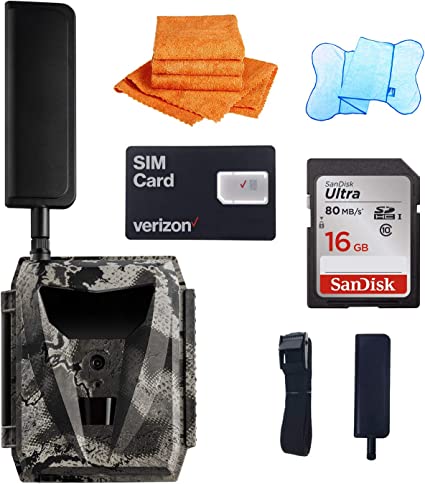 BGR may receive a commission
Pros
Low power consumption
Transmit video over 4G LTE with fast speeds
High quality images and videos
Streams with sound too
Cons
Low detection range
Pricey
This is a sharp and chic option that looks great and performs incredibly well. This is very hard to see when it's placed in the wilderness, so hunters will love it. It has a fast 0.4-second trigger time and takes impressive shots that you can easily download into the Spartan mobile app. Depending on which network service provider you choose, it comes with a pre-installed SIM card.
The rugged housing can withstand all kinds of weather conditions. Plus, this has an anti-theft GPS feature that lets you track it remotely, even if the lithium battery is removed. You can transmit video with sound over 4G LTE at fast speeds. While this is expensive, it is a solid option for serious hunters.