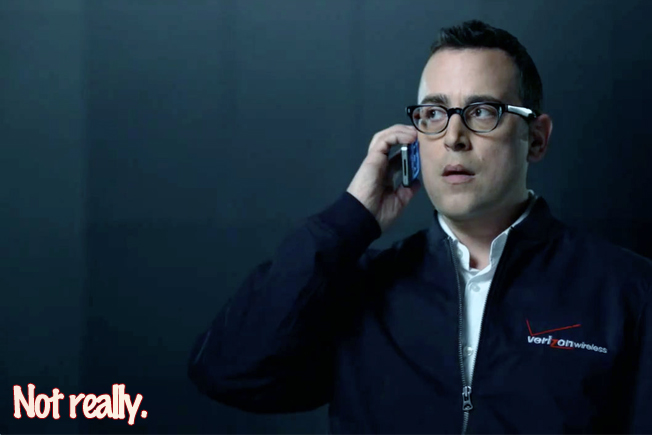 Look, I have been dreaming about a Verizon iPhone since the original announcement was made in 2007. I've always admired Verizon's insanely solid and reliable wireless network, even before it was Verizon (someone tell James Earl Jones I said what's up). I had the first digital phone Verizon Wireless offered (following countless analog phones prior to that), and I've had many more since then. But I switched away from Verizon Wireless as soon as I saw that the handsets available in Europe were becoming more advanced, because these new phones typically didn't become available from Verizon for months or even years later, if at all. As soon as I saw that I could switch my SIM card from phone to phone myself, I was on a tear — first on T-Mobile, then AT&T when I realized how much better AT&T's coverage was in my area, even five years ago.
During all of this, however, I always knew that Verizon's network was better than any other wireless network in the United States. Why? Not because it was the fastest or because Verizon had the best phones (that's arguable in today's day and age), but because Verizon worked wherever you wanted it to work, whenever you needed it to work. In Vermont in the middle of nowhere? Verizon Wireless has a signal. Driving across the country? Verizon's got your back.
Fast forward to 2011: I was sitting at the Verizon iPhone event liveblogging, and I was ridiculously excited for what was about to be announced (plenty more people were excited as well — BGR crashed for 40 minutes due to the sheer number of people checking the site for the latest updates). My favorite smartphone, the only phone I choose to use day in and day out, was going to be available on the best damn network in the country — finally! I pre-ordered it at 3:00 a.m. on February 3rd, and then sat and waited for FedEx to deliver it days later. Side note: the friendly FedEx delivery person had me write my name on a piece of paper saying that I received the phone since FedEx had so many Verizon iPhone shipments that day that their system crashed.
I opened the phone, and connected it to iTunes, and saw the waiting for activation message. It failed. Three times. No worries — after turning it on and off, my phone was up and working, and it was time to go drive around to all the places my AT&T iPhone failed miserably and test things out.
The Verizon iPhone 4 performed decently at first, though I was quite surprised that Verizon had dead areas in most places AT&T did up in Connecticut. How could this be possible, I thought to myself? I have the best phone on the best network. I needed to head into Manhattan for a couple meetings that day, so, let's just see how it holds up on the drive down, I told myself. First phone call on I-95? Dropped. What made things worse was that I was stuck on 2G a lot of the time, even in the heart of New York City once I was out and about.
How is this happening?
Well, after a couple calls to Verizon Wireless — and everyone I spoke with was extremely helpful — it turned out my phone didn't fully activate. I believe the PRL and roaming configurations weren't updated properly, and after I reprogrammed the phone (something most people won't ever have to do, as iTunes discreetly does this on first plug-in), I was doing much better. Or was I?
After the "fix" was performed, I still saw 2G on the Verizon iPhone as much or more than I had seen EDGE on the AT&T iPhone that I have used for years (I realize it's not the same exact phone — I'm referring to the signal quality and coverage). Back in Connecticut, I was still experiencing dropped calls, and it was almost comical. "Dude, I thought you got a Verizon iPhone finally?" I did… it's just… not that different.
In the end, my personal experience with Verizon's iPhone in and around New York City ended up being about the same as it was when I was on AT&T. This, combined with other advantages AT&T's network has, has made me finally decide to switch back. Literally moments before I wrote this article, I synced up my Verizon iPhone and restored it to my AT&T iPhone (I can do this because the OS on the Verizon iPhone is lower than the AT&T iPhone — if I ever wanted to switch back, I couldn't restore my data until the Verizon iPhone OS is updated to version 4.3). I missed the ability to talk on the phone while data is still flowing (even though I hate talking on the phone). I missed AT&T's extremely fast data speeds. I missed knowing that if I ever travel outside of the country, I don't have to get a new phone (even though I hate flying — no, seriously, try me). I missed feeling like I'm in the digital age instead of the stone age.
It's just true. One of the reasons Verizon's network is so expansive and solid is because it's old. Verizon has been building this same network out for ages and so it seemingly stretches beyond any other — but it's built on an aging and extremely outdated cellular technology. Verizon is in the midst of rolling out its incredible new LTE network in an effort to get with the times, but until then, I'm tired of CDMA. I'm tired of the limitations. What network powers my MiFi? Verizon. What network has the most reliable and robust data offering? Verizon. What network do I want on my iPhone? For now, and I believe for the foreseeable future, it's AT&T.
Once the iPhone 5 comes out this summer, I'll reevaluate things. Apple has stepped up its game in the radio and antenna department with each new iPhone release, and the company is practically confirmed to continue using Qualcomm chips (one of the reasons AT&T has had so much trouble with the iPhone is due to Apple's use of Infineon-baseband chips). But for now, if I'm going to drop just as many calls on Verizon's network as I do with AT&T, there's just no reason to give up all of the other perks AT&T's iPhone 4 affords. I want to talk and surf the Web at the same time on a super-fast data network, and roam internationally, and enjoy the latest iPhone OS, and have my voice calls come through instantly, and hold conference calls with more than two other participants at a time… so I'm back with AT&T.