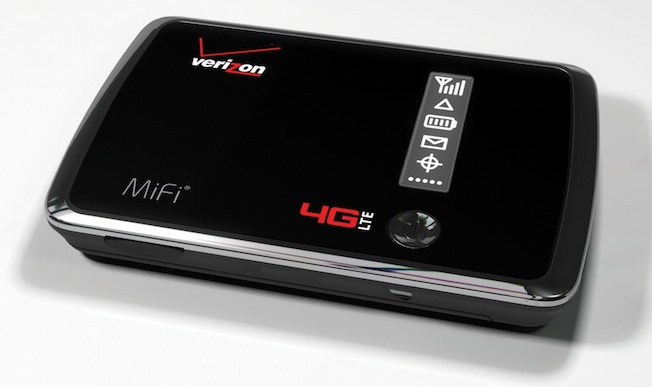 While we've been testing out Samsung's 4G LTE mobile hotspot for a couple weeks, there's just something about Novatel that we can't shake. After all, they were the first with a MiFi device. If you have been holding on to the thought of a 4G LTE MiFi ever since CES, today is the day. The Verizon Wireless MiFi 4510L 4G LTE mobile hotspot is now available for purchase from Verizon online, and will be available in stores on April 21st for $99 after a two year service agreement and rebate. Verizon's $50 monthly service plan gets you 5GB of data usage, with additional usage billed per gigabyte. The new MiFi, in addition to obviously supporting Verizon's 4G LTE network, features the ability to share a microSD card over your mini wireless-network and offers an eInk display which conveniently shows network status and battery life at all times on the front of the unit. Verizon has also noted — via Twitter — that it has "a mess of new cities and towns" launching with LTE this Thursday, April 21st. The full press release is after the break.
The MiFi® 4510L 4G LTE Mobile Hotspot Available on the Verizon Wireless 4G LTE Network Beginning April 18

BASKING RIDGE, N.J., April 18, 2011 /PRNewswire/ — Verizon Wireless and Novatel Wireless (NASDAQ: NVTL) today announced that the award winning MiFi® 4510L 4G LTE Mobile Hotspot that runs on the Verizon Wireless 4G LTE Mobile Broadband network is available online today at http://www.verizonwireless.com. The MiFi 4510L 4G LTE Mobile Hotspot is the next-generation of the Novatel Wireless MiFi Intelligent Mobile Hotspot, building on innovation and design, proven performance and industry-leading user experience.
The MiFi 4510L allows businesses and consumers to create a personal Wi-Fi cloud capable of sharing the high-speed Internet connectivity of the Verizon Wireless 4G LTE and 3G Mobile Broadband with up to five Wi-Fi-enabled devices simultaneously. The 4G LTE MiFi 4510L includes new features, such as an intuitive status display on the device showing signal strength, battery level, roaming and number of connected devices.

Key features:

4G LTE – customers can expect download speeds of 5 to 12 Mbps and upload speeds of 2 to 5 Mbps in 4G Mobile Broadband coverage areas
Backward compatible with the Verizon Wireless 3G network
Simple one-touch connectivity
Intuitive eInk® display with status indicators
Security: WEP/WPA/WPA2 and VPN pass-through support
Supports Windows, Macintosh and Linux operating systems
Advanced integrated antenna technology
Battery: up to 5 hours usage
Wi Fi connectivity: 802.11b/g/n
Dimensions: 3.74″(H) x 2.36″(W) x 0.53″(D)

Pricing and availability:

The 4G LTE MiFi 4510L is available today online at http://www.verizonwireless.com and will be in Verizon Wireless Communications Stores on April 21 for $99.99 after a $50 mail-in rebate with a new two-year customer agreement on a 4G Mobile Broadband plan.
4G LTE Mobile Broadband plans begin at $50 monthly access for 5GB. Customers will receive the rebate in the form of a debit card; upon receipt, customers may use the card as cash anywhere debit cards are accepted. Data usage can be tracked by logging on to My Verizon online at http://www.verizonwireless.com/myverizon.

The Verizon Wireless 4G LTE Mobile Broadband network, launched in December 2010, is the fastest, most advanced 4G network in the United States, providing speeds up to 10 times faster than Verizon Wireless' 3G network. Verizon Wireless' 4G LTE Mobile Broadband network currently reaches one-third of all Americans, with plans to expand the network to the company's entire 3G coverage area over the next three years.
For more information on the MiFi 4510L 4G LTE Mobile Hotspot or other Verizon Wireless products and services, visit a Verizon Wireless Communications Store, call 1-800-2 JOIN IN or go to http://www.verizonwireless.com.
Read [Twitter]