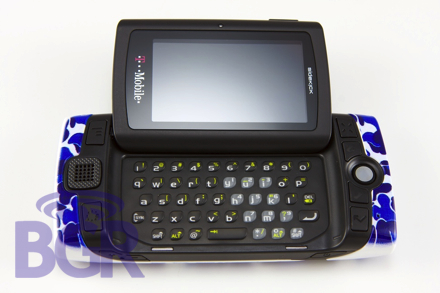 Probably the worst kept secret in recent Sidekick memory has been the new T-Mobile Sidekick, model 2008. From leaked codenames to screen shots, device slides, and even some live shots, if you've been paying attention, you're certainly aware of the device. For some reason, if you're not, here's a quick rundown of the specs:
$149.99 with a two-year agreement
Video recording
Spell check
Quick find
Improved browser
Enhanced IM
Bluetooth A2DP
2.0 megapixel camera
Quad-band GSM/GPRS/EDGE
We haven't took much time to play around with the Sidekick just yet, but from our early findings, the keyboard seems to be a mix of the Sidekick 3 and the Sidekick LX, but the buttons are a bit smaller. We're a little disappointed with the build quality on this one. If this phone doesn't scream "CHEAP!" to you…you've got a serious problem. The 4 buttons on the front of the device (menu, jump, back, cancel) are difficult to press, and that's not even getting into the buttons on the side like the volume keys and the power key. The miniUSB connector is on the top of the phone this time instead of the side, which makes a whole lot of sense, and we actually were surprised by how loud the speaker was. Still though, you might as well spring for the extra $100 and get an LX. Or a Slide. Maybe not a Slide. Motorola's not getting any more Sidekick contracts anytime soon.
Seriously, we love you T-Mo, but it's time to get in gear. When the Sideline line-up encompasses your hottest exclusive devices, you've really got an issue. The model designation of the Sidekick is even 2008, yet we can't understand how this is being released in this day and age, and we would have loved to see a $50 price point. Heck, you can get a friggin' iPhone for $199. You might have to wait a couple weeks, but you still get an iPhone!
Since you can actually create your own shells for the new Sidekick online using a pretty cool configurator, T-Mobile was nice enough to hook us up with a customized BGR shell for the Sidekick. In typical BGR fashion, we're giving it away. Yes, you can be that totally cool kid in school with the only BGR Sidekick in town. Just drop in a comment and you're on your way! We'll run this until Friday at 11:59PM. No, you don't actually get to win the Sidekick. T-Mobile made us promise to send it back so they can trace our fingerprints and discover our identity.
UPDATE: Ok, screw it. T-Mobile hit us up to let us know that they're sending us a brand new T-Mobile Sidekick to giveaway. So now you win the actual Sidekick and the BGR shell. How can you beat that?