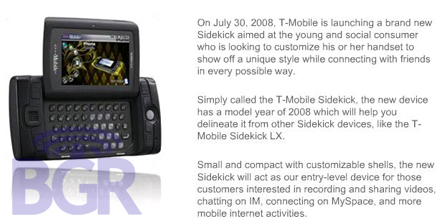 We just got a hold of some internal T-Mobile snap shots, and any Sidekick will truly appreciate them. They detail the much-rumored Sidekick Gekko, from here on out known as the… wait for it… almost there… T-Mobile Sidekick 2008! That's it, guys. Creative name right? In all seriousness, it looks like the word about customizing the shells on the device look to be true. It's an "entry-level" device, and as such, we reckon it won't break the bank. Here are the official specs on the T-Mobile Sidekick 2008:
Quad-band GSM/GPRS/EDGE
2 megapixel camera
2.6″ WQVGA screen
Video recording
Stereo A2DP Bluetooth
Standard Sidekick features
Couple more shots after the jump along with some more info!