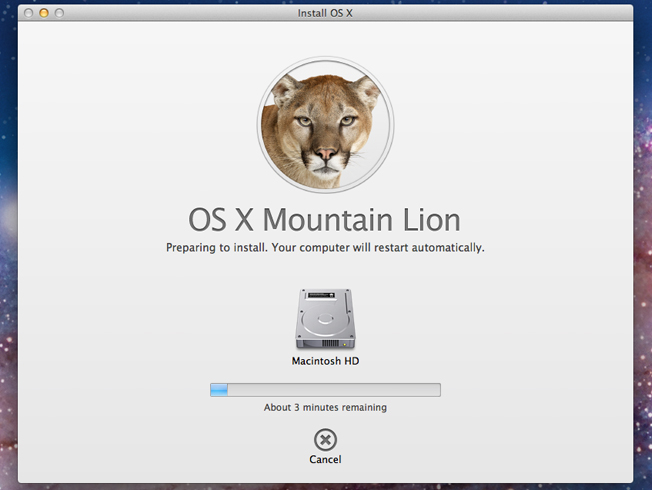 Apple just did something the company hasn't done very often in recent years — it completely surprised nearly every single person with the announcement of OS X 10.8 Mountain Lion, the next OS for the Mac. Inching a step closer to bridging the gap between iOS and OS X, Mountain Lion brings practically all of iOS's featured apps to desktop and laptop computers. From Messages, which I've been waiting for ever since iMessage was announced, to built-in iCloud support, Notification Center, Game Center, Reminders, Notes, a much-improved Safari browser, AirPlay and more, the two OSes are practically the same now in terms of system apps. This is the first developer preview of OS X 10.8 Mountain Lion, and the OS will only improve before it is released in the summer. If you're itching for my thoughts, though, you'll find them after the break.
Messages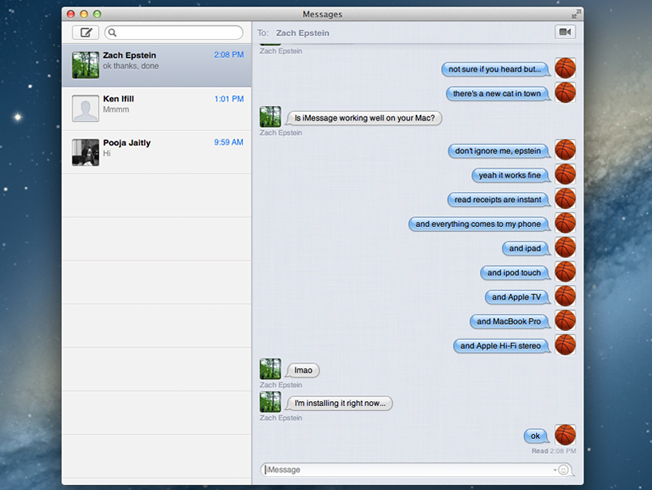 Out with iChat, in with Messages. Finally.
I've been talking about Apple's messaging strategy for a while, and it is now coming together as I predicted — iMessage, FaceTime and iChat all had to merge eventually. While you can still use iChat much like you'd use the app before, the real star of the show is the new Messages interface which combines all your open conversations together in one unified window.
The ease of use here is just off the charts — by using your Apple ID, all of your messages will instantly and effortlessly flow from your iPhone to iPad to iPod touch to computers, keeping on-going conversations in sync no matter what device you have with you. This is a huge game-changer for instant communication in my book. Apple has said that over 26 billion iMessages were sent since its introduction in iOS 5. Add in delivery and read receipts, photo and file sending, and the over 100mm people who use iMessage, and you have a major network for instant sharing that just works.
One thing that I'd like Apple to solve on the computer with Messages, though, is checking to see what people in my contacts have an Apple ID or phone number and not showing me the rest of their contact information. Since you can only chat with an iPhone user or Apple ID in iMessage, it doesn't make much sense to show me a contact's secondary numbers or email addresses.
FaceTime is integrated into the main Messages window for whomever you're in a conversation with, which is a clean way to bridge these two services into one. If you're on OS X 10.7 Lion, you won't even have to wait until the summer to start using Messages, as Apple has released it as a public beta that's available for download now.
iCloud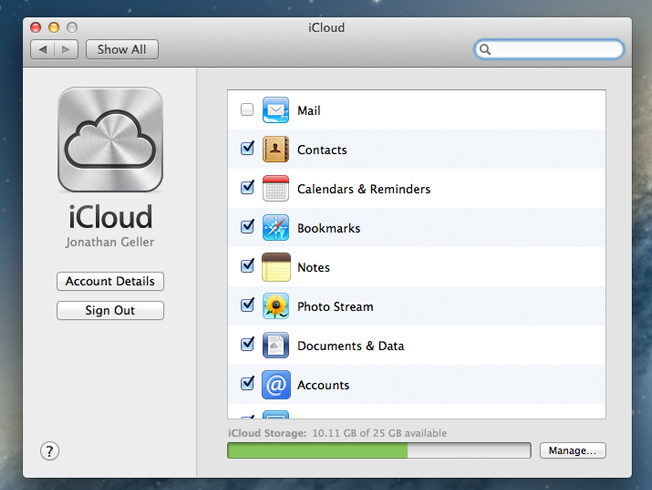 Apple has integrated iCloud into the foundation of OS X 10.8. When you first power on the computer, you're greeted with a sign-in window for your Apple ID. After you sign in, iCloud downloads your settings and sets up most of your computer for you, automatically. This includes your mail, contacts, calendar, reminders, notes, messages, bookmarks and more.
Opening the iCloud preferences shows you just how much syncing and data Apple is handling so you don't have to worry about it — Back to my Mac, Find my Mac, Photo Stream and of course, the aforementioned as well. I still don't see a way to integrate iCloud with Apple's iWork suite, but this is obviously coming very soon.
Notification Center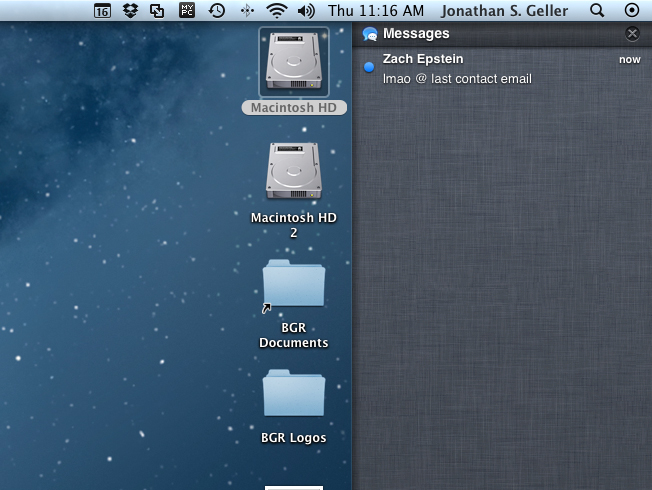 This makes me so, so happy. I've hated Growl since its inception, mainly because it wasn't ever executed properly. Notification Center is a wonderful place to see all of your notifications and alerts, including the addition of banner alerts that appear on the right side of your display. You can fine tune these just like you can on iOS by going into the Notifications panel in your settings and choosing whether to badge apps, what kind of alert you want, how many alerts for a specific app to show and more granular controls.
Introduced with Notification Center is a new two-finger gesture to bring up your notifications, and it's a two-finger swipe from the edge of the trackpad from right to left. This is a bit cumbersome on a Magic Trackpad because you have to start exactly where the surface starts, unlike on a MacBook Air or Pro where there's a surface next to the trackpad area.
Apple has an API for Mac Apps that want to appear in Notification Center, so expect almost every one of your favorite app to be compatible. For now, Mail, Messages, Contacts, Calendar, Reminders, Mac App Store and Safari will appear in Notification Center.
Game Center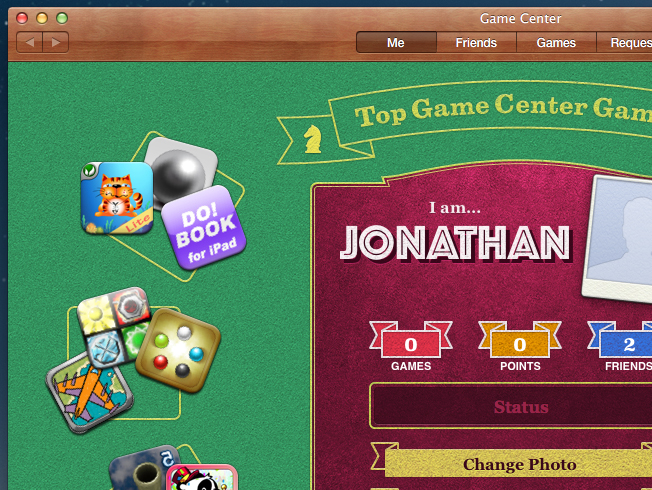 Game Center is something else that feels big to me. The Mac was once a platform that was terrible for gamers. With the introduction, capability, and popularity of iOS, however, Apple's devices have been the number one place for console-quality games in the past few years. It's now translating to the Mac. Not only can you use Game Center how you would on iOS — yes, your friends are here, game recommendations are here, and your achievements are here — but you can also play multiplayer and turn-based games from your Mac with someone else on an iPhone or iPad. That's big.
Contacts / Calendar / Notes / Reminders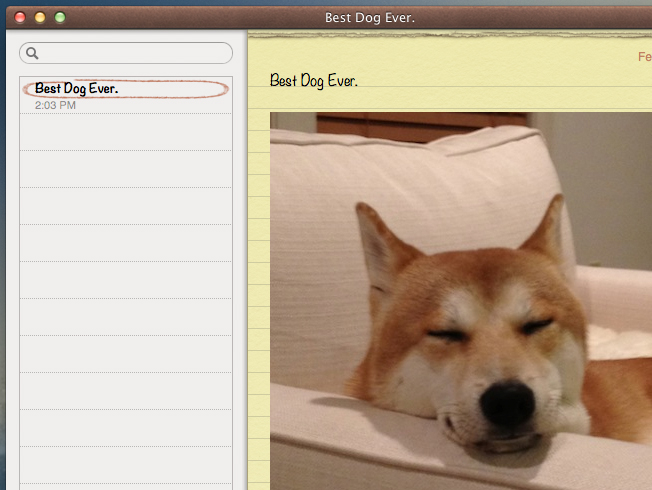 Address Book and iCal are gone, replaced with Contacts and Calendar just like on iOS. These apps are mostly identical to the apps they replace aside from their new names, but there is a level of iCloud integration that was missing before. Whatever is on your iOS device will be on your Mac now in Reminders and Notes, and the Notes app also features some awesome capabilities like in-line photos, bulleted lists, hyperlinked URLs, customizable fonts and other enhancements. Reminders also syncs with your iOS devices, though Reminders with locations don't seem to display properly on the Mac at this point.
AirPlay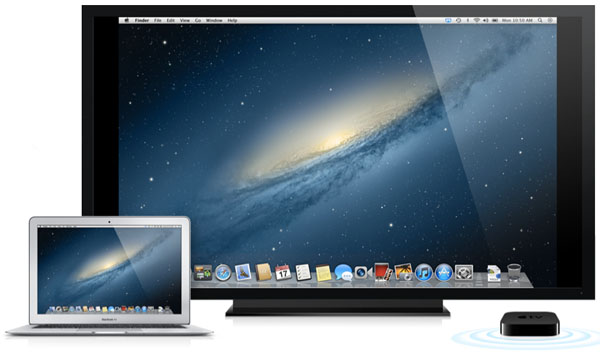 Another huge addition to the Mac is AirPlay. This allows you to send your video and audio content directly from your computer to a TV or projector. Imagine just showing up to a conference room with your MacBook Air and instantly beaming your Keynote presentation wirelessly to a display, or grabbing your laptop while you're on your sofa and showing off a new home video to friends on your TV. You can push your content from your Mac to a TV, and you can also use AirPlay Mirroring just as you can on your iPad 2 or iPhone 4S, turning the TV into your monitor on your Mac — wirelessly.
Mountain Lion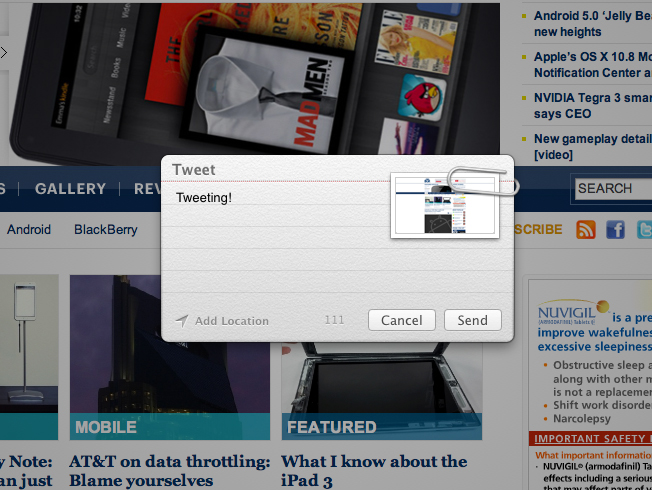 There's a lot more to OS X 10.8 then what I covered above. For example, there's now system-level sharing going on, called Share Sheet. It's contextual based on the app you are in, and this is most likely a sign of what's to come in iOS 6 if I had to bet — a system-integrated way of sharing from one app to other services in iOS.
Safari has improved to the point where I'm going to try to make it my default browser. It's buttery smooth, the ability to type a URL and search from one unified bar is a needed improvement, and I love how it grays out all of the URL noise, just leaving the base URL whole. Reader has moved to a permanent place on the right side of the browser bar, and using Safari just makes browsing the Internet feel like a different experience than just pulling up Web pages. It feels very iOS-like, especially with the Magic Trackpad — something Apple was obviously aiming for.
Another addition in OS X 10.8 is the fact that the Mac App Store now handles all of your system updates. These updates will even appear in Notification Center now. I was able to update three different parts of the system using just the App Store.
Apple has also introduced a way to try and prevent any bad apps from running on the Mac with GateKeeper. This setting lets you choose whether to accept apps downloaded only from the App Store (Apple has to approve every app before it's available here), apps from the App Store and verified developers (developers will be able to sign apps with a unique identifier, and Apple would be able to revoke this in case of any nefarious happenings), or apps from anywhere and everywhere. This would also be a much-welcome and much-awaited feature for iOS, if that's ever an option down the road.
All in all, playing with OS X 10.8 Mountain Lion feels more like an experience you have come to expect from Apple — a window into whatever you want, pushing every distraction out of the way so you can work better and play better. Check out high resolution images of OS X 10.8 Mountain Lion in our gallery.