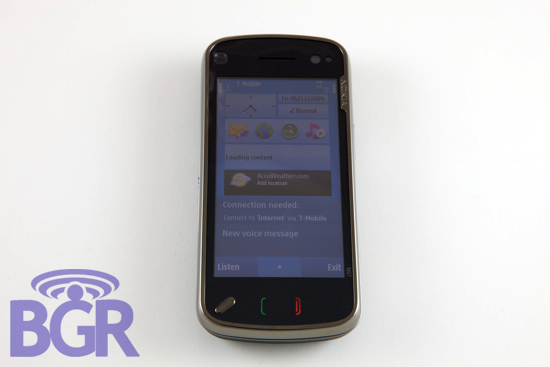 It's no secret that we had our issues with Nokia's 5800 XpressMusic, but has the Nokia N97 changed our minds? It is, after all, their flagship device and is packed to the rim with goodies. We already said the Touch Pro2 was the best Windows Mobile device to come out of HTC, is the N97 the Pro2's match for the Symbian world? Hit the breakage for the review and what we thought!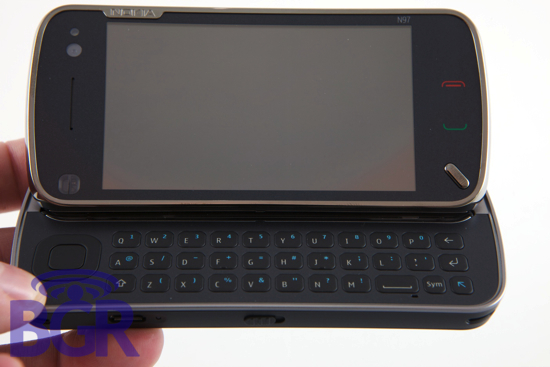 Keyboard:
It's hilarious that when Nokia finally listens and tries to make a somewhat normal QWERTY keyboard layout (we bitched and moaned that the Z key was always incorrectly right under the A key on previous devices) they mess it up even more. Like honestly, you're expecting people to use something with the spacebar key stage right? If the layout isn't bad enough, the keys certainly are. While the texture of the keys is actually pretty stirring, there's absolutely positively the smallest tactile feedback imaginable when pressing in a key. For comparisons sake, the T-Mobile G1, whose keys aren't the best in that department, is worlds better than the N97's keyboard. It's really disappointing because Nokia just can't seem to nail this keyboard area. You could argue that there's a virtual on-screen keyboard, but that's so useless we're not going to entertain the idea of you bringing it up.
Screen:
Man… this is a tough area. Some people are going to viciously attack us for saying this, but, is this the best you can do Nokia? If it is, you're out of touch with the entire cell phone world because this is one of the most disappointing screens we've seen in a long, long time. Besides being a poor resistive touchscreen with good resolution — it's poor because they try and allow it to decipher touch actions separately from select actions — it looks like there's a weave pattern behind the display. It gets really infuriatingly annoying. We're assuming it's the digitizer, but seriously, learn how to make a touch display. This isn't 2003. Every single flagship phone has a display 10x better than yours. If you want us to break them down because you're too out of touch to realize it, we're glad to do so:
HTC's Dream and Magic — wonderful bright and crisp capacitive displays
RIM's BlackBerry Storm — awesomely vibrant capacitive display
Palm's Pre — packed tight with resolution, vivid and capacitive
Apple's iPhone 3G/3G S — an amazingly accurate clear capacitive display with incredible accuracy
Noticing a trend here?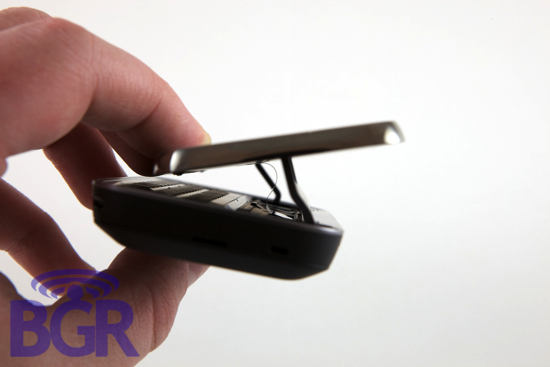 Hardware / Build quality:
Nokia has been around the block for a long, long time. They've had their share of hiccups, but man… they know how to make a phone and make it solid. And a sexy phone at that. The N97 might feel lighter than you'd expect at first, but it really has a quality feel all around. The metal bezel is actually plastic and is probably the cheapest-feeling part of the device. But all in all, the build quality is top notch and we shouldn't expect anything less from the world market leader Nokia. The 5 megapixel camera also doesn't disappoint — just what you're used to if you're a Nokia Nseries fan.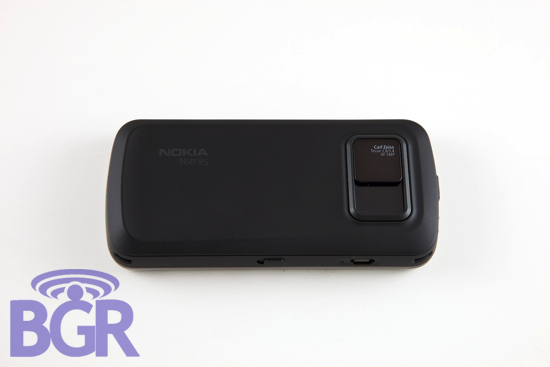 Feel:
This is kind of the same as build quality in a way, because the feel of the device will change depending on the build quality, but the overall feel of the Nokia N97 in your hand is a pleasant one for the most part. Not a huge fan of the matte finish/texture on the back of the device, but button placements are very standard Nokia and comfortable. Power button on top, dedicated two-stage camera shutter key, volume keys, etc.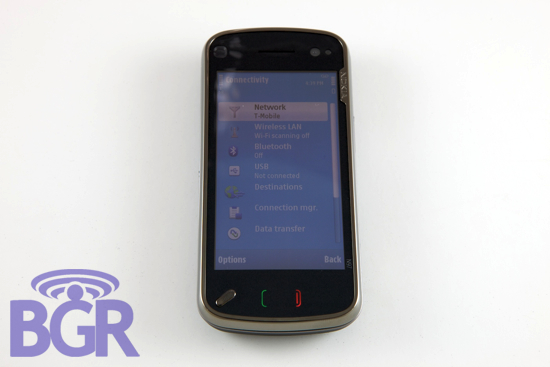 Connectivity:
This is the second Nokia handset with tri-band HSDPA and it's awesome they've finally come around. In addition to the UMTS sex appeal, you've also got a quad-band EDGE radio, Bluetooth 2.0, an FM transmitter (yep, it will allow you to tune to a radio station and listen to your music), A-GPS, and Wi-Fi all built in. Very, very cool.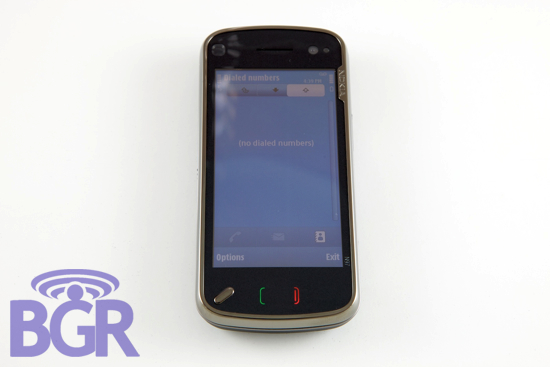 Phone calling / speakerphone:
There's no if, ands or buts about it — Nokia seriously knows how to make for some damn good voice calling. Their radios are usually on point (besides the disastrous Nokia E71-2 scenario and we guess some 5800 problems), but for the most part it doesn't get much better than Nokia. Some could argue RIM is almost on Nokia's level in terms of RF performance and voice quality, but Nokia, in our view still has a slight edge. Phone calls made with the N97 were loud and sounded bright instead of dull like some phones we've been testing. Callers reported to hear us just fine and sometimes thought we were calling from a land line phone.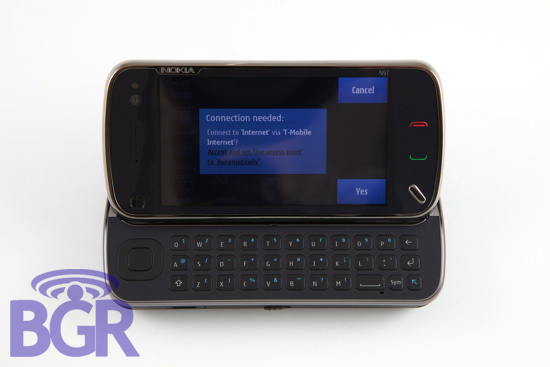 One thing that's funny about Nokia is that their speakerphones range from horrible to pretty good. We'd say the N97's is right in the middle. It's no where as loud or clear as the Touch Pro2's but it's decent enough to be used. Anyone ever had a Nokia phone where the ear speaker was louder than the actual speakerphone? We have!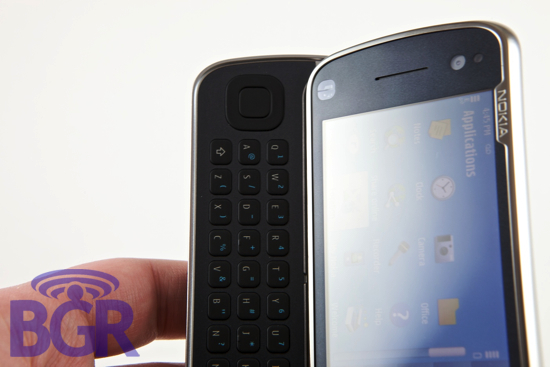 Usability:
Here's one fairly large issue for us — the slide/flip up screen. The mechanism is actually very well-built, but it's the angle of the screen and the non-adjustableness (forgive us) that get us going. For instance, to see the screen at the perfect angle when flipped up means that the keyboard is going to be pointing straight up at the ceiling. Wait, what? Yeah — you can barely use the keyboard comfortably when navigating through on screen applications and the like. It might not be a big deal for some, but for a keyboard that it feels like your typing on a pad of Post Its, it's a big deal for anyone remotely interested in typing something.
The directional pad also suffers from the same issue as we mentioned earlier in the keyboard section — zero feedback. It's unfortunate but it really doesn't enable you to accurately navigate as well as it should. As far things like home screen widgets go, they're cool. But just because you have live widgets on your home screen doesn't mean people will overlook how out of date and poorly designed S60 is becoming. It's almost like Nokia keeps bandaging the OS up and it's starting to get more and more difficult to use and less and less relevant.
Conclusion:
Nokia tried really hard here, but to be honest, speaking from my personal opinion, the second I saw the N97 announcement I skipped right over it in my head. I'm the biggest N95-4 fan you'll find — but S60 5th Edition with a resistive screen, horrible keyboard and horrible navigational buttons? No thank you. The problem with the Nokia N97 is — and please don't take this the wrong way — that this exact phone could have been launched 2 years ago and no one would have blinked. What other phone can you take out of it's current place, drop back two years, and have no one question where it came from? Take the Palm Pre for better or worse, and bring it back to 2007. People would have heart attacks. What about the iPhone? Well, you know how that turned out. BlackBerry Storm? People would have broken through glass to get it. But, no one really would care about the N97 and that, besides not being a device we enjoyed using, is the larger issue. Nokia has lost its place in the sun when looking at the consumer smartphone market and until they get back on track, RIM, Apple, Windows Mobile, Palm and Android are going to continue eating more and more of their lunch.