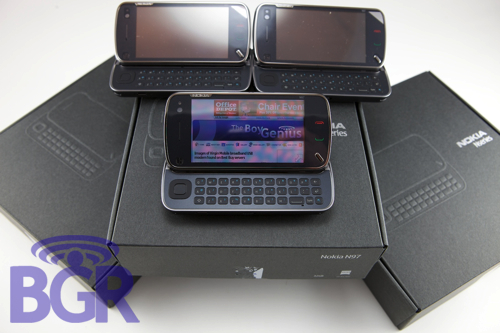 Nokia is a in a really weird place right now. They're the #1 handset manufacturer in the world, yet we'd all be lying if we said they didn't have to work to stay there. RIM and Apple are the new wonder boys and they are steadily stealing market share away from Nokia. Heck, even Windows Mobile is a real contender nowadays. Enter Nokia and their flagship device for 2009, the Nokia N97. Can it compete? Is this phone going to be the phone to finally bring that extra dash of Tabasco sauce back to Finland's finest?
Well, you'll have to wait for our compete review to find out! We will, however, give you a couple quick impressions… First off, the screen while large and in charge really is a tad bit disappointing. The actual screen itself seems to have a really weird "texture" to it and appears to be the digitizer behind the screen. Picture a piece of cotton over the screen and drop the opacity of it to around 3% and you'd get the idea (if you even get what we just said). The keyboard and directional pad are pretty bare with practically no feedback and the hinge mechanism is either genius or the stupidest thing we've ever seen cross the factory assembly belt. Happy moments? The camera is wonderful as expected, the build quality on the unit seems top notch, video playback is nothing short of awesome, and hey, it actually works as a phone.
That's all we're going to give up for now, but in the meantime, check out our photo shots!