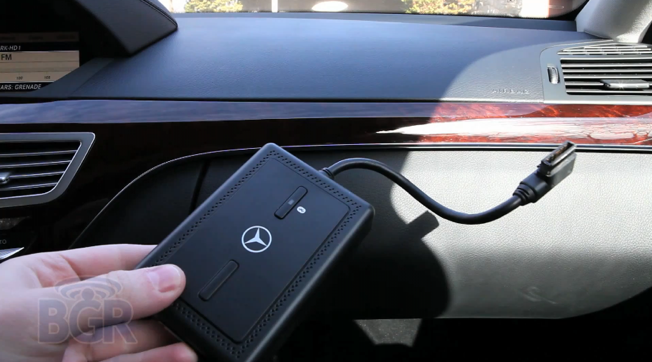 If you are a Mercedes owner and a BGR reader, you might have noticed that your car falls a bit short in the technology department regarding music and video playback (any model Mercedes). The Media Interface Plus accessory is a just-released plug and play Bluetooth box that's now available for purchase, and since it offers a whole heap of enhancements, we decided it was worth checking out for ourselves. For starters, here is what the Media Interface Plus can do that your Mercedes currently can't: control the Pandora app from your iPhone (including changing songs and even rating songs thumbs down or thumbs up from the steering wheel), streaming music from your Bluetooth device (iPhone, BlackBerry, Android, iPod touch, etc.), allowing you to view your SMS messages from the car's COMAND display, and even playing back iPod video from your iPhone or iPod. Hit the jump to find out what else this little accessory can do, and check out our video overview.
The box itself is pretty clunky and much bigger than we had imagined, but physically connecting it is dead simple — just unplug your current iPod/media interface cable if you have one, and plug this in instead. You then have to first pair the new box via Bluetooth to your car, then you can pair your devices to it. A total of five phones/devices can be paired with only one active at a time. One of the first issues with the Media Interface Plus is: if you normally connect your phone via Bluetooth to your car your device can only be connected to either the car (for using the telephone) or the Media Interface Plus (for music).
While the expanded options the MIP offers is great, the device requires you to keep your phone or iPod physically connected in order to use most of the features properly. To control Pandora for instance, you'll have to manually launch the app on your iPhone and start playing a station while the phone is connected. Then you can control it from the steering wheel and/or COMAND console. Video playback requires the device to be physically connected as well, streaming Bluetooth music doesn't obviously, and SMS viewing does not as well. We couldn't get SMS viewing to work on our iPhone, and streaming Bluetooth playback sometimes takes a while to start and get going properly. We also couldn't make a downloaded TV episode play from our iPhone though the audio played back just fine.
All in all, the Mercedes Media Interface Plus enhances the existing offering, while adding the capability of streaming your music wirelessly via Bluetooth. If we wen't into this with that mindset, we'd have been a little happier, we just assumed you could do most of what the device promised without physically connecting your phone, that's all. At $298 for the accessory, it's a bit expensive for just enabling Pandora playback/control, streaming Bluetooth, and iPod video playback — but hey, we won't judge you if you take the plunge.